Chicharito Hernández voted MLS Player of the Week
The Los Angeles Galaxy striker scored a brace against Inter Miami and he led the club to a 3-2 victory in the opening match of the 2021 MLS regular season.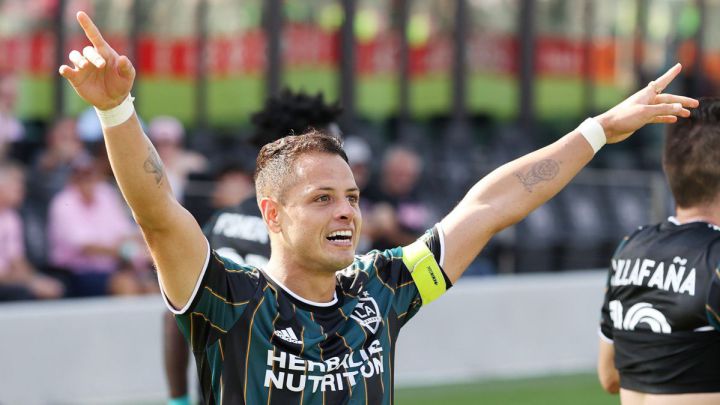 In less than 10 minutes Javier Hernández scored a brace in Los Angeles Galaxy's 3-2 victory against Inter Miami for the opening game of the 2021 Major League Soccer regular season. The last time the Mexican international scored a brace was on 16 March 2019 when he was playing for West Ham United. In that game 'Chicharito' scored in the 84th and 91st minute and led his team to a 4-3 victory against Huddersfield in the Premier League.
14

MLS player of week 1
After his outstanding performance on Sunday at the DRV PNK Stadium, Javier Hernández was voted the MLS Player of the Week for Week 1 of the 2021 MLS season. The LA Galaxy was trailing 1-0 after half-time and in the 62nd minute Hernández received a low cross from Ethan Zubak inside the box. The striker was able to control the ball with a half-turn around the defender and then riffled the ball through the goalkeepers legs to find the back of the net.
Inter Miami were once again leading the game 2-1 and in the 73rd minute 'Chicharito' ghosted in at the back post and was in the right place at the right time to equalise. After his performance, he was named MLS Player of the Week for his first time in his career and he was also included in the Team of the Week for Week 1.
The Mexican international has matched his goal total for his previous season, because in 2019 he scored twice for the LA Galaxy in 12 appearances and was very emotional during his post-game interview with ABC Sports.
"I'm holding my tears back. I suffered the loss of my grandfather, I would love him to keep watching [me] scoring goals. I'm very touched because, like I told you, last season was very difficult. I miss him so much and these goals are for him, my kids, my whole family, my friends, everyone. I maintain patience, I keep grinding and thankfully things are coming around and hopefully, like I say, I just want to be a part of an unbelievable season and lift the trophy."