How much money was the George Floyd family given by the City of Minneapolis?
The trial of former Minneapolis police officer Derek Chauvin ended with a guilty verdict, but the city had already pledged a record amount to Floyd's family.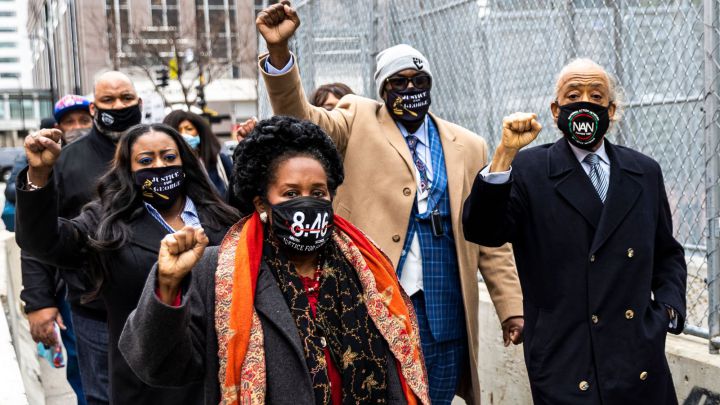 On Tuesday 20 April the Judge Peter Cahill announced that the jurors in the trial of Derek Chauvin had returned a unanimous verdict, finding the former Minneapolis police officer guilty on all three counts for the murder of George Floyd.
The verdict comes less than a year after the death of the unarmed black man sparked the global Black Lives Matters protests, and required just ten hours of deliberation from jurors.
After the news was announced, LaTonya Floyd told reporters in Houston, Texas of her relief that someone was being held responsible for the murder of her brother.
"I feel like heaven is standing on my shoulders," she said. "My brother got justice, and that's very rare."
She added: "When I watch this man get handcuffed in court behind his back, just like he did my brother, he is not in control any more. He has no power."
Floyd's family receive record amount from Minneapolis city authority
Even before Chauvin's trial, and those of the other three police officers involved, the City of Minneapolis had already reached a huge civil settlement for the family of George Floyd. Last month officials for the city of Minneapolis confirmed that the lawsuit into the death of George Floyd would result in a $27 million settlement payment to the family.
The Minneapolis City Council voted unanimously for the settlement payment in response to a lawsuit filed by Floyd's family last July. The suit was filed against both the city and the four former police officers who were involved in the incident.
In a statement posted on Twitter, Minneapolis Mayor Jacob Frei said: "The past year has dramatically shifted our city's trajectory, and today marks another milestone in shaping a more just future for Minneapolis."
He added: "Our settlement with George Floyd's family reflects a shared commitment to advancing racial justice and a sustained push for progress."
Verdict could be a "turning point" in US policing
The guilty verdict will be a moment of relief for many and those close to the Floyd family are hopeful of the positive long-term impact that it may have. Ben Crump, the family's attorney, spoke of the wider significance of the news:
"Painfully earned justice has arrived for George Floyd's family and the community here in Minneapolis, but today's verdict goes far beyond this city and has significant implications for the country and even the world.
"This case is a turning point in American history for accountability of law enforcement and sends a clear message we hope is heard clearly in every city and every state."
"I can't breathe."

Those were George Floyd's last words.

We cannot let them die with him. We have to keep hearing them.

We must not turn away. We cannot turn away.

— President Biden (@POTUS) April 20, 2021
On Tuesday evening President Joe Biden gave a White House address in which he described the verdict as "a step forward". He too was keen to emphasise that more needs to be done in the fight against systemic racism in the United States:
"In order to deliver real change and reform, we can and we must do more to reduce the likelihood that tragedies like this will ever happen and occur again.
"And this takes acknowledging and confronting, head on, systemic racism and the racial disparities that exist in policing and in our criminal justice system more broadly."