Olympic Games football: history doesn't favor Egypt
Egypt are sharing the same group in Tokyo Olympic games with Argentina, Spain, and Australia, and here is a glimpse at the Pharaohs' history against their rivals.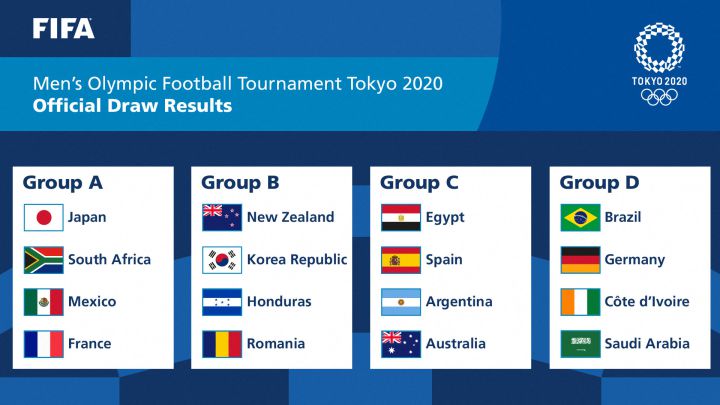 Egypt's U23 national team are preparing to take part in the Olympic Games in Tokyo next July where they have been drawn against Spain, Argentina, and Australia in Group C, considered one of the toughest groups in the competition. The Pharaohs are expected to be involved in some fiery clashes with their group rivals.
The Egyptians commence their campaign on 22 July when they meet Spain, three days ahead of their second fixture against Argentina, while they are set to take on Australia on 28 July in their last group stage game.
Men's Football:
A: 🇯🇵 🇿🇦 🇲🇽 🇫🇷
B: 🇳🇿 🇰🇷 🇭🇳 🇷🇴
C: 🇪🇬 🇪🇸 🇦🇷 🇦🇺
D: 🇧🇷 🇩🇪 🇨🇮 🇸🇦

Women's Football:
E: 🇯🇵 🇨🇦 🇬🇧 🇨🇱
F: 🇨🇳 🇧🇷 🇿🇲 🇳🇱
G: 🇸🇪 🇺🇸 🇦🇺 🇳🇿

A repeat of the 2016 men's gold medal match and the @USWNT's chance to avenge Sweden defeat in Rio 🔥@FIFAcom @FIFAWWC #Tokyo2020

— Olympics (@Olympics) April 21, 2021
Egypt's history with their opponents
The Young Pharaohs played against Argentina and Spain in the same competition in 1928 and 1992 respectively whereas they have never faced the Australian team.
In the 1928 edition Egypt endured a 6-0 thrashing by Argentina in the semi-final, while they went 2-0 down to the Spanish team in the group stage, in a tournament where Spain eventually claimed the gold medals.
A potential Salah-Ramos reunion
Egypt's coach Shawky Ghareeb has reiterated several times that Liverpool's Mohamed Salah will definitely be one of Egypt's three over-age players that every squad can bring in, which means that there might be another meeting between the Egyptian King and the Spanish defender Sergio Ramos. That is should Spain's technical staff decide to include Ramos in their squad.

The last was the infamous encounter in the UEFA Champions League final.