Messi goes 12 consecutive seasons scoring 25 goals or more in LaLiga
The Argentine has already equalled his numbers from last season, strengthens his chances of winning another pichichi trophy and is level with Cristiano Ronaldo for the Golden Boot.
Leo Messi scored two more goals against Getafe, which could have been three if he had not handed the penalty to Antoine Griezmann. With a brace in Barcelona's 5-2 win over Getafe, the Argentine reached 25 goals in LaLiga, equaling the figure he hit last season, with seven matches still to play. This tally of 25 goals puts him at the top of the 'Pichichi' table, four ahead of Real Madrid striker Karim Benzema.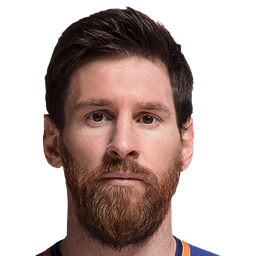 Messi is now level with Cristiano Ronaldo in second place in the fight for the Golden Boot, although Bayern Munich striker Robert Lewandowski, who leads the scoring charts with 35 goals, seems unreachable, but you never know with the man from Rosario.
Mbappé and Haaland pushing veteran stars
Incidentally, the two stars are ahead of the two emerging talents of world football, two names on everyone's lips: Erling Haaland and Kylian Mbappé, who currently have to settle for fifth and sixth place, on 23 goals each.
Messi's story is magnified if we look back and see that he has already scored 25 or more goals in LaLiga across twelve consecutive seasons. A hugely impressive feat that speaks for itself and one that will leave a mark in the history of Spanish football for generations to come. And the fact is that since the 2009/10 season, when he scored 34 goals, his records have been anything but normal, with the 2011/12 campaign being particularly exceptional, where he reached 50 goals.

A brief review of his goals over the last 12 years in LaLiga, which have led him to conquering seven 'pichichis', leave little doubt as to why Messi is considered the best player in the history of the sport: 2009/10 (34), 2010/11 (31), 2011/12 (50), 2012/13 (46), 2013/14 (28), 2014/15 (43), 2015/16 (26), 2016/17 (37), 2017/18 (34), 2018/19 (36), 2019/20 (25) and 2020/21 (25). For those who want to do the math: 415 goals in twelve seasons.
This incredible goal-scoring record for twelve consecutive years has helped him lift seven LaLiga titles, with the possibility of an eighth in the next few weeks. Along with Atlético Madrid, Barcelona are the only team that depend on themselves to lift the league title. Curiously, in Pep Guardiola's last season at the Catalan club, 2011/12, despite being the one in which he scored the most goals in LaLiga, 50, Barca didn't win the title. Nor could Messi win it over three other seasons: 2013/14, 2016/17 and 2019/20, despite scoring 90 goals between the three campaigns.
Before analysing these twelve consecutive seasons with 25 goals or more, his numbers in LaLiga were already more than respectable: 2004/05 (1), 2005/06 (6), 2006/07 (14), 2007/08 (10) and 2008/09 (23).
In total, Messi has scored a whopping 469 goals in 514 games in LaLiga, to which we must add 191 assists (on Thursday he provided one to Ronald Araújo from a corner). These are absolutely unrepeatable figures.
Finally, his numbers in 2021 are unquestionable: he has racked up 23 goals in the last 22 games, leading the team to an impressive late comeback fight for the LaLiga title, where they have taken 54 points from the last 63, and has led the team to lift its first title, the Copa del Rey, in the last two years.