Florentino Pérez tells AS: "Football is severely damaged"
Real Madrid's president gave an exclusive interview to AS to talk about the European Super League project. This is a brief advance of the full interview, to be published on Saturday.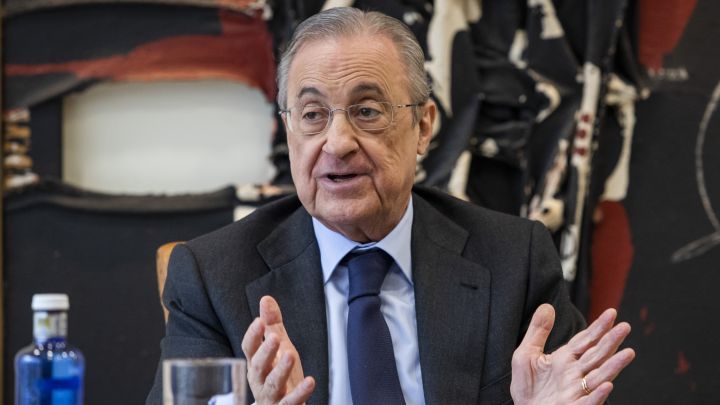 Real Madrid president Florentino Pérez, discussed all of the problems surrounding the European Super League in an exclusive interview with AS. Here, we offer a brief advance of that interview - the full unedited version will be published tomorrow, Saturday both online and in the print edition of AS.
The main criticism of the Super League is that it goes against the national, domestic leagues and gives the impression of being a private club which no team can enter on their own merits. What do you have to say about that?
Neither argument is true, but like everything, these things get manipulated. It is not a plan which excludes club and nor is it designed to go against other leagues. The Super League project is the best possible solution, and it has been created to help football get out of the crisis. Football is severely damaged because its economy has been ruined and it has to adapt to the new era we are living in. The Super League does not go against domestic competitions and its objective is to ensure that more money is available for all sections of football. The concept is to generate more interest for the games. Nor do I think that the changes which UEFA have made are a real solution to the problem because what has been proposed isn't even an improvement on the current model. Also, we cannot wait until 2024. But in any case, we must have done something badly. We are going to try to turn this around and develop more ideas. Maybe the solution is for the top four teams in every league to play. I don't know, but something needs to be done because today's youth, those between 14 and 24 years of age, are abandoning football because they see it as being boring compared to the other forms of entertainment which they prefer. There are four billion football fans all over the world and half of them are fans of the clubs in the Super League. Football is the only global sport.
Is the economy is such a bad state, that as you say, the situation is very serious, and that football is dying?
Lets look at the data: a recent report by KPMG - in the first three months of the pandemic alone last season, the 12 clubs in the Super League reported losses of 650 million euros. By the end of this season, with the pandemic still ongoing, the losses will be between 2,000 and 2,500 million euros. Girondins [Bordeaux] have recently gone into administration. Either we do something soon or many more clubs will go under.
Your project proposes a simple solution which will boost revenue - raise the level of the games and create more emotion. How can that be done without the smaller clubs feeling upset?
The reality is that football games which are more interesting, entertaining and competitive will bring in more money. And that will be for everyone, not just for a few, because the national leagues will be worth more. And we will have major amounts for solidarity, which is an important part of the project.
Some are suggesting that this could all go against Real Madrid, either in the back offices or out on the field of play. What are your thoughts?
In the democratic Europe which we live in, that is something which I don't think would cross anyone's mind.