NFL Draft: Will TE Kyle Pitts make history and go Top 5?
Tight Ends are not normally drafted in the first five picks of the draft, but Kyle Pitts in no normal tight end. Will the Gator make history Thursday?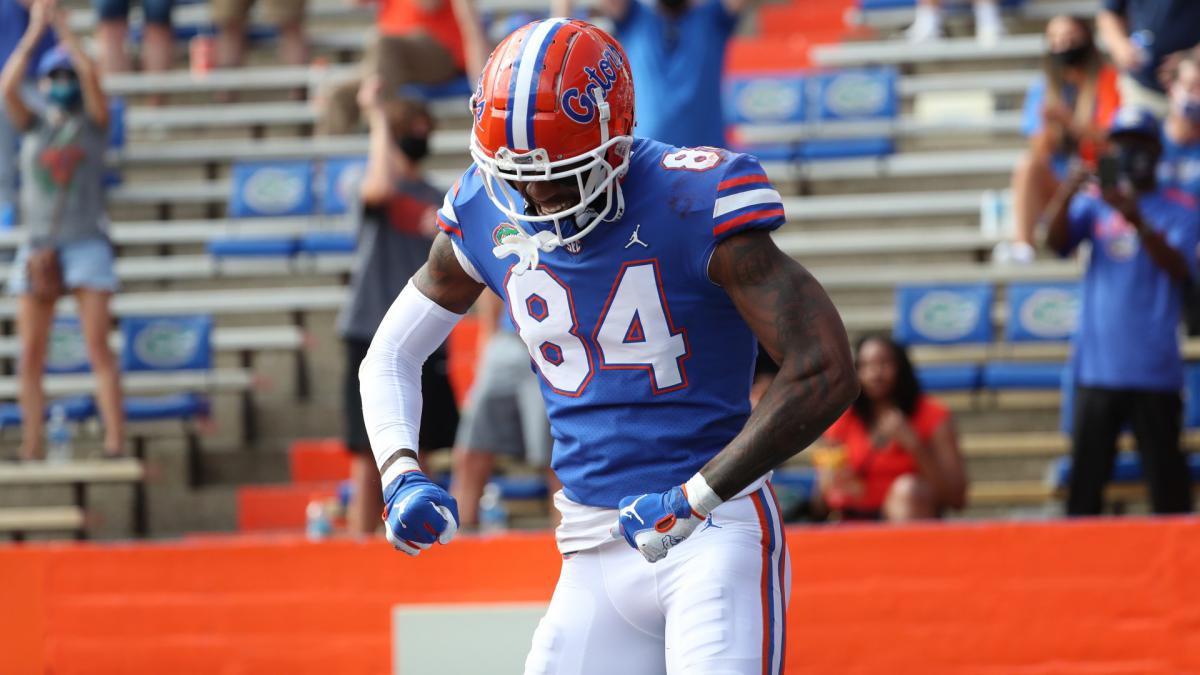 The NFL Draft is an event that is both defined by and consistently challenges conventional wisdom.
Offensive tackles with short arms - though they would be considered long for must people - are widely regarded as a risky proposition, yet versatile brick wall Rashawn Slater will go in the first round despite barely meeting the 33-inch threshold.
Running backs are not supposed to be selected in the first round anymore, but Travis Etienne, Najee Harris and Javonte Williams could all hear their name called on day one.
Then there is the notion that you should not draft a tight end in the top five, one that is about to be shattered by Florida phenom Kyle Pitts.
Pitts has size and speed unlike any other TE seen
Over 6ft and 5in tall, weighing 245 pounds, Pitts ran the 40-yard dash at his pro day in a scorching 4.44 seconds.
That is the kind of physical profile that has linebackers and safeties waking up in cold sweats.
Not that there haven't been monstrous athletes at the tight end position before. The nature of the position - blocking defensive ends one play, going one on one with a defensive back the next - demands remarkable athletic gifts.
Vernon Davis, drafted sixth overall by the San Francisco 49ers in 2006, was 6ft 3in and 254 pounds and he ran the 40 in 4.38 seconds.
But Pitts is of a different ilk. Whereas Davis needed fine-tuning and took some time to reach his potential with San Francisco, Pitts heads to the league with a skill set that could hardly look more pro-ready.
Versatile, agile, Pitts is a big-play behemoth in the receiving game who has showcased an encouraging appetite for the dirty work on the line of scrimmage. As his Stats Perform data illustrates, Pitts is the tight end for whom a team should depart from the traditional groupthink.
A 2020 season to remember at Florida

Pitts was the best tight end in college football last season and, in terms of the raw statistics, it was not at all close.
Despite playing only eight games, Pitts led the FBS in receiving yards (770), with Hunter Long of Boston College his nearest challenger (685).
Pitts racked up 96.3 yards per game, nearly 14 more than Trey McBride (82.5), who played in half the number of games. The next player on the list to have featured in a comparable number of games, Ole Miss' Kenny Yeboah (7 games) averaged 74.9.
Beyond simply looking at his impact at his own position, Pitts made a compelling argument for being considered the top pass-catcher in the sport at any spot in 2020.
His yards per reception average of 17.9 was third in the FBS among all receivers with at least 40 catches last year, trailing Dyami Brown (20) and Dez Fitzpatrick (19.4).
Only two players to meet the same catches threshold last year had more touchdown catches than Pitts' 12 -- Heisman Trophy winner DeVonta Smith (23) and Jaelon Darden (19).
And a deeper examination of the advanced metrics further illustrates Pitts' potential as a dynamic, multi-faceted weapon at the next level.
Big play ability sets Pitts apart
Utterly dominant at the catch point, Pitts uses his size superbly well to bully defenders in contested-catch situations, making him a nightmare to defend on jump-balls in the red zone.
Blessed with incredible body control and a wingspan of over 83 inches that means few balls are beyond his radius regardless of how accurately they are thrown, Pitts' ability to adjust to the flight of the pass ensured he did not drop a single one in 2020.
His catch rating, which indicates how well a receiver successfully catches throws that are considered catchable, of 0.945 was 13th among Power 5 tight ends with at least 25 targets last year, but that number was still comfortably above the average of 0.919.
While there were a group of his college contemporaries who did a better job of reeling in catchable throws -- though none had as many targets as Pitts' 67 -- finding a player who could match his upside as a downfield weapon was a near-impossible task.
Responsible for 15 plays of 20 yards or more last year, Pitts used his terrifying to speed to get open up the seam at will, logging a big-play percentage of 48.8 per cent that just three players, none of whom had more than 40 targets, could top.
It is typically more difficult to get open the further you go downfield, however, Pitts, relying on his frightening agility as well as his elite speed to create separation defied that accepted school of thought.
Pitts' average depth of target was 13.3 yards, second only to Greg Dulcich of UCLA (15.0), yet he was among the elite when it came to recording burns.
A burn is when a receiver wins his matchup against his defender regardless of whether the throw was catchable or not. Pitts averaged 3.93 burn yards per route, third behind Brevin Jordan of Miami (4.57) and James Mitchell of Virginia Tech (4.50).
Perhaps the predominant reason for the intrigue with Pitts is that his success in getting free from defenders was only marginally impacted by where he lined up.
Of Pitts' 216 routes, he ran 103 as a tight end, 52 as an outside receiver and 60 from the slot. His big-play percentage was 53.9 as a tight end, but it only dipped to 46.5 when he lined up outside and further to 41.9 from the slot.
His burn yards per route was also best from the tight end spot (4.62), with outside receiver next (3.40) ahead of the slot (3.27). However, his burn percentage increased from 67.7 when he played at tight end to 81.3 at the slot position.
While it is generally easier to get open from the slot, with quicker receivers running shorter routes in the underneath areas of the field, Pitts' burn percentage put him fourth among all pass-catchers with at least 15 slot targets.
That is what makes Pitts so appealing. He is clearly an elite tight end but also stands as a top-tier option from the slot who can win his matchups when playing as an outside receiver.
And he has another string to his bow.
More know for his pass catching, Pitts can still bang on the line
A significant question that is always asked of tight prospects surrounds whether they can survive, if not thrive, blocking on the end of the offensive line.
Though it is not Pitts' forte, it is far from a weakness.
In 20 pass protection snaps, Pitts allowed only one pressure, indicating that, while he is best off running routes on passing downs, he can stay in and provide protection for his quarterback when required.
He was more porous when asked to run block, allowing 10 run disruptions on 95 snaps, but his 85 wins in that regard show Pitts to be a player with the ability to move defenders off the ball and create lanes for the backs to hit.
It is rare to find tight end prospects who check every box. Pitts does all that and more.
The offensive coach lucky enough to have him added to their depth chart will know they have a player whom they can immediately rely on in every facet of the game.
More than that, though, they will have the football equivalent of the queen on the chessboard, with Pitts able to wield the power of his devastating skill set from anywhere on the field, allowing his coordinator to present a variety of different looks and create mismatches against linebackers, safeties and cornerbacks alike.
Pitts provides options scarcely offered by most tight ends. He is a true unicorn with a case for being the most complete player in the draft. Tight ends don't go in the top five, but position-less prospects who offer Pitts' level of firepower are more than worthy of that status.