Zidane: "The league title race hasn't ended today"
Zidane spoke after the 0-0 draw with Betis which leaves Real Madrid further behind in the battle for LaLiga just three days before they face Chelsea.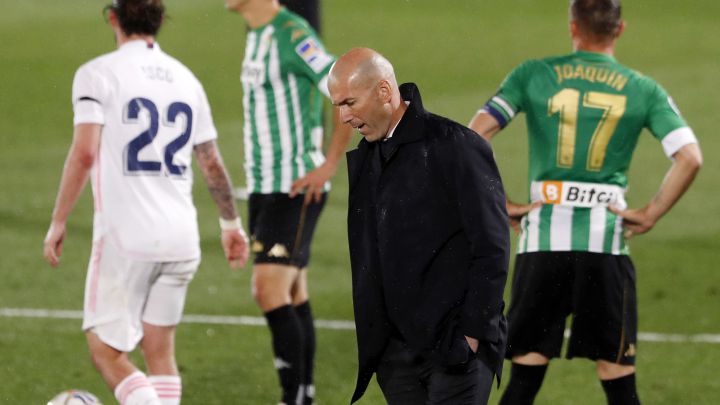 This evening's 0-0 draw at home to Betis complicates Real Madrid's chances of gaining ground on leaders Atlético, who are in action tomorrow - as are fellow title contenders Barcelona and Sevilla. Zidane attended reporters after the game to look back on the team's second goalless draw in their last three outings, and their struggles to find the net...
A step backwards. "We dropped two points, but defensively we played well. In attack, we lacked a lot. We lost the ball too often. We were not very clinical in attack".
Will some of the injured players be back in time for the Chelsea game? "That's the plan, for Mendy and Kroos to return, but we'll have to wait and see. We have five games left in LaLiga, it's still quite a lot, we are going to keep on fighting. The title race hasn't ended today. We still have games left to play and the other teams also have to play".
Tuesday's meeting with Chelsea. "We have to recover from this game, Tuesday's match will be the most difficult game of the season".
Handball in the Betis penalty area. "I saw the hand but the ref didn't blow for it, that's all".
Hazard is back. "He looked good. I'm happy. He's going to bring us something extra between now and the end of the season and we are going to make the most of that".
Carvajal. "He looked reallt good, like all of the players who have recently returned, the look fine".