Randle following Kobe's example and claims nine-in-a-row Knicks can 'get a lot better'
The Knicks are enjoying their best winning run in eight years, led by Julius Randle, who is using Lakers great Kobe Bryant as inspiration.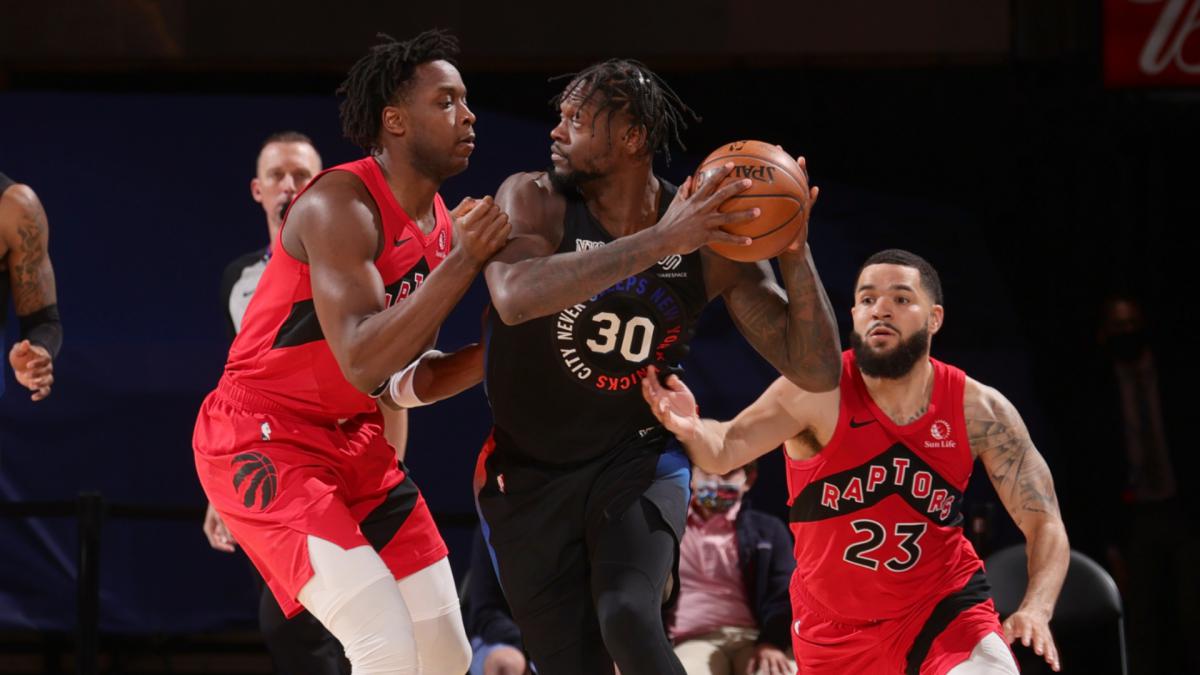 Julius Randle is proud of the way he has followed Kobe Bryant's example with his work ethic to help lead the New York Knicks to fourth in the Eastern Conference.
The Knicks beat the Toronto Raptors 120-103 on Saturday to stretch their winning run to nine in a row.
The team have had seven straight losing seasons, missing the playoffs every year since 2012-13, but are now 34-27 and firmly back in contention to make the postseason.
As all season, Randle was the Knicks' standout performer against the Raptors, scoring 31 points to improve his average for the year to 24.0. He also has 10.5 rebounds and 6.0 assists per game in 2020-21.
This form earned All-Star recognition and could yet see Randle selected to an All-NBA team.
Such a turnaround could hardly have been expected for a player who had averaged 16.1 points per game for his career since he was selected seventh overall in 2014 by Bryant's Los Angeles Lakers.
The Lakers superstar's late-career industry rubbed off on Randle, though, with the forward improving this year under Tom Thibodeau, who compared Randle to Knicks great Patrick Ewing.
Randle: "Kobe - his work ethic was top notch"
"That's amazing," Randle said of Thibodeau's comments. "I've actually asked him to talk about that before. He gave me an insight because he saw it first-hand.
"I'm proud of myself for my work ethic. The greats have done it before.
"The guy that I idolised the most and looked up to - which is Kobe - his work ethic was top notch. Nobody was better at putting the time in.
"So, like I say, I'm proud of myself for my work ethic in terms of how I prepare myself to get ready for a season, how I prepare myself to get ready for games."
Thibodeau said: "It always starts with your best players. If they work like that, it sets the tone for the team.
"[Randle] is relentless. It's not an accident that he's having the type of season that he's having.
"His commitment, I could see it from the first day I met him, just looking at the type of conditioning he had, how committed he was to turning this thing around.
"I can recall back in the '90s, when I first arrived here as an assistant, the thing that blew me away was Patrick Ewing, every morning in the offseason, he was the first guy in the building, worked like crazy, got himself ready, and the rest of the team did the same.
"I think that's leadership. It's not what you say, it's what you do. When you see an example like that, it gives you confidence and gives the team confidence."
This is now the Knicks' longest sequence of wins since 13 straight across March and April 2013, yet Randle is not content.
"We're peaking, but we can still get a lot better," he said. "Offensively we're playing well, but defensively, for a full 48 minutes, I feel like we can be a lot better."