49ers coach Shanahan keeping quiet about Garrapolo future ahead of NFL Draft
=Kyle Shanahan knows he will be the one with the final word on who San Fransciso will take with the thrid overall selection in Thursday's NFL Draft.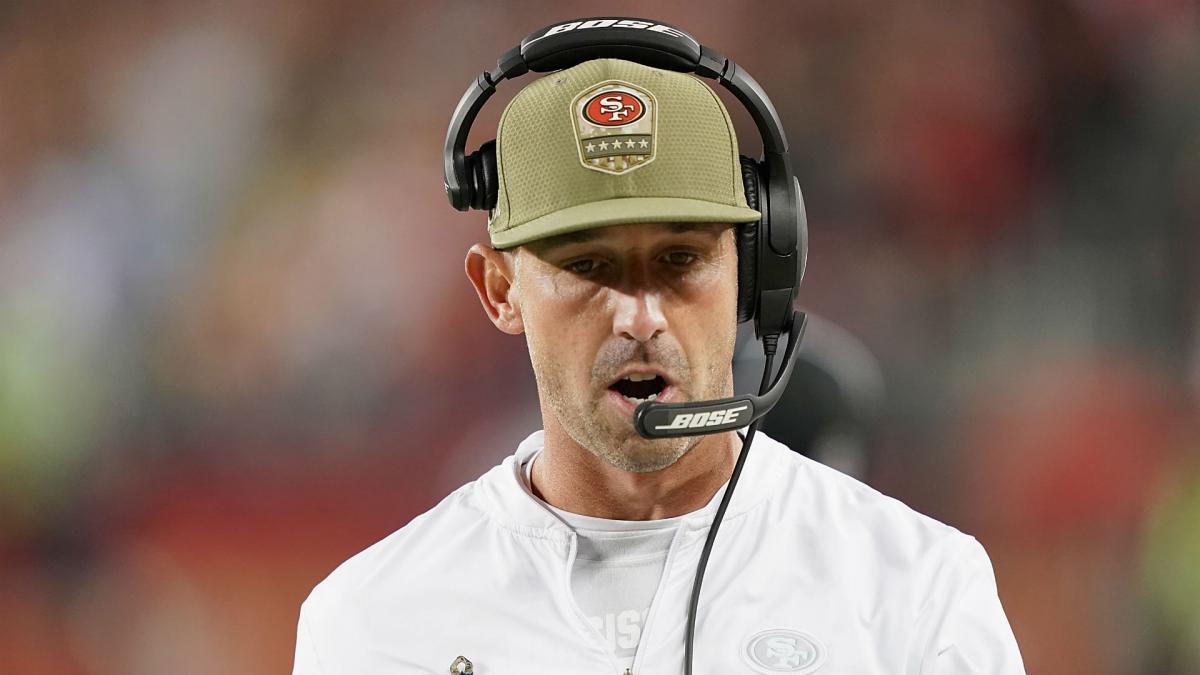 The NFL Draft begins Thursday and the San Francisco 49ers are primed to select a quarterback after trading up for the third pick.
Of course, that draft pick would become completely inconsequential if for some reason a catastrophic disaster were to wipe out the human race, which is what 49ers coach Kyle Shanahan alluded to during a press conference on Monday.
Shades of grey en Shanahan's answers about Garoppolo
When asked if quarterback Jimmy Garoppolo will be on the roster by the end of the weekend after the draft concludes, Shanahan avoided the usual coach speak and took a bleaker approach in his response.
"I can't guarantee that anybody in the world will be alive Sunday, so I can't guarantee who will be on our roster on Sunday," he said. "So that goes for all of us."
Garoppolo's days as the starting quarterback for the 49ers appear to be numbered after the team traded two first-round picks to move up from 12 to 3, but hopefully for his sake he still has plenty of days left on Earth.
As far as who the Niners plan to grab with their pick is still a mystery. And Shanahan was not about to tip his hand.
Jimmy's injuries a factor in Niners decison to trade up in Draft
"So, do we know exactly who we want?" he asked rhetorically. "Maybe. Probably. But maybe not."
Garoppolo led San Francisco to the Super Bowl following the 2019 season but injuries limited him to just six games in 2020 as the Niners stumbled to a 6-10 record.
Though he dodged every question about who the 49ers might draft, Shanahan has been up front about injuries being a major factor in the team ready to move on from Garoppolo.
"The biggest thing with Jimmy is his injuries," Shanahan said. "It's been very tough for us when he's been hurt and that's happened two of these three years. That's where it starts and Jimmy knows that."
Shanahan did admit that having a rookie quarterback as well as a proven winner like Garoppolo together would be advantageous.
"But I feel very fortunate, taking a rookie quarterback, that we do have a guy like Jimmy," he said. "We have a guy that every time he's been a starter he's played at a high level.
Head Coach will have final say in who is drafted: GM Lynch
"So to have that with Jimmy while adding a rookie quarterback gives us a lot of leeway. We're not going to set anything in stone, but I know that's a situation that would be hard to get rid of."
The decision on who the 49ers draft will ultimately fall on Shanahan, according to general manager John Lynch.
"We have a head coach who's also our offensive play caller. I will always defer to him," Lynch said. "You know, what's cool about that is that Kyle I think respects my opinion enough.
"He always wants it. Ultimately, we arrive at decisions. We will and come Thursday we'll have a pick that hopefully makes everyone proud, but that will judged in years to come. We've done our best to make sure it's a great decision for this franchise."