Lance thinks he has potential to outshine Lawrence & QB class
Trey Lance says the doubts raised about him in the pre-draft process have given him more motivation as he prepares to find out his NFL team.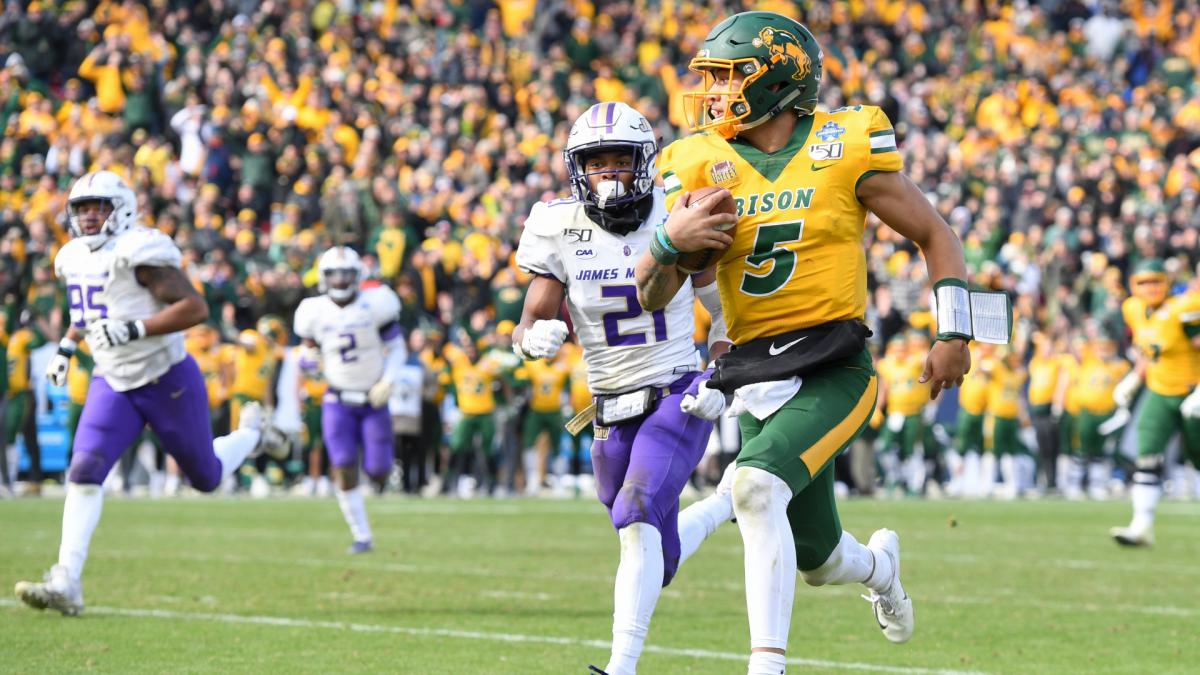 Trey Lance insists he has the potential and ability to become the best quarterback to emerge from the 2021 NFL Draft, despite a star-studded class.
Trevor Lawrence, the presumptive number one overall pick for the Jacksonville Jaguars, is billed as a generational talent at QB, while Zach Wilson appears to be locked in for the New York Jets at two.
There is huge debate and uncertainty over who the San Francisco 49ers will select when they are on the clock on Thursday, having traded up to number three overall.
Lance is in the mix for the Niners, as are Justin Fields and Mac Jones, with all five of the highest-rated QBs tipped to go in the first round and possibly the top 10.
Behind closed doors at the home of the North Dakota State Bison, Lance threw in front of several teams in his 'second pro day' last week, having shown off his remarkable arm at his first.
The 20-year-old is seen as the QB with the widest range of outcomes of the first-round quintet, but has the belief to state he can outshine his rivals, even though he wants them all to succeed.
Lance: "I'm super excited to find out where I'm going to be"
"I'm confident in myself, and I believe in myself," Lance told NFL Network. "I think I have the potential to be the best quarterback in this class.
"I don't know where I'm gonna be at. Obviously, I've watched a ton of tape, 49ers, Falcons, whatever it is, football, in general. But I'm super excited to find out where I'm going to be.
"I think I'm going to be able to learn any offense that I'm put into, any system I'm put into, and find a way to be successful. I understand obviously there's gonna be a lot of learning to do.
"Just as far as this quarterback class, I want them all to do well. I'm excited to see what they do and rooting for them all the same."
While Lance has faced scrutiny as a passer, he is a dual-threat and perceived as the strongest rusher of the leading options at the QB position.
Only four QBs across the FBS and FCS had more rushing touchdowns than Lance's 14 in 2019, while his rushing average of 6.5 was fifth among signal-callers to have registered at least 100 rushing attempts.
But he will enter the league with just one full season of college experience - and an uneven 'showcase game' against Central Arkansas - after the coronavirus pandemic pushed the Bison's 2020 season into the spring of 2021.
Lance only averaged around 18 pass attempts in a run-heavy offense in his sole campaign.
In addition to inexperience, the level of competition is also a question-mark against Lance's name, his 16 games in 2019 coming in the FCS, college football's second tier.
Bison alumnus Carson Wentz made the grade in the NFL, at least initially, playing at the same level, and for Lance any doubts about his game and background simply serve as additional motivation.
He added: "Hearing those [questions] for me is honestly exciting. I get to prove people wrong again. So that is what I'll continue to do and I want to continue to do.
"So definitely excited to be able to prove people wrong and come in and be ready to go whenever the situation is, whenever the coach best sees fit.
"The 'project' TV label is definitely a thing. Whether it's playing FCS football or whatever, I think Carson is a great example of someone who came in from FCS football, level of competition and all those things that people talked about with him.
"He came in and played really, really well as a rookie. So I think that's a huge thing for me and my process."