Zidane wants Odegaard back at Bernabéu to replace Modric
Martin Odegaard will return to Real Madrid this summer after his loan at Arsenal with Zidane keen to incorporate the Norwegian into the first team.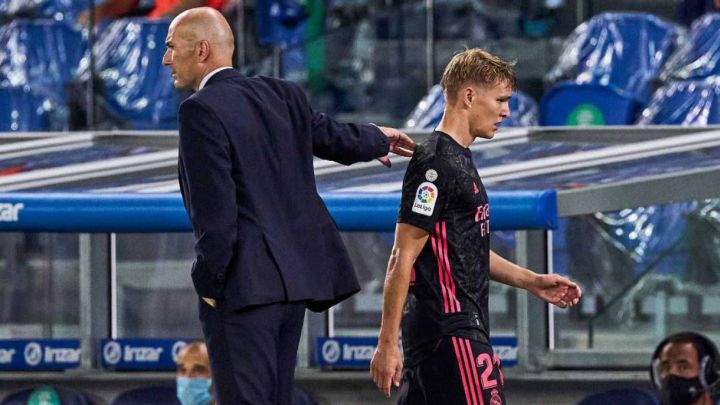 Arsenal's desire to retain the services of on-loan Real Madrid midfielder Martin Ødegaard look set to be frustrated as it seems increasingly likely Zinedine Zidane intends to recall the Norway international ahead of the 2021-22 season to provide back-up for, and to eventually replace, veteran Croatian schemer Luka Modric.
Last summer, Ødegaard was brought back to the Bernabéu after a successful loan spell at Real Sociedad but the emergence of Fede Valverde and the continued brilliance of 35-year-old Modric left the Norwegian with few options to play regularly. Zidane at the time asked Ødegaard for patience but the 22-year-olf followed the lead of Dani Ceballos and headed to Arsenal for game time. After being recalled from La Real, Ødegaard started the first two league games of the season, against Real Sociedad and Betis, but then dropped out of the reckoning after making five starts across LaLiga and the Champions League with a few substitute appearances totalling 367 minutes.
Arsenal boss Arteta keen to keep Ødegaard and Ceballos
At Arsenal, Ødegaard has been handed a more prominent role by Mikel Arteta and the Premier League side have been suitably impressed by his performances, to the extent that they would like to sign him on a permanent basis this summer. Asked about Ødegaard and Ceballos earlier in April, Arteta said: "I'm very happy with them both and it's a decision we will have to make at the end of the season because there is another club involved. In this case both players belong to the same club and we will have that conversation."
However, Zidane, backed by Real Madrid president Florentino Pérez, who beat competition from across Europe to secure Ødegaard's signature back in January 2015, is not contemplating letting the Norwegian leave permanently given Modric's age and the lack of central midfielders coming through from Castilla. Madrid are also looking to bring down the average age of the squad and see Ødegaard as a useful asset. Since Ødegaard departed for North London, Toni Kroos and Modric have played almost every game they have been available for, with the German clocking up almost 3,000 minutes and Modric 3,205.
Ahead of next season, Zidane hopes to persuade Ødegaard to bide his time and work his way into the position currently occupied by Modric.