NFL Draft: Clemson's Amari Rodgers out to prove he's ready for the league
Amari Rodgers' mindset guided him through a college career in which he overcame adversity; now he'll look to use that same drive in the NFL.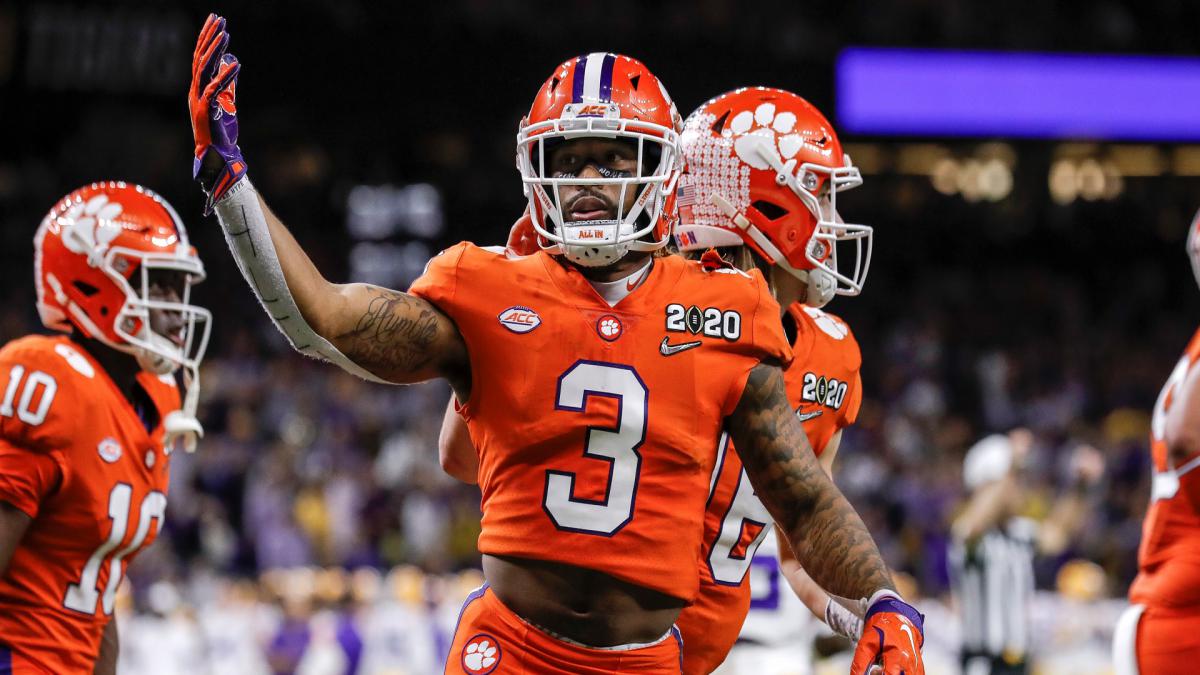 The NFL is a league of giants, one dominated by towering physical specimens who can stretch the limits of athleticism and mental colossuses who fight through adversity to shine brightest in the biggest moments.
While far from a disappointing athlete, NFL teams that have done their homework on Clemson wide receiver Amari Rodgers ahead of this week's draft will likely have slotted him firmly in the latter category.
Rogers likens himself to Steve Smith Sr.
Rodgers is of the more diminutive build in terms of height when it comes to receivers, measuring at just over 5ft 9in at his pro day. However, though size is among the defining physical traits teams will always look for when building out their rosters, there are no shortage of examples of wideouts overcoming a lack of verticality to thrive at the highest level.
Perhaps the most prominent example of a supposedly small receiver excelling in the pros is the one who has inspired Rodgers since his formative years: Carolina Panthers great Steve Smith Sr.
"All the way through high school, all the way through college, I used to watch his highlights before every single game just to get my mindset going, get me riled up," Rodgers told Stats Perform News.
Getting himself and his opponents riled up was a key feature of Smith's career, as he used an aggressive mindset to help him outwill and outperform defenders over the course of 16 NFL seasons, five of which ended with Pro Bowl recognition.
Rogers was Trevor Lawrence's favorite option at Clemson
A markedly similar approach was critical to Rodgers' success during his college career with Clemson, where he won a National Championship and emerged as a top target for presumptive number one overall pick Trevor Lawrence after Tee Higgins left for the pros last year and Justyn Ross was ruled out of the 2020 season with a spinal issue.
Rodgers racked up 77 catches for 1,020 yards and seven touchdowns in 2020, using his stocky 212-pound frame to run through defenders for extra yardage once he got the ball in his hands while also displaying a hugely impressive ability to elevate over cornerbacks at the catch point.
Of his 1,020 yards, 602 came after the catch, with that total second only to Alabama's DeVonta Smith (937) in the FBS, per Stats Perform data. His catch rating, which measures how well a receiver brings in catchable passes on a 0-1 scale, was 0.917, above the average of 0.901 for Power 5 wideouts with 20 or more targets.
A ferocious wide out, Rodgers refuses to hide from defenders.
"That's definitely a product of my mindset. I'm just trying to run through people," Rodgers added. "If I'm about to run out of bounds on the sideline and there's somebody there they're going to feel me.
"I'm not just going to run out of bounds, it's not flag football, it's not two-hand touch. I've got the pads on for a reason, I'm going to let them feel me and let them know that I'm there and I'm coming back.
"That's just my mindset, just to let everybody know that I'm not stopping the whole game, I'm putting my best foot forward, I'm playing with the best effort, I'm just bringing that dog mentality.
"Once Justyn got hurt, I knew I was going to have most of the load in the receiver room, me and Cornell Powell. In the offseason, after spring ball, I just took it upon me to just grind every single day.
A workholic, Rodgers has spent everyday polishing his game
"I didn't go a day without doing something to enhance my game. I was just preparing myself mentally and physically for that load that I knew that I was going to have this past season so that when the time came I could perform."
That same relentless preparation helped Rodgers get through the toughest part of his college career a year earlier.
His ability to have a significant influence on the Tigers' 2019 campaign appeared set to be restricted when he tore his ACL in spring practice. Yet he accelerated a recovery that for many takes six to nine months to just 166 days and, by his second game of the season in September, had a 100-yard performance to his name as he went off for 121 and two touchdowns against Syracuse.
"My mindset was everything with that. I hate sitting out, I hate not playing, I hate seeing my brothers out there practicing every day, doing hard stuff and I'm on the sideline watching them, so that tore me up," said Rodgers of his rapid rehabilitation.
Clemson's WR returned to action 166 days after a torn ACL
"I worked every single day, three times a day, in the morning before workouts and then after lunch I'd come back in and do some more, and then I paid out of pocket and went somewhere else at night.
"So three times a day except on the weekends I'm doing rehab and strengthening the muscles around my knee and stuff like that so I can get back out there, because I knew I needed to be out there and they needed me, so I just did everything I could to get back out there with my brothers."
Such ceaseless determination is difficult to maintain, but Rodgers had the benefit of an indelible source of motivation.
Rodgers ensured he caught the eye at his pro day, running his 40-yard dash shirtless and revealing an upper body adorned by scores of tattoos.
His evident passion for body art played a crucial role in that speedy return to the field.
Asked about his favourite tattoo, Rodgers replied: "This one on my forearm, it's a quote, it says 'the future belongs to those who believe in the beauty of their dreams'.
Body art a source of inspiration for draft hopeful

"I got that shortly after the day of my ACL injury because I did that as a daily reminder to keep shooting for my dreams and keep believing, because sometimes it may be tough going into rehab and doing the same thing over and over and over again. You want to transition to running; there's a transition to running routes, but it's a slow process, you've got to take your time and be patient. So, I just got this on my forearm just as a daily reminder.
"I look at it before I start working out every single day and I'll be dialled in, so that's definitely my most favourite tattoo."
Rodgers' dream is now about to become a reality as he will make the jump to the pros, and he sees no limit to what he can do when he gets on an NFL field.
He ran 291 routes from the slot in 2020, compared to 45 as an outside receiver.
However, his burn yards per route average – a burn being when a receiver wins his matchup with a defender on a play where he is targeted – only dropped from 3.65 when playing the slot to 3.53 when lined up outside. That latter number was comfortably above the average of 2.50 for wideouts with at least 10 targets as an outside receiver.
Rodgers' catch rating improved from 0.912 in the slot to 0.947 when he played outside. His average depth of target from the outside was 16.4 yards, with Rodgers recording an open percentage on his targets of 69.2 that put him 10th among outside receivers whose average depth was 16 yards or higher.
And Rodgers is convinced that, just like his idol Smith, he could excel on the outside at the next level.
"My first two years at Clemson I played outside receiver, I didn't move to the slot until my junior year, so I had that experience playing outside as well," he said.
"I can play inside; special teams is going to help me as well. You can throw me in the backfield and create mismatches with me against linebackers on third downs, too. I can do it all. I'm a Swiss Army knife, that's really how I'm approaching this process, telling programs in the interview process, because a lot of people didn't see everything I can bring to the game at Clemson, so I'm just letting you know that I'm only getting better, they can use me in any way they want to."
Rodgers is a prospect who firmly believes he is yet to show everything he has to offer, so what can the team that calls his name expect when they add him to their ranks?
"They're going to get a dog, first and foremost, somebody that's the YAC king," Rodgers explained. "Sixty per cent of my yards was after the catch, so that just shows my ability to be dominant when I get the ball in my hands and make plays.
"So, they're going to get somebody that has strong hands, confident in their route-running, you can believe that he can get open every single play and a leader, somebody that's going to lead by example, not be one of those that's always in trouble, but go in, put the work in day in and day out, keep improving day in and day out, help the team winning that Super Bowl."
Rodgers heads to the league with lofty ambitions. Meeting them will be a tall order, but there is no doubt Rodgers will approach that challenge with the right mindset.