Barcelona 1-2 Granada, result, goals, summary: 2020/21 LaLiga matchday 33
Barcelona 1-2 Granada: LaLiga as it happened
Peeep peeep peeeep! Granada have stunned Barcelona at the Camp Nou and handed the initiative back to Atlético Madrid in the title race!
That's their first ever win away to Barça.
The Andalusians have pulled off a famous smash-and-grab thanks to those second-half goals by Darwin Machís and Jorge Molina, and have not only prevented Barça from leapfrogging Atlético at the top of LaLiga, but have also furthered their ambitions of qualifying for Europe for a second straight year.
Diego Martínez's men are now just four points off Villarreal in seventh, the final European spot.
As for Barcelona, they end the night down in third, two points behind Atleti, who they host in two weeks' time. What a title race this is proving to be!
Thanks for reading!
Messi is brought down by Marín on the right flank. Marín is booked, and Barça have what looks like being their final chance to get the ball into the penalty area. Ter Stegen is up for it.
Messi delivers... and the ball just evades Piqué's head, and runs through to Aarón.
Messi curls a ball into the box towards Piqué, who handles in his attempts to direct his header on goal. One minute to go.
Four minutes of time added on at the Camp Nou.
Barcelona are utterly throwing themselves at Granada, but with greater eagerness than quality. A high ball is lofted up towards the back post, but Aarón comes out to claim with relative ease.
Dembélé tries to buy a free-kick in prime Messi territory, but doesn't get it - and is penalised for grabbing hold of the ball as he fell to the turf.
Germán is booked as Granada prepare to take their free-kick, presumably for dissent.
Piqué, who is now playing as a centre-forward, goes up for a high ball at the back post with Germán. However, he succeeds only in heading wide and hurting himself in the process.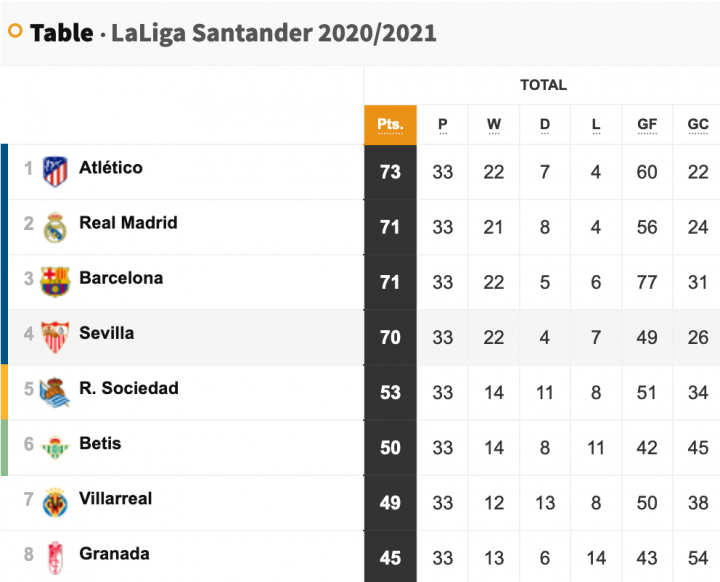 LaLiga table as it stands: Atleti stay top, Barça third
Here is that LaLiga table as it stands. Having looked poise to leapfrog Atlético only a few minutes ago, Barcelona will remain in third if its stays this way, with Los Rojiblancos two points clear of both the Blaugrana and Real Madrid.
And take a look at Granada - they'll move to within four of Villarreal in seventh.
Barça bring on Francisco Trincao for Sergi Roberto.
Unbelievable! Granada lead! Molina heads home!
The man who's just on, Marín, whips in a peach of a ball from the left wing, and his fellow substitute Molina glances an expert finish across Ter Stegen and into the far post.
Well, well, well. Just over a quarter of an hour ago, Barcelona were heading top. As it stands, they'll end the night third.
Close from Piqué! Messi sends a free-kick against the Granada wall, the loose ball falling to Griezmann on the left-hand side of the box. He plays it quickly across goal, but it's just behind Piqué and the defender can't turn the ball goalwards.
Had he let it run, De Jong was much better placed to turn the ball home. The Dutchman looks suitably crestfallen.
Granada bring off goalscorer Machís, Adrián Marín replacing the Venezuelan.
Barcelona are once again pinning Granada back. Dembélé sends in a corner from the right, but Umtiti heads well wide.
Barcelona make a double change, replacing Mingueza and Ilaix with Pedri and Ousmane Dembélé. Mingueza throws his jacket down in annoyance; his mistake may have cost Barça top spot.
Barça go to four at the back.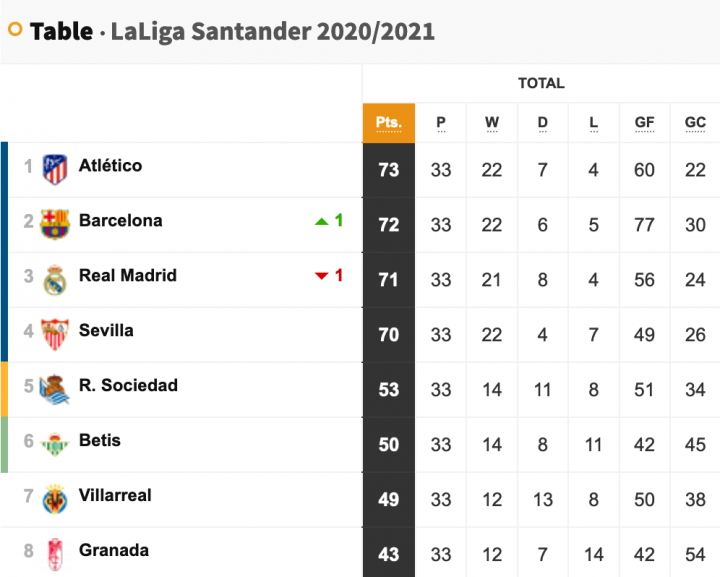 LaLiga table as it stands: Atleti staying top
That Machís leveller changes everything at the top of LaLiga: if it ends all square at the Camp Nou, Atlético will stay in first place one point ahead of Barcelona.
Ronald Koeman is sent to the stands! Presumably for giving the officials a little bit too much lip. The Dutchman responds with a who-sir-me-sir face of puzzlement.
Goal for Granada! Darwin Machís capitalises on Mingueza's error and finishes low past Ter Stegen! The Andalusians have been under the cosh since the restart, but they're level now.
Luis Suárez spins and aims a through ball towards Machís run into the box. It's too close to Mingueza, but Barça's young defender misses his kick as he attempts to clear, and the ball slips through to Machís.
The Venezuelan gets the ball out of his feet with his first touch, before beating Ter Stegen at the near post!
Granada make a double change, introducing Jorge Molina and Maxime Gonalons for Soldado and Eteki.
Barça spend another couple of minutes plopping it about just outside the Granada box... before Mingueza overhits his through ball towards the run of Roberto on the right, giving Granada a moment or two of respite. The visitors are being utterly pinned back.
Back come Barcelona, who get Sergi Roberto into a good crossing position on the right-hand side of the box, only for Roberto to play it behind the waiting Blaugrana shirts.
Barça win it straight back once more, though, and set up camp deep in the Granada half. They pop it about for a long while, before Busquets' low, diagonal ball towards the back post is just out of reach of the arriving Roberto.
De Jong is left appealing for a penalty - only very timidly so - after barrelling into the Granada box and being run off it before he can get his shot away. I think the Dutchman thought there might have been a handball. There wasn't, evidently.
Soldado runs at a back-pedalling Barcelona defence, who let the striker stroll into the penalty area before trying, unsuccessfully, to play in Suárez. Should have shot rather than passed? Very possibly. He looked to be in a good position to go it alone.
At the other end, De Jong cuts it back to Roberto 12 yards or so out, but the right-back fires over.
Granada have really struggled to get out of their own half so far since the break... but just as I write that, Messi gives away a free-kick and the visitors finally have the chance to look forwards.
And right away Griezmann has a great chance to double Barcelona's advantage, but fires wide! It's nice play from Ilaix, who spins just inside the box and plays it to Griezmann on the penalty spot. The Frenchman's first touch is perfect, but his shot is less so - it flashes a good yard or two past Aarón's left-hand post.
Peeep! We're back up and running.
No changes for either side.
Peeep peeep peeeep! Refereee Pablo González Fuertes blows for half tie right on the 45-minute mark.
Lionel Messi's 26th league goal of the season has Barcelona one to the good and, as things stand, Ronald Koeman's men are heading top of the table.
Having been lucky to escape a yellow card for a foul on Messi a few minutes ago, Pérez is now booked after tugging back the Barcelona skipper.
There's a chance for Soldado, but Umtiti blocks! Granada get the former Real Madrid strike scuttling in behind the Barça defence and into the box, but he takes just a second too long to get his feet into position to shoot, and Umtiti manages to get himself in the way of his effort.
Soldado had Suárez in acres of space in the middle; suffice it to say the Colombian isn't too chuffed with his colleague.
A few moments earlier, Eteki had also had a shooting chance - albeit not quite such a presentable one - and had blasted it into orbit from 25 yards.
What a chance for Messi! Busquets lifts a sumptuous ball over the top that releases him in behind the Granada defence, but Aarón gets just enough on the Argentine's low finish to divert it past the post! That looked certain to be 2-0.
From the corner, Umtiti rises highest and powers a header towards goal, but it's too close to Aarón, who saves again!
Quini is down and in some pain, it seems, but after a stoppage that lasts a good minute or two, he's back up on his feet and looks like he'll be OK to continue.
Messi's progress towards the Granada box is stopped - illegally - by Pérez, who appears to have left the Argentine with a fat lip. He escapes a yellow card, however.
The free-kick is taken short to Roberto, who fires in a dangerous low ball that flashes across the box without anyone managing to get a touch. If a Blaugrana shirt had connected with that, Aarón may have had a bit of work to do to prevent the hosts from doubling their lead.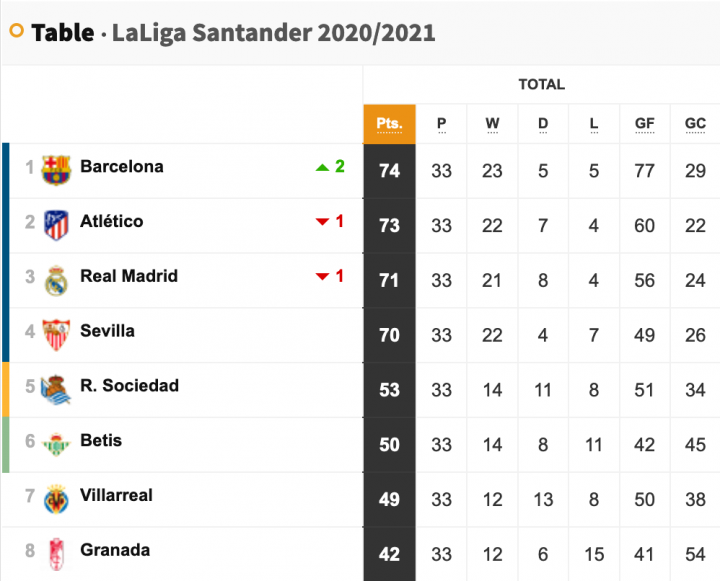 LaLiga table as things stand: Atleti leapfrogged at the top
Here's how it looks at the top of LaLiga as it stands. Barça going one point clear of Atlético with five games to go, Real Madrid three points back in third and Sevilla one point behind Los Blancos.
Granada almost produce an immediate response when Herrera robs Busquets 25 yards out from the Barça goal and barrels towards the box... but he scuffs his strike from an eminently decent shooting position, and the chance is lost.
Goal! Messi rifles Barcelona into the lead! It's brilliant play by Griezmann in the build-up.
Receiving the ball on the edge of the box and with his back to goal, Griezmann spins away from his man expertly, before advancing into the area and laying the ball off to Messi, who slams an angled shot across Aarón and into the far corner!
Barcelona heading top as it stands.
Herrera almost gets Machís in behind the Barça defence and into the box, but his pass is just overhit.
Soldado earns himself the first yellow card of the evening after a going in very late on Griezmann. He can have no complaints.
Griezmann shoots, but Aarón holds on! Busquets fizzes a lovely penetrative ball into Messi's run towards the Granada box, before the Argentine cuts back and lays it off to Griezmann. The Frenchman might have shot first-time, but takes a touch that allows the Granada backline to get a yard closer to him. He digs out a shot nonetheless, but it's too close to Aarón.
Machís delivers a free-kick long into the Barcelona box from deep, but it's very comfortably cleared. Granada recycle the ball to Díaz, who also knocks it high towards the Barça area, but it's directed at no-one in particular and won't be troubling the Blaugrana backline.
Griezmann looking for Barcelona first
Antoine Griezmann has scored in his last three appearances for Barcelona in all competitions, and if he finds the target today he'll make it four in a row for the first time since he moved to the Camp Nou.
There's the first dangerous attacking opening for Barcelona!
De Jong plays a quick one-two with Griezmann in the box, the Frenchmans's return ball leaving the midfielder in space to cut it back from the byline to Messi, who's waiting on the penalty spot.
Messi can't quite get on the end of De Jong's pass, but it runs through to Alba on the edge of the box. He takes a touch and lets fly, but his shot is blocked!
Very nice build-up play from Barça, though. The speed of that De Jong-Griezmann one-two was key.
Ilaix is brought down by Herrera about 30 yards or so out from goal, giving Messi a chance to test Aarón with an early free-kick.
Wait, no... he plays it short and wide to Alba, who wraps his left boot around a cross, but sees his delivery blocked by Foulquier.
Foulquier takes the ball in an, erm, delicate area of his body, and quite understandably needs a moment or two to recover from that.
It's all Barcelona possession in the first two minutes at the Camp Nou, before Granada finally get a spell on the ball and release Foulquier into crossing space on the right. A slight deflection takes the sting off his low ball into the box, and it's easily dealt with by the Barça backline.
Peeeep! We're underway at the Camp Nou.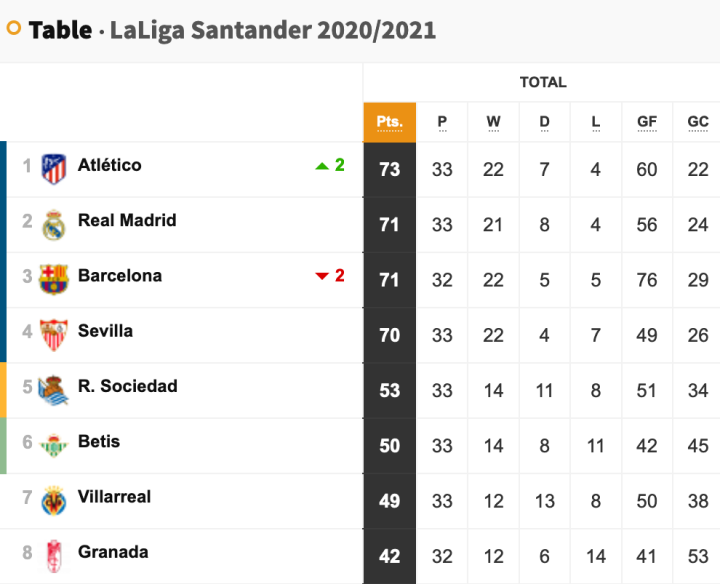 Granada challenging for European return
While Barcelona have the chance to move top of LaLiga tonight, Granada are again enjoying a magnificent season under Diego Martínez.
Having reached the quarter-finals of the Europa League - where they were knocked out by Manchester United - the Andalusians are still within sight of another finish in the European places in LaLiga, particularly as Barça's Copa del Rey win means the top seven will qualify for continent football.
A win for Granada tonight would take them to within four points of seventh-placed Villarreal.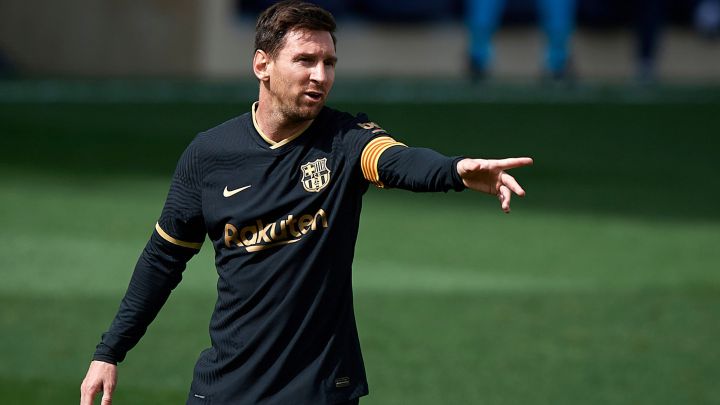 Barcelona's unblemished Granada home record
Barça host Granada in the top flight for the 25th time this evening, having won all 24 of the teams' previous meetings at the Camp Nou. The Catalans haven't any other side in Spain more often at home in LaLiga.
We meet again…
This evening's game in Catalona is Barcelona and Granada's third meeting already in 2021 - and their most recent clash was an absolute thriller, as the Blaugrana came back from 2-0 down late on to win 5-3 after extra time in February's Copa del Rey quarter-final tie at the Estadio Nuevo Los Cármenes.
Ronald Koeman's men also racked up the goals in Barça and Granada's other match-up this calendar year, triumphing 4-0 in Andalusia in LaLiga in January.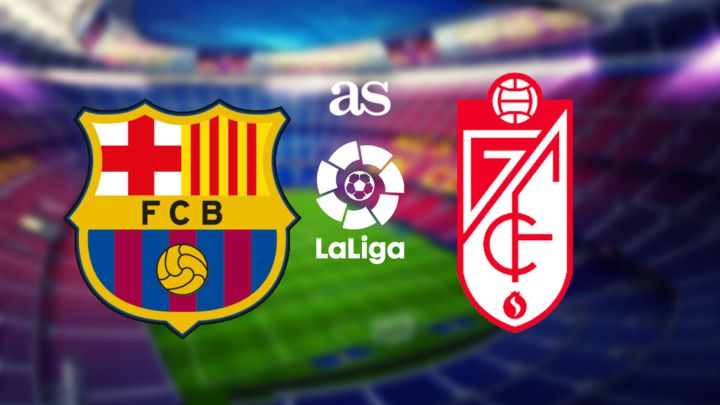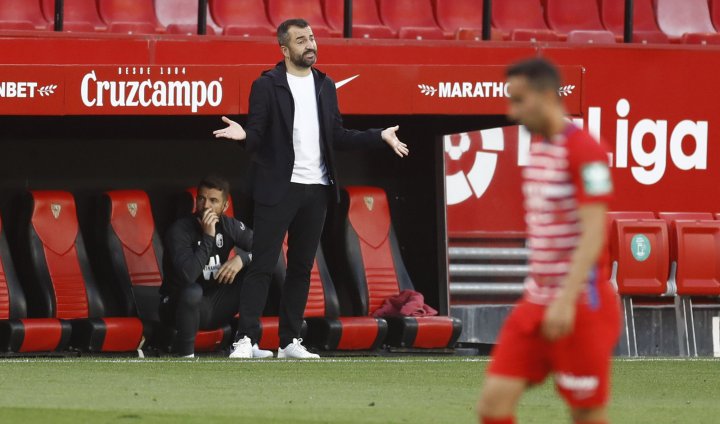 What the coaches said: Diego Martínez, Granada
Bad time to be visiting the Camp Nou?
"It's a bad time [to be visiting Barcelona] in terms of injures and suspensions, but we've had worse moments than this one. We have 42 points and our chief goal, survival, is within reach. We'll always go out there desperate to compete and perform to the best of our ability."
Club points record in the top flight:
"It's always a challenge to try to improve and to grow. Right now we have the club's second-best ever points total in Primera, with six games still to go. That's a source of motivation. The lads are eager to mathematically secure survival and there's also the challenge of trying to improve on that points total. That's a source of pride for us, particularly given the quality of opposition we're up against in this league."
(Photo: Toni Rodríguez/Diario AS)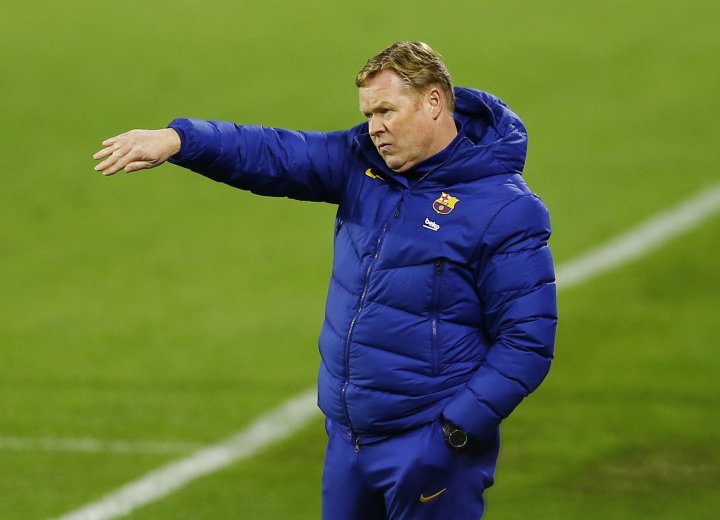 What the coaches said: Ronald Koeman, Barcelona
Charge back towards the top of the table:
"We've won 15 of the last 17 games [in LaLiga]. We knew that if we wanted to challenge for the title, that's what we had to do, put together an impressive run. The lads took the bull by the horns and have really stepped up. We've become a more effective side. And if we play well, we can achieve anything. I've said that since day one."
Antoine Griezmann's good recent form:
"I remember that I spoke to Antoine in the summer and made it plain to him that he's a really important player for me. There has been criticism about the effectiveness of the forwards, Antoine included. But he's a lad I really like because he's a team player and always trains flat out. Forwards have runs of form and he's more confident now - his first goal against Villarreal showed that. He's in great form and that's good for the team. Hopefully he can continue in this vein."
(Photo: REUTERS/Marcelo Del Pozo)
llaix, Umtiti and Roberto in for Barça; five changes for Granada
Ronald Koeman makes three changes to the Barcelona side that beat Villarreal at the weekend, as Samuel Umtiti, Sergi Roberto and Ilaix Moriba are brought into the line-up, with Clément Lenglet, Sergiño Dest and Pedri making way.
That's only a second league start for 18-year-old Ilaix, while Umiti is in the XI for the first time since early March.
Meanwhile, there are five changes for visitors Granada, who go to the Camp Nou with a long list of injuries and suspensions. Aarón Escandell, Quini, Yan Eteki, Roberto Soldado and Darwin Machís all come in.
Granada team news
Starting line-up: Aarón, Pérez, Germán, Díaz, Foulquier, Eteki, Herrera, Quini, Suárez, Soldado, Machís
Substitutes: Arnau, Costa, Gonalons, Quina, Vico, Marín, Molina, Soro, Barcia
Barcelona team news
Starting line-up: Ter Stegen, Mingueza, Piqué, Umtiti, Busquets, Roberto, De Jong, Ilaix, Alba, Messi, Griezmann
Substitutes: Dest, Araujo, Pjanic, Dembélé, Puig, Neto, Lenglet, Pedri, Trincão, Junior, Konrad, Tenas
Barcelona vs Granada: LaLiga preamble
Hello! Hola!
Welcome to our live coverage of Barcelona and Granada's LaLiga matchday-33 clash at the Camp Nou, a game postponed from earlier in April because of the Catalans' involvement in the Copa del Rey final.
A win for the hosts tonight will take them top of LaLiga at the expense of Atlético Madrid - who've led the way pretty much all season - and leave Ronald Koeman's men in pole position for a title triumph which, not so long ago, seemed nigh-on impossible.
Indeed, after defeat away to Cádiz in December, Barça were a full 12 points adrift of Atlético.
Since that 2-1 loss in Andalusia, however, they have registered 18 wins in 22 LaLiga games to reel in Atlético, whose relentless early-season title charge has given way to a stuttering run of form in which they have dropped points in eight of the last 15 in the league.
Most recently, Atleti fell to a 2-1 defeat at Athletic Club on Sunday, leaving Barça just two points behind Diego Simeone's men - with tonight's game against Granada in hand.
No side in history has ever recovered from a 12-point deficit to win the Spanish championship.
Anyway, the team news is in, so let's get to that!