80% of seating at Ras Abu Aboud stadium now complete
The Supreme Committee for Delivery & Legacy (SC) have confirmed that the innovative stadium built with shipping containers is almost complete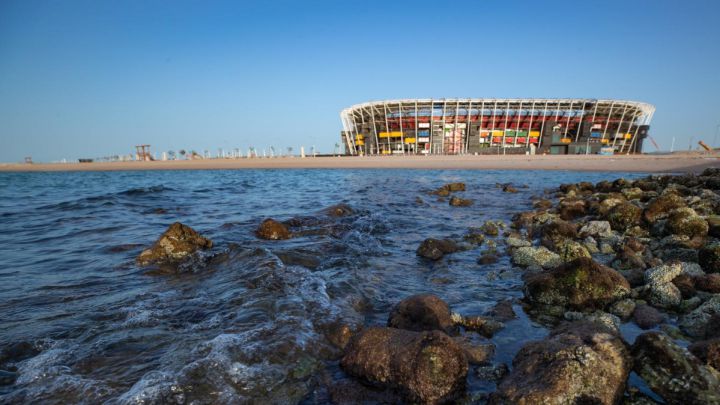 The Supreme Committee for Delivery and Legacy (the body responsible for the World Cup projects and initiatives scheduled ahead of Qatar 2022) have confirmed that construction work for Ras Abu Aboud Stadium is nearing completion with the receipt and installation of all containers and the completion of the construction of the stadium's steel structure. They added that over 80% of the seating has also been installed along with complete plumbing and final engineering work.
The Ras Abu Aboud Stadium will become the first fully dismantled stadium in the history of the World Cup, designed in a unique way using 974 shipping containers and demountable building units.
With the near completion of the construction work on the stadium, chief engineer Mohamed Al-Atwan, Director of the Ras Abu Aboud Stadium project, indicated that the development work has started in the area surrounding the stadium and said: "We are happy with what we have succeeded in achieving so far in the journey of building this unique stadium, and we are eagerly looking forward to completing this project and welcoming fans from all over the world".
The Ras Abu Aboud Stadium update!
✌️The roof almost finished
✌️The modular constructed using 972 shipping containers and modular element. We're closer than ever for the completion stage of Qatar world cup stadium 2022! pic.twitter.com/F4YcxX9UjR

— Dai Dung Steel structure and Steel buildings (@ketcauthepddc) April 22, 2021
Pioneering stadium
This innovative design will allow the stadium to be completely dismantled after the end of the tournament with elements such as shipping containers, seats and the roof set to be reused in the development of projects and building sports and non-sport facilities in Qatar and abroad.
From its distinguished location on the Doha waterfront, Ras Abu Aboud Stadium will stand tall with its dazzling view of the skyscrapers in the West Bay area in Doha, leaving an exceptional imprint with Qatar's commitment to sustainability in all aspects of hosting the tournament.
The idea behind designing the Ras Abu Aboud Stadium with a temporary structure using shipping containers revolves around creating new standards for building sustainable stadiums that host major events and sporting events. The importance of this unique design will be evident in the legacy stage after the curtain comes down post World Cup.
The design of Ras Abu Aboud Stadium requires using less building materials, which contributes to reducing the construction cost and reducing the time required to complete the construction work. Thanks to its unique design and its distinctive location overlooking the Gulf coast, the construction of Ras Abu Aboud Stadium does not require the use of cooling technology as is the case in other World Cup stadiums with fans set to enjoy a sea breeze while attending matches.