Real Madrid: Zidane calls up Castilla's Antonio Blanco again
Without Fede Valverde against Osasuna and with Toni Kroos' physical limitations, Zidane has drafted the Castilla midfielder to provide muscle in midfield.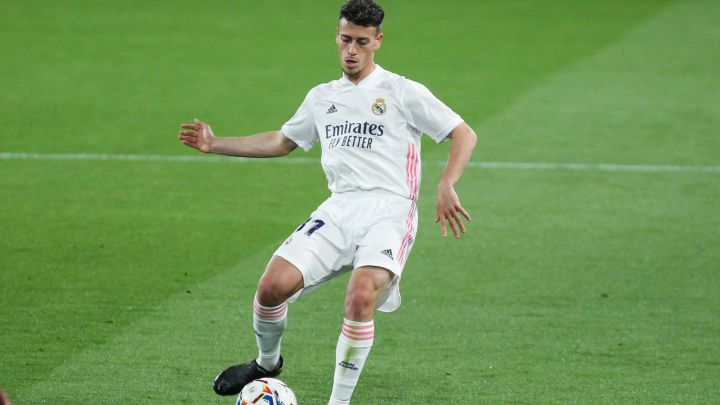 Over the next four days, Real Madrid will be playing to keep their LaLiga and Champions League ambitions alive - and once again, with problems in midfield. Fede Valverde has yet to be given the all-clear after contracting Covid-19, Toni Kroos' fitness remains delicate and Luka Modric has been withstanding the seemingly endless burden of games (he has only missed two games this season). Barcelona's slip against Granada has left LaLiga wide open and effectively obliges Madrid to win all of their remaining games - starting with tonight's visit from Osasuna. Zidane has called up Castilla's Antonio Blanco to provide cover in midfield.
Blanco impressed during the 0-3 win at Cádiz, when he made his first appearance in the starting XI, just three days after having made his first team debut coming on as a second half sub against Getafe; just 27 hours earlier, he had been on duty with Castilla in their game against Talavera. He was also given a run-out in the next game against Betis, replacing Modric for the final 13 minutes of the match. The 20-year-old's stats make impressive reading and over 90 minutes, are not that dissimilar to the figures of Kroos and Casemiro.
He averages 11.7 recoveries, compared to Casemiro's average of 11.3 during 2020-21. Before he was drafted by Zizou, Blanco had won a total of 59 50:50 balls with Raúl's Castilla. While his style is similar to Kroos, he has not been able to emulate the German midfielder's passing numbers (8.6 successful passes per game, compared to Blanco's average of four - the same as Casemiro).

Fresh legs
On top of his stats, Blanco also brings freshness to a Real Madrid side which is exhausted at the end a hectic season. He hasn't suffered any injuries this season and has been able to alternate his duties with Castilla to give Zidane a hand in the final part of the campaign. Of the 19 games he has played with Raúl's Castilla, he has started all but one and has been subbed just twice. Blanco is the player Zizou can call on when his key men need a rest, and that is just what Madrid need in these final six or seven games of the season.