Al Bayt stadium park is equivalent to 30 football pitches
In the centre of the park, there is a large artificial lake, shade is provided by a diverse range of trees which bear the names of individual Qatari sponsors.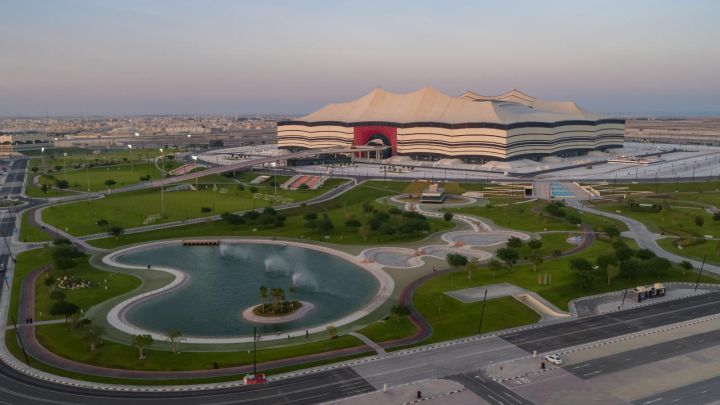 The public parks adjacent to the 2022 World Cup stadiums will contribute to the sustainable environmental legacy - part of the projects of the Organization and Legacy Committee, the body which is responsible for managing the projects of 2022 World Cup Qatar, and dedicated to organize the most environmentally friendly World Cup in the history of the event.
The Al Bayt World Cup stadium park is one of the most important parks of the World Cup venues in Qatar. The site is due to be inaugurated later this year, but the park was inaugurated in February 2020 to mark the occasion of Sports Day in Qatar. In attendance were officials from the Supreme Committee as well as other guests including, Hassan Al Thawadi, secretary general of the Supreme Committee.
A place to relax
This park will be open to the public, both before and after the World Cup. It boasts a vast green space, equivalent in size to 30 football pitches, along with running and cycling tracks, as well as areas for horse riding, and other games for all ages. It is an ideal place for families to relax and enjoy time with their children.
In the middle of the park there is an artificial lake, around it there are many trees of various species - each tree is marked with the name and information about the Qatari individuals who have sponsored them.
Among the sustainable legacy projects that the Supreme Committee seeks to achieve, the park embodies a long-term environmental legacy, as the park is expected to be very popular during the World Cup, especially by providing the factors that will attract a lot of people to go early to enjoy themselves before the games.
The inaugural match of the 2022 World Cup in Qatar will be played at the Al Bayt stadium. Tournament hosts Qatar will face their rivals, the identity of which is not yet known, and will depend on the results of the qualifying round which is still in progress.