Garoppolo will use Brady wisdom to guide Lance
Jimmy Garoppolo will play the role Tom Brady played for him when he was in New England. The vet QB will show new Niners draft pick Trey Lance the ropes.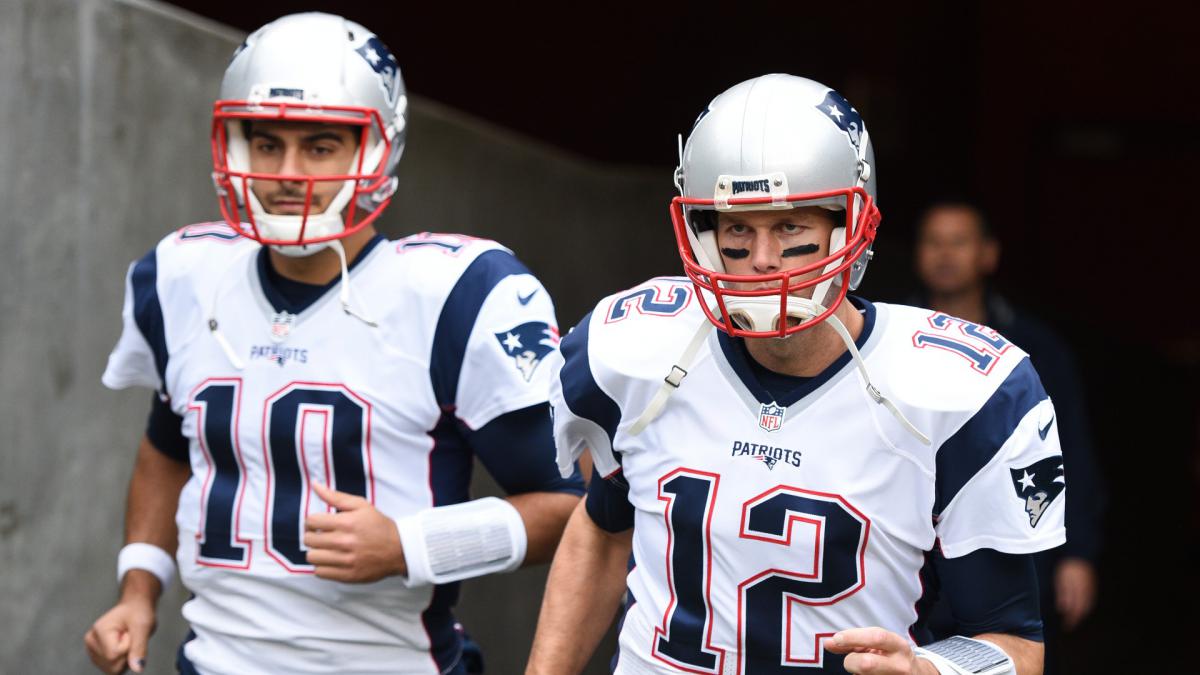 Jimmy Garoppolo will use his experience with Tom Brady to help Trey Lance adapt to the NFL but wants to take advantage of his opportunity to remain the San Francisco 49ers' starting quarterback.
Garoppolo's days as a Nine numbered?
Garoppolo's time with the Niners appears to be nearing a conclusion after San Francisco used the third overall pick in the 2021 NFL Draft, having sent the 12th overall pick and two future first-rounders to the Miami Dolphins to move up to that spot, on the North Dakota State quarterback.
Lance possesses a dynamic dual-threat skill set that could take the 49ers' offense to new heights, having thrown for 28 touchdowns and added another 14 on the ground while throwing zero interceptions in his lone full season as a starter in college.
When will Lance get his chance?
But that lack of collegiate experience in the FCS, college football's second tier, means Lance may have to wait for his chance, with Garoppolo still under contract for the next two seasons and able to serve as a placeholder who can help the 49ers contend while the rookie transitions to the pros.
It is a markedly similar situation to the one Garoppolo experienced when he came into the league in 2014 from another FCS program, Eastern Illinois. Garoppolo was drafted in the second round by the New England Patriots and sat behind Tom Brady, save for a two-game spell when Brady was suspended in 2016, before being traded to the Niners in 2017.
"It's coming full circle: Garoppolo
And Garoppolo is ready to use what he learned from that time spent with Brady to aid Lance in his progression.
"It's kind of coming full circle," Garoppolo said appearing on the 'Keyshawn, JWill & Zubin' show on ESPN radio.
"You go through this NFL career and you start as a young guy coming in. Tom kind of showed me the ropes. The competition between us was awesome.
"It really made me grow as a rookie and as a young player. So, that's kind of what me and Trey, we'll mould our relationship into that. But it will happen naturally. It's one of those things you can't force anything. Just let it come as it may.
"I try to use my own personal experiences and just what I went through, what helped me, what challenged me as a young player.
"I'm going to use those tools that helped me and try to help Trey out. It's hard to come into this league, I know how it was coming from an FCS school to the NFL. It's a bit of an adjustment, the speed, whatever you want to call it, it's just different. So, whatever I can do to help him I'll be more than happy."
Front office, head coach and QB are all on the same page
Head coach Kyle Shanahan and general manager John Lynch have been in regular contact with Garoppolo, who is 22-8 as a starter with the 49ers and helped them to Super Bowl LIV in the 2019 season but has missed 23 games through injury since the trade from New England.
"The communication has been good," Garoppolo said. "There really hasn't been anything unsaid. Everything has been put on the table. I'm just happy to have the opportunity to play football.
"At the end of the day, that's what I'm here for, that's what I signed up for. As long as I have the opportunity to go out there and win some games and play good football, that's all you can ask for at the end of the day... All you really need is an opportunity. If you get an opportunity, you've got to take advantage of it and that's what I'm trying to do."
Is Lance ready for the starting role already?
Though there has been talk of Lance being one of the most pro-ready quarterbacks in the draft because of his athleticism and the system of offense he played in at NDSU, Garoppolo is clearly not ready to give the starting job up without a fight.
"The chip will always be there," Garoppolo said. "That hasn't gone away at all. Since I got in the league, I've had that. I think that kind of comes from just the way you were raised and everything like that.
"My dad was an electrician, blue-collar guy and I think it kind of just rubs off on you. It's kind of the way the league is going nowadays. Everybody is drafting young, wants to get the developmental guy and things like that, so I kind of know what it is.
"I've been on both sides of it now but at the end of the day, like I said earlier, all you can really ask for is the opportunity. Once you get that, you've got to take advantage of it."