Another triple-double season for Russell Westbrook: how many times has he achieved it?
The point guard is on course to break Oscar Robertson's record. The Wizards secured a place at the Eastern Conference Play-In tournament.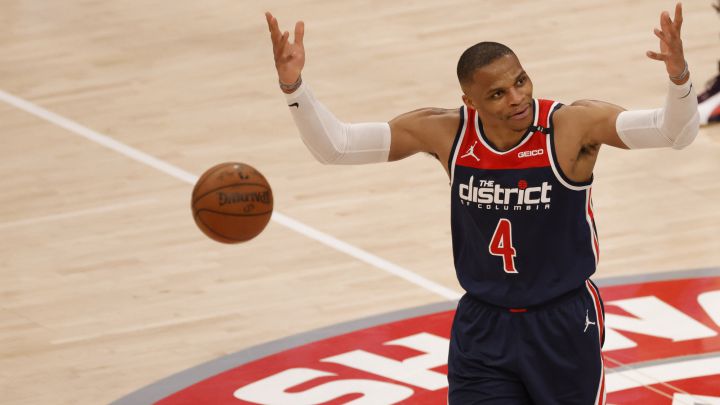 With his latest triple-double, 178th in total now, Russell Westbrook has placed himself well within reach of breaking Oscar Robertson's record of 181, a feat that seems achievable by the end of the 2022-2021 season. The flashy point guard is the leader of a Washington Wizards set to play the NBA Play-In tournament.
Considered by many a chronically underrated player given his game and stats, the fact is if he had been born in an era that did not have LeBron James, Kevin Durant, or Stephen Curry, we might be talking about an undisputed king of the sport.
What's not in dispute is that the Long Beach native is a machine when it comes to putting numbers on the board. His stats are undeniably those of a recurrent MVP.
Westbrook, on fire for the playoffs… if the team makes them. 

Westbrook had 14 points against the Indiana Pacers last Monday, with a career-high 21 rebounds, 24 assists, tying a personal best. His 32nd triple-double this season, making him the league leader.
Scott Brooks, Washington Wizards coach, recently told reporters: "I used to always say he's going to probably go down as the third-best point guard ever, but I think he's passed one. He's going to go down as probably the second best, and number one is obviously Magic. He's under appreciated. What he does, there are no point guards ever done it, nobody".
The Wizards have won 13 of their last 16 games, riding on the back of a spectacular Russell Westbrook, and none are happier to have him on the court than his teammates. Nine of the guys who shared time with him scored in double figures against the Pacers, putting up a total of 151 points against them. However, that didn't stop Indiana from scoring 141 points and showing that the Wizards defense needs work to get to the playoffs.
Wizards next game
The Washington Wizards will face the Toronto Raptors this Thursday, May 6, at home.