Nets' Harden out for Mavs showdown, but hopes to return before playoffs
James Harden has been sidelined since early April with an injured hamstring, but the former NBA MVP is close to returning. The NBA Playoffs start May 22nd.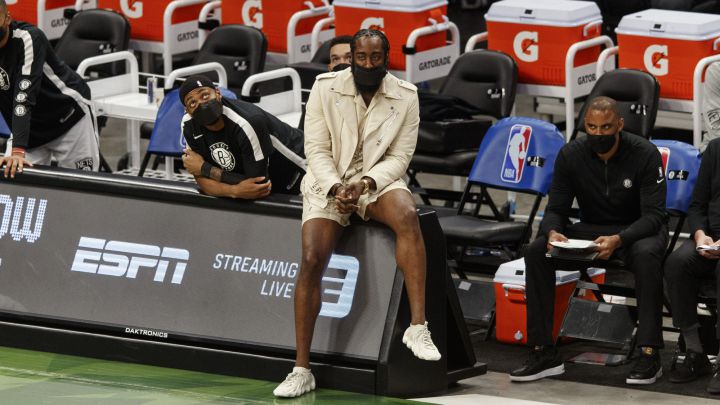 Brooklyn Nets guard James Harden will not play against the Mavs in Dallas tonight while he continues to nurse a hamstring injury suffered in a game against the Knicks at Madison Square Garden.
Harden in Dallas, but won't play tonight
Harden made the trip to Texas despite being ruled out for tonights game. Harden says he is "very confident" he will be suiting up for the the Brooklyn before the start of the NBA Playoffs start on May 22nd.
"The plan is to hopefully get an opportunity to play a couple games before the postseason," Harden said Thursday. "We're just taking one day at a time."
The Nets have a half dozen games left on their regular season slate, including tonight's visit to Dallas. While Harden won't taking the floor tonight, the possibility of him coming back on this road trip has not been discarded.
Mavs the first opponent of a three game road trip
Tonight's game in Dallas will be followed by a visit to the Western Conference contender Denver Nuggets, before finishing the trip in Chicago on Tuesday.
Harden has been focused on his conditioning and getting back to game fitness. At the moment the most important thing for the former Houston Rocket guard is avoiding a setback like the one he suffered on April 21st when he was just days away from returning.
While getting back to action is the focus he has bigger priorities in mind come mid July, "At this point in my career, going to postseasons basically since I've been in Houston, I've been playing heavy minutes, just carrying the load. And this was an opportunity for me to keep my body right going into the postseason with a clear mind and a clear body. You've got 16 games to win. That's the ultimate goal. That's the reason why I came to Brooklyn."
Harden, KD and Irving still searching for consistent minutes together
The Nets season has been undermined by injuries this season. Their star trio have yet to find a real rhythm. Harden, Kevin Durant, and Kyrie Irving have taken to the hardwood together just seven times, but Harden trusts the base that this team was built upon, "One of the things that a lot of teams don't have is talent," Harden said. "We don't have to worry about that aspect. Skillwise, we're elite."