Real Madrid: Sergio Ramos reaching contract crossroads
Time is running out for Sergio Ramos to earn an offer from elsewhere that can strengthen his hand in contract talks with Real Madrid.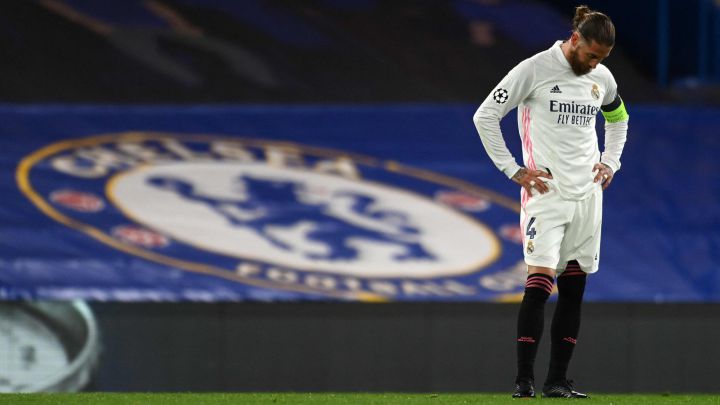 Sergio Ramos' run-out at Stamford Bridge aroused a wide range of reactions, from those who defended the leadership shown by the Real Madrid captain, to those who wrote him off as patently unfit to play. And, with just four LaLiga games to go in which to showcase his credentials to prospective suitors, it now remains to be seen how much he'll be able to feature in the final season run-in. Out of contract on 30 June, Ramos hasn't reached an agreement to extend his Madrid deal and there is no news of a major offer from elsewhere that could strengthen his hand in renewal talks…
Ramos a doubt for crunch weekend match against Sevilla

Ramos' involvement in Sunday's vital clash with Sevilla, always a special game for a player who moved to the Bernabéu from the Andalusian club, is by no means a given. Together with Fede Valverde and Vinicius Junior, the 35-year-old was confined to the gym during Madrid training on Friday, and is set to undergo a fitness test in Saturday's session to determine whether or not he can start at the Alfredo di Stéfano. Madrid head coach Zinedine Zidane is planning on Ramos leading the team through to the end of the campaign - but only if his body holds out. Zidane is also aware that Ramos' presence in the side stands to have a major influence on his chosen formation: with the Spain skipper, a 3-5-2 is a possibility; without him, a 4-3-3 with Nacho or Valverde at right-back is more likely.
Alaba, Varane deals will have bearing on Ramos' Real Madrid future
In terms of Ramos' future at Real Madrid, nothing has changed. Or has it? The summer signing of Bayern Munich's David Alaba is now reported to be a done deal, with Sky announcing that a definitive agreement has been reached between the Austrian and Madrid. All that's missing is Alaba's signature. And while his agent, Pini Zahavi, was quick to deny it the first time his imminent move to Spain was reported, on this occasion nobody has come out to refute the claims. It has also been reported that Alaba will be paid 12 million euros a year, the salary Ramos currently picks up.
The other deal that affects Ramos is Raphaël Varane's renewal. Varane's Madrid contract expires in 2022 and the French defender is minded to seek a new club if he doesn't get an improved package, something which seems unlikely to happen given the current financial situation. Madrid would even be open to cashing in on the 28-year-old if they can get a transfer fee closer to 100 million euros than 50 million euros. He is wanted by Manchester United. If Varane leaves, Ramos may have a better chance of getting the renewed terms he wants…
Ramos and Real Madrid no nearer to agreement

As things stand, though, Ramos' contract talks with Real Madrid remain at an impasse. As is the club's policy with veteran players, Madrid are only willing to give him a one-year contract, and also want him to take a 10% pay cut - one that many in the squad have already accepted. Meanwhile, the defender is holding out for a two-year extension that would see him keep his current salary. With each passing game, though, time is beginning to run out for the captain - particularly if he can't play.