NBA: Warriors coach Kerr lauds "always spectacular" Curry
Golden State Warriors coach Steve Kerr said Stephen Curry deserves to win the NBA MVP award after Curry scored 49 points against the Oklahoma City Thunder.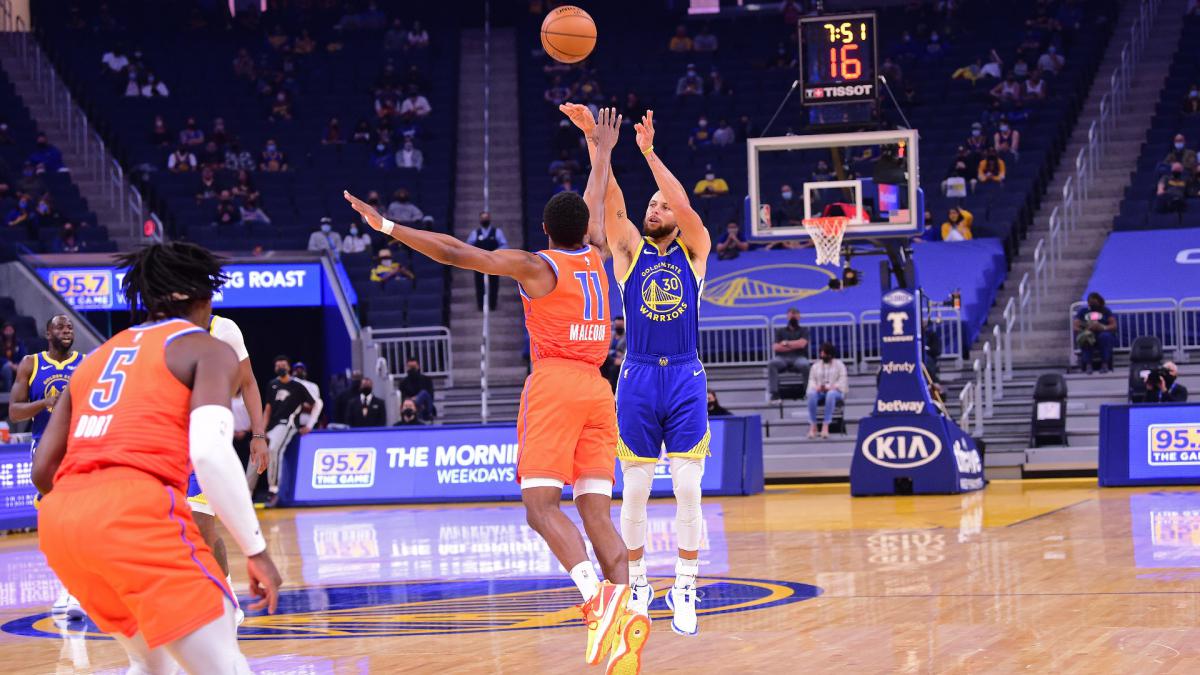 Perhaps the most incredible aspect of Stephen Curry's enduring brilliance is that nobody is surprised by it, not least Golden State Warriors head coach Steve Kerr.
Kerr had the best seat in the house at Chase Center as Curry produced another remarkable showcase of his unparalleled shooting ability in the Warriors' 136-97 rout of the Oklahoma City Thunder on Saturday.
It was a deluge of points from Curry, who scored 49 points in just 29 minutes, responding magnificently to the 50 points scored by Washington Wizards star Bradley Beal, with whom he is engaged in battle for the NBA scoring title.
Twenty-four of those points came in the first quarter and he tallied 22 in the third, marking the eighth time this season he has scored at least 20 in a quarter.
Curry went 14 of 26 from the field and 11 of 21 from the three-point line. It was the seventh game of the season in which Curry has made double-digit three-pointers. He has achieved that feat 22 times in his career and five times in his last 15 games.
He is averaging a league-high 31.9 points per game and has racked up at least 30 in 19 of the last 21 games.
"Just amazing" - Kerr heaps praise on Curry
"It seems like he's just always spectacular these days," Kerr said. "And tonight, he topped it. Really spectacular.
"When he got going in the third, we had about 4,000 fans in the stands and you could just hear every one of them in anticipation of the ball going in the hoop.
There have been 13 games in the @NBA this season in which a player has made 10 or more threes.

Seven of those games now belong to Stephen Curry. pic.twitter.com/Crpsf1VRD7

— Golden State Warriors (@warriors) May 9, 2021
"It's just amazing. The skill level is matched by his confidence level, and magical things happen."
For all his incredible feats this season, Curry is not the favourite to win what would be a third MVP, with Nikola Jokic of the Denver Nuggets still seen as the frontrunner. Asked if he believes Curry is the MVP, Kerr left no room for doubt.
"Of course, I do," Kerr replied. "I get to watch this show every single night and I have just so much admiration for what Steph does every single night not only on the floor but the way he carries himself and the way he is an example for all of his team-mates."
Curry: "When you see the first two go down, you start to find another level of confidence"
Curry was a touch more reserved about his stunning run of form. "It's been a great run, obviously, trying to continue it," he said.
"Nights like tonight when you want to get off to a good start knowing we should win this game, and they were going to come out and try to give themselves some life early, we wanted to take that away.
"Offensively, just trying to create any type of space. When you see the first two [three-pointers] go down, you start to find another level of confidence even to start the game and try to create an avalanche from there."
The Warriors will likely need a few more of those avalanches to secure the eighth seed in the play-in tournament for the playoffs. They are a game ahead of the ninth-seeded Memphis Grizzlies, but face the top two seeds in the Western Conference, the Utah Jazz and the Phoenix Suns, on Monday and Tuesday.
They then take on the New Orleans Pelicans before rounding out the regular season against the Grizzlies on 16 May.