Who's hot and who's not in the NBA regular season final stretch
There are only a few games left in the NBA regular season, and the playoff picture is taking shape. Curry and Kyrie are hitting stride at the right time.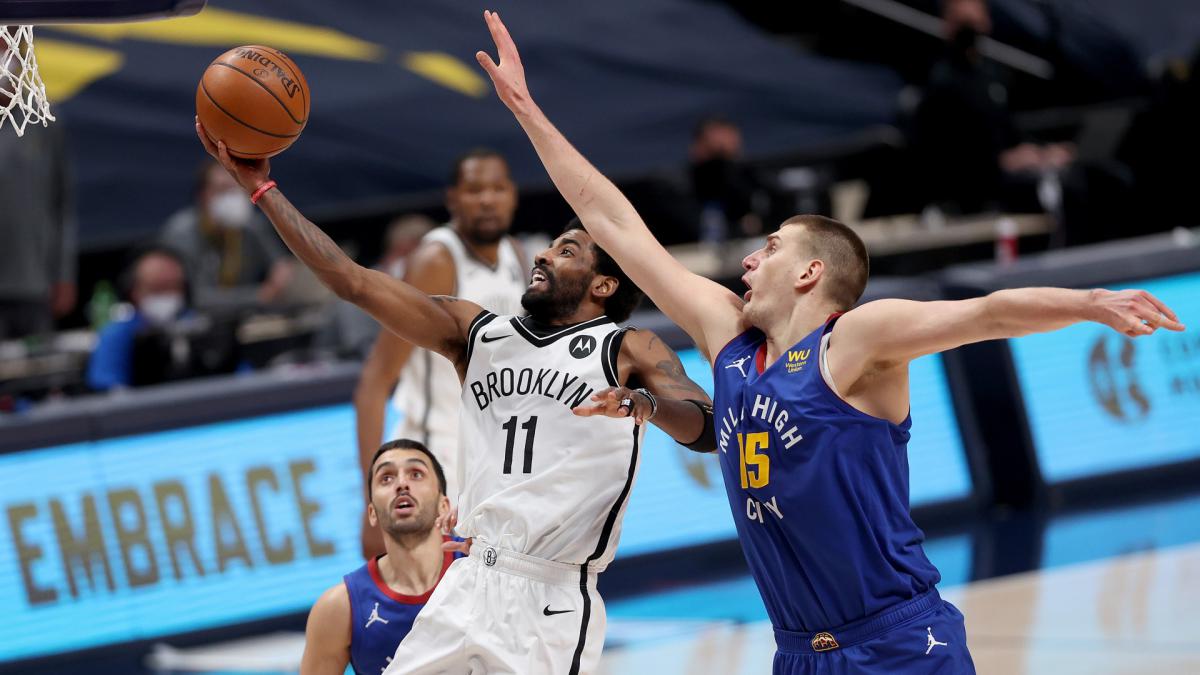 The NBA is nearing the end of its regular season.
Soon the fight for playoff positioning will give way to the drama of the play-in round and the subsequent seven-game series that will decide the destination of the title.
In other words, it is time for the league's elite to find their best.
While several of those stars are hitting form at exactly the right time, there are others enduring worrying declines ahead of the postseason.
Here we examine the performances of those excelling going into the playoffs, and those who need to turn it around in this week's edition of Heat Check.
RUNNING HOT
Kyrie Irving - Brooklyn Nets
Irving went into last week having failed to score 30 points in three straight appearances, but he was back to his best over the past seven days.
Having previously averaged 26.7 points for the season, Irving put up 38 points per game across three outings last week, with a 45-point display against the Dallas Mavericks sandwiched by a 38-point effort in defeat to the Milwaukee Bucks and a 31-point showing versus the Denver Nuggets.
Only the game with the Nuggets ended in victory, but the Nets will be encouraged by Irving's form with the playoffs approaching. He was excellent from beyond the arc, hitting 5.67 threes per game having entered the week averaging 2.63.
Irving converted 17 of his 32 three-point attempts last week, a percentage of 53.1 that ranks 10th among players to have attempted at least 20 last week.
Russell Westbrook - Washington Wizards
Westbrook made history on Saturday as he tied Oscar Robertson's record for triple-doubles with the 181st of his career against the Indiana Pacers on Saturday.
The way in which his athleticism has translated to success on the boards has been key to Westbrook's successful pursuit of Hall of Famer Robertson.
And his rebounding was nothing short of incredible over the past seven days. Having entered the week averaging 11.16 rebounds, Westbrook racked up 17.25 per game across his last three games, culminating with 19 in his record-equalling display in an overtime win over Indiana.
He'll hope for more success on the glass against the Atlanta Hawks on Monday to take him past Robertson.
Stephen Curry - Golden State Warriors
The best shooter in the game had another stunning week from beyond the arc as he continues to fuel the Warriors' push towards the playoffs.
Curry's 5.2 made threes per game was already the gold standard in the NBA this season but he was even more devastating from deep in four games last week.
Indeed, Curry averaged 8.25 threes per game, with that jump fuelled largely by him hitting 11 on Saturday as he scored 49 points in 29 minutes against the Oklahoma City Thunder.
As long as he continues his excellent form, the Warriors should have a great chance of coming through the play-in round and making it to the postseason.
GOING COLD...
Andre Drummond - Los Angeles Lakers
It was a rough week for Lakers big Drummond, who endured the largest drop-off in the NBA in both points and rebounds per game.
Drummond entered last week putting up 15.89 points per game but saw his average over four games dip to 5.75.
He failed to score double-digit points in any of those outings and was similarly ineffective on the boards.
His rebounds per game dipped from 12.37 to 6.25, Drummond having started the week by failing to record a single rebound in a game for only the third time in his career in a win over the Nuggets.
Luka Doncic - Dallas Mavericks
It is pleasing for the Mavs that they can win without Doncic delivering his best every night, as they did not get it last week.
Doncic was far from terrible, as he topped 20 points in three of his four outings, but he saw his points per game average drop from 28.64 entering the week to 21.50 in those appearances.
The Mavs won each of those contests, with Doncic contributing double-doubles in two, though he had a 15-point game to end the week against the Cleveland Cavaliers, which he left early after being ejected following an altercation with Collin Sexton.
So, while he may be 'going cold' relative to his usual standard in scoring, Doncic is finding ways to help Dallas build momentum ahead of the playoffs.
Kawhi Leonard - Los Angeles Clippers
Leonard has been bothered by injury issues in recent weeks, with his best form eluding the two-time NBA Finals MVP.
For the season, Leonard was averaging 25.51 points per game going into the last week, but could only manage to put up 19 over the course of three games in the past seven days.
And that average was inflated by a 29-point effort in the Clippers' loss to the New York Knicks on Sunday.
Prior to that return to something like normal service, Leonard had failed to score 20 points in each of his last four games.
Even his effort against the Knicks came on an inefficient shooting performance where he went nine for 26, indicating Leonard is some way off the standard he will need for the Clippers to contend in the playoffs.