Atlético lose Lemar to injury
The French midfielder has suffered an injury to his left thigh and will miss the next two games, against Real Sociedad and Osasuna but could return against Valladolid.
Thomas Lemar will miss the team's next two games after picking up an injury. The French midfielder, who quit the field with muscular problems during the Barcelona game, underwent tests today which confirmed he has sustained an injury to his left thigh muscle. Atleti medical staff will follow how the injury develops, but the player is expected to miss the next two league games - against Real Sociedad on Wednesday and Osasuna on Sunday and with any luck, he will be able to return for the final game of the season against Valladolid the following weekend.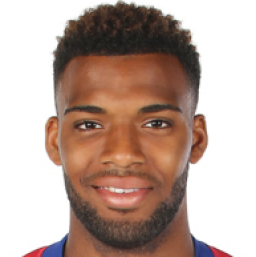 Lemar has been experiencing pains for the past few weeks. He sat out the recent meetings with  Betis, Eibar and Huesca for that reason, and was used sparingly in the subsequent games. He geared up for the Barça game with a week of light training but noticed a sharp pain after just 12 minutes and asked to be taken off, leaving his place for Saúl.
Hopefully he will have recovered and be back for the last day of LaLiga on 23 May. Simeone has the rest of his squad available, but will be without one of his influential stars. His absence will create a vacancy which El Cholo could fill with Saúl, who replaced him against Barcelona, Kondogbia, who was superb against Elche or even Herrera, who has done well whenever he has come into the side.