Baketball
What players got the most triple-doubles in the NBA?
Russell Westbrook breaks Oscar Robertson's NBA triple-double record against the Atlanta Hawks. Making him league leader and all-time NBA leader.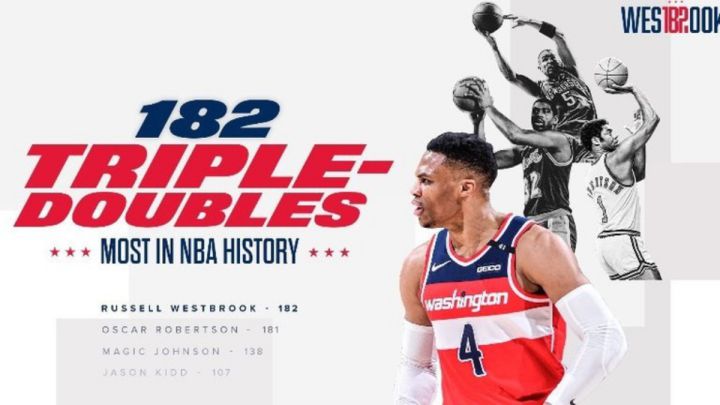 The Washington Wizards point guard broke the record this Monday after putting up 28 points, 13 rebounds, and 21 assists; this is his 182 triple-double of his career, surpassing the old record of 181.
The term triple-double became popular during the '80s to refer to Magic Johnson performances whenever he would achieve double figures in at least three of the five major statistical categories: points, rebounds, assists, steals, and blocks.
How the NBA has change
For Oscar Robertson, the record holder before Westbrook, it was particularly tough to put these numbers up. The NBA only counted three categories, points, rebounds, and assists, very different from today or when Magic dominated the scene.
Achieving a triple-double is very difficult, LeBron James, the best basketball player on the planet today, has 99 triple-doubles in his career. Additionally, Michael Jordan, who for many is the best ballplayer of all times, only has 28.
Top 10 players with the most triple-doubles in history
1. Russell Westbrook - 182
2. Oscar Robertson - 181
3. Magic Johnson - 138
4. Jason Kidd - 109
5. LeBron James - 99
6. Wilt Chamberlain - 78
7. Larry Bird - 59
8. James Harden - 58
9. Nikola Jokic - 56
10. Fat Lever - 43
Competition for Russell Westbrook record
It is worth mentioning that ex-Real Madrid player Luka Dončić has 35 triple-doubles. The Slovenian is putting great numbers, given the Mavericks player is 22 years old and, on his third season at the NBA. It took 7 years for Westbrook to get 8 triple-doubles.
However, the prolific point guard has yet to win an NBA Championship, the closest being while at Oklahoma, with the Thunder, where he played alongside Kevin Durant and James Harden.
2021 might be Westbrook's year if the Wizards make it to the playoffs.
Washington will be at the NBA Play-In tournament searching for that last spot to enter de NBA finals.