US News
Fourth stimulus check: updates on new relief bill negotiation in Congress
Labor shortages and slow job growth in April spark debate on stimulus, including the possibility of Congress approving a fourth direct payment.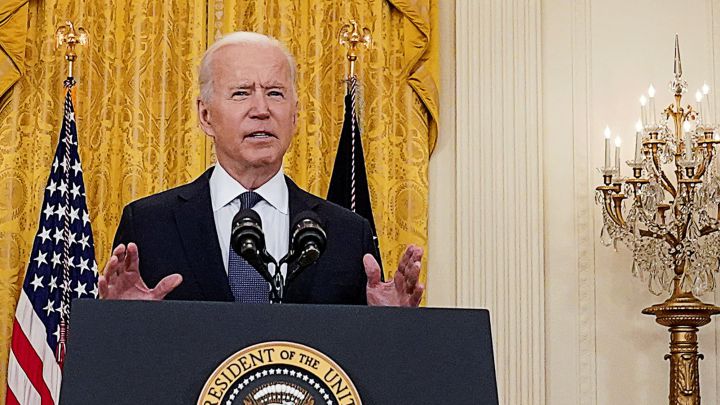 In late March and April, the Biden administration announced two proposals valued at over 4 trillion dollars to jumpstart the US economy. The first, the American Jobs Plan, is a two trillion dollar infrastructure spending bill that aims to make investments in the workforce and business to give the US economy a competitive edge in the 21st century.
The second called the American Families Plan targets low and middle-class families and allocates funding to help them access education, affordable child-care, family leave, and more. The total cost of the bill is 1.8 trillion dollars.
In conjunction with the American Rescue Plan, passed by Congress in March, these three pieces of legislation form part of President Biden's 'Build Back Better' economic agenda. The complete package hopes to help the US economy overcome the impacts of the covid-19 pandemic, modernize industries, and improve conditions for workers.
Do these pieces of legislation include funding for a fourth stimulus check?
At this point, no. In their current form, neither of these proposals includes funding for an additional stimulus payment.
While billionaires have lined their pockets throughout the pandemic — working people have struggled to keep food on the table.

Tax the rich and level the playing field.https://t.co/xN5fg2jRWj

— Rep. Pramila Jayapal (@RepJayapal) May 7, 2021
However, there is growing pressure from some House and Senate members to send another payment in the next few months. In March, twenty-one Senators from fifteen states sent a letter to the President asking that "recurring direct payments and automatic unemployment insurance extensions tied to economic conditions" be included in his "Build Back Better" economic plan.
Public support for a fourth payment is also growing. A Change.org petition started by a struggling restaurant owner in Denver has received over two million signatures. The petition calls on Congress "to support families with a $2,000 payment for adults and a $1,000 payment for kids immediately, and continuing regular checks for the duration of the crisis."
A 10 May Data for Progress poll found a similar trend. When asked if the federal government should pass more stimulus, fifty-seven percent of all voters, including forty percent of Republicans, said yes.
Does the public support the 'Build Back Better' economic agenda?
The April jobs report from the Bureau of Labor Statistics surprised many with the number of jobs gained much lower than expected. Although President Biden has shown no signs of concern, some economists warn that this could be an indicator that the economic recovery from the covid-19 pandemic could take longer than previously hoped. President Biden also received criticism from Republicans for his optimistic tone.
The president's administration and other democrats quickly refuted these criticisms. Speaker Pelosi commented that if Republicans were worried about the health of the US economy and families struggling to make ends meet, they would work with Democrats to pass the remaining pieces of the 'Build Back Better' agenda. To date, Republican support for either piece of legislation has been hard to come by. Senate Minitory leader, Mitch McConnel has his focus set on "stopping this new Administration," even when it comes to issues that nearly seventy percent of voters are in favor of. Data for Progres found that a majority of Democrats, Independents, and about half of Republicans would support the passage of a trillion-dollar infrastructure bill that also sent money to struggling small businesses.
However, McConnell's opinions are shared by nearly all Republicans in his caucus, making the passage of these pieces of legislation through the Senate impossible with the filibuster in place. The Biden administration could choose to pass the legislation through a process known as budget reconciliation which only requires a simple majority, but this parliamentary tool can only be used a certain amount of times.
The debate over more stimulus continues
Some Republicans have also made public comments alluding that they believe that the US government has passed too much stimulus and that it will damage the US economy in the long run. These criticism stem from several labor shortages several states are experiencing. The governors of Montana, South Carolina, and Arkansas have stated that they will end all additional unemployment payments to those who lost their job because of the pandemic to encourage workers to reenter the workforce. These leaders believe that the $300 a week topper provided by the federal government encourages people to claim unemployment benefits when they are more than capable of finding a job. Economists and the Biden administration disagree, saying that the shortage has less to do with unemployment benefits and more with low wages offered across the country; a shortage of any good is an issue of supply and demand.
Early in the pandemic, essential and frontline workers were applauded for their valency. When the government had an opportunity to truly reward these workers by increasing the minimum wage or providing a permanent federal leave program, they shirked the responsibility. Frontline workers, especially those in the service industry, cannot work from home. This has led to catastrophic economic outcomes for working parents, with millions of families slipping into poverty since last spring.
I'm a small business owner. We've received 300 applications per job opening this year. We pay a living wage with benefits.

There is no labor shortage. There's a shortage of people willing to work for $7.25/hour with no benefits for power-hungry bosseshttps://t.co/OghQ0G0Jmr

— Dan Price (@DanPriceSeattle) May 6, 2021
Republicans blame work shortages on unemployment benefits when in reality, the shortage responds to a serious societal shift. Workers, especially those on the frontlines, understand that their labor is essential and are not interested in returning to the same low wages and poor conditions.
Democrats, worried about being seen as supporting welfare abuses, are begining to advocate for specific work search requirements that many states waved when the pandemic began. In responding to questions on bringing back these requirements, President Biden said, "We're going to make it clear that anyone collecting unemployment who is offered a suitable job must take the job or lose their unemployment." However, many workers wonder what constitutes a "suitable job"? For those in the restaurant industry, where some two-thirds of workers are responding that tips are down more than 50%, returning may not be seen as "suitable" or even rational. Reports show that many of these workers do not want to put the health and safety of themselves and their family on the line working a job that may not even allow them enough to live off.
NEW: It's not a labor shortage per se. What we are seeing right now is a "great reassessment" of work in America.

-People are rethinking their lives
-People want diff. work enviros/benefits than before
-And different jobs are opening up w/diff. skill reqshttps://t.co/H2wV57KNYS

— Heather Long (@byHeatherLong) May 7, 2021
As vaccine rollout allows more businesses to reopen in the coming months, the complete picture of the labor market should become more apparent. The debate will continue in Congress on the economic agenda, including the possibility of millions recieiving a fourth stimulus check.