Coronavirus
Can kids between the ages of 12-15 get a covid-19 vaccine?
With FDA approving Pfizer vaccine for children 12-15 and CDC approval expected Wednesday, when will shots in children begin to be administered?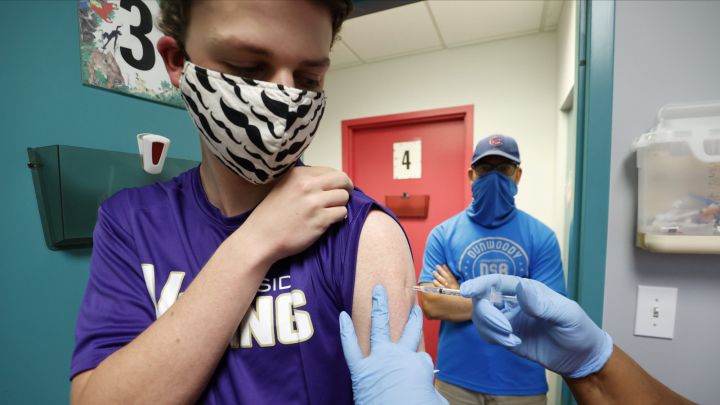 The Food and Drug Administration has approved Pfizer and BioNTech's for use in children as young as twelve. But, before shots can begin to be administered to this group, the Center for Disease Control and Prevention (CDC), must give their recommendation, which is expected on Wednesday 12 May.
In anticipation of the CDC's approval, some states and cities are moving to let parents and guardians make appointments for their children. In Chicago, parents are able to book appointments for their children starting Thursday. Other states and localities are awaiting guidance from the CDC to make vaccine appointments available to children.
Breaking News: The FDA has authorized the use of the Pfizer vaccine for 12- to 15-year-olds, an important step toward ending the pandemic in the U.S.https://t.co/4NJQIT7TKB

— The New York Times (@nytimes) May 10, 2021
Why is it important that children get vaccinated?
In testimony before the Senate Committee on Health, Education, Labor, and Pensions, on 11 May Dr. Anthony Fauci stated "To effectively end the COVID-19 pandemic, it will be important to vaccinate as many people as possible, including those in special populations, such as pregnant and lactating women, children, and people with immune deficiencies."
Vaccine hesitancy poses a real challenge for the US to reach herd immunity among adults alone. In order to increase the percentage of fully vaccinated people, protected against the virus, children will need to be inoculated. While children are not as susceptible to the deadly effects of the virus, they can still transmit it to more vulnerable populations.
Additionally, while most children who test positive for covid only experience mild symptoms, some develop severe immunological issues, such as multisystem inflammatory syndrome. Dr. Fauci stated that these cases are rare but serious and that the organization he leads, NIAID, is currently conducting various studies on the topic. Most public health experts hope that children who are vaccinated would not have these severe immune responses that can lead to fatal outcomes.
When will younger children be able to get a vaccine?
Moderna, Johnson & Johnson, and Pfizer are continuing to evaluate the efficacy of their vaccines in infants, children, and teenagers. The Moderna and Pfizer trials include children as young as six months. Pfizer has announced that the results of their clinical trial for children between the ages of two and eleven should be available in September.
Do children experience the same side effects as adults after vaccination?
Yes. Side effects reported by children and teenagers who were vaccinated include "pain at the injection site, tiredness, headache, chills, muscle pain, fever, and joint pain." Most side effects go away with one to three days of the injection.