Granada vs Real Madrid: Zidane's pre-match press conference
Zinedine Zidane faced the media on the eve of Real Madrid's 2020/21 LaLiga Santander matchday-36 clash with Granada.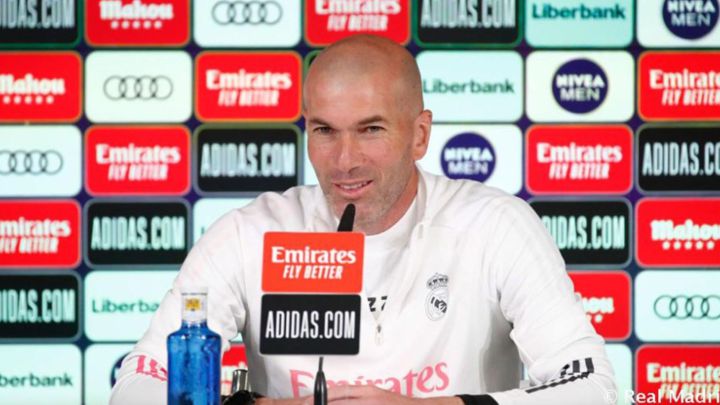 Real Madrid head coach Zinedine Zidane spoke to the media ahead of Los Blancos' LaLiga clash away to Granada on Thursday (10pm CEST; 4pm EDT).
With three games to go in the league season, Madrid sit two points behind leaders Atlético Madrid, who host Real Sociedad on Wednesday.
Zidane's pre-Granada press conference:
Granada match:
"Granada have had a phenomenal season. They've got a good team and a good coach, so it's a challenge for us. We know that we need to be on our game in every match."
Refereeing decisions:
"At the end of the day, everyone does their job. I'm not going to talk about this any more. I have faith in football. We're going to do our job and the referee is going to do theirs. I'm not going to say anything, because it creates controversy. We can only control what we do."
Clarity over certain incidents:
"I'm not going to get drawn into all the controversy. VAR is always going to help to improve football, [but] particular incidents that arise in the game need to be clarified."
Return of supporters to stands:
"It's going to be decided on in the coming days […]. If they're there, all the better for football and for the fans."
Do you watch your LaLiga rivals' games?
"I watch the games if I can. Normally I do, because I like football."
Staying on as Real Madrid boss next season:
"We have three games left and I'm only thinking about that."
Are you planning for next season?
"No, only for the three games we have left."
Rumours of Vinícius Júnior being used as a makeweight in Kylian Mbappé signing:
"There's always something every day, so many things get talked about. We know people like talking about transfers and changes. But now's not the time. We have three games and the players are only thinking about that. With everything that's being said, I'm pleased that's the case."
Will it have been a bad season for Real Madrid if you don't win the league?
"Anything can happen. We could just as easily win it or lose it. What's important is that we give our all and the way we go about our business out on the pitch. We've put in good performances and it's a long season. I'm not going to say it'd be a bad season, because that's only the case when you don't give your all out on the pitch. 2016/17 was a great season and we could have lost the league in the last game."
Castilla youngsters:
"Castilla are really important and have a lot at stake, [but] if we need players, we'll turn to the second team. That's good for everyone. We have a good relationship with [Castilla head coach] Raúl and are in regular communication."