Jokic a worthy MVP favourite, but don't count out Embiid
Joel Embiid's spotty Philadelphia 76ers attendance record appears to be the only justification for Nikola Jokic becoming the clear MVP favourite.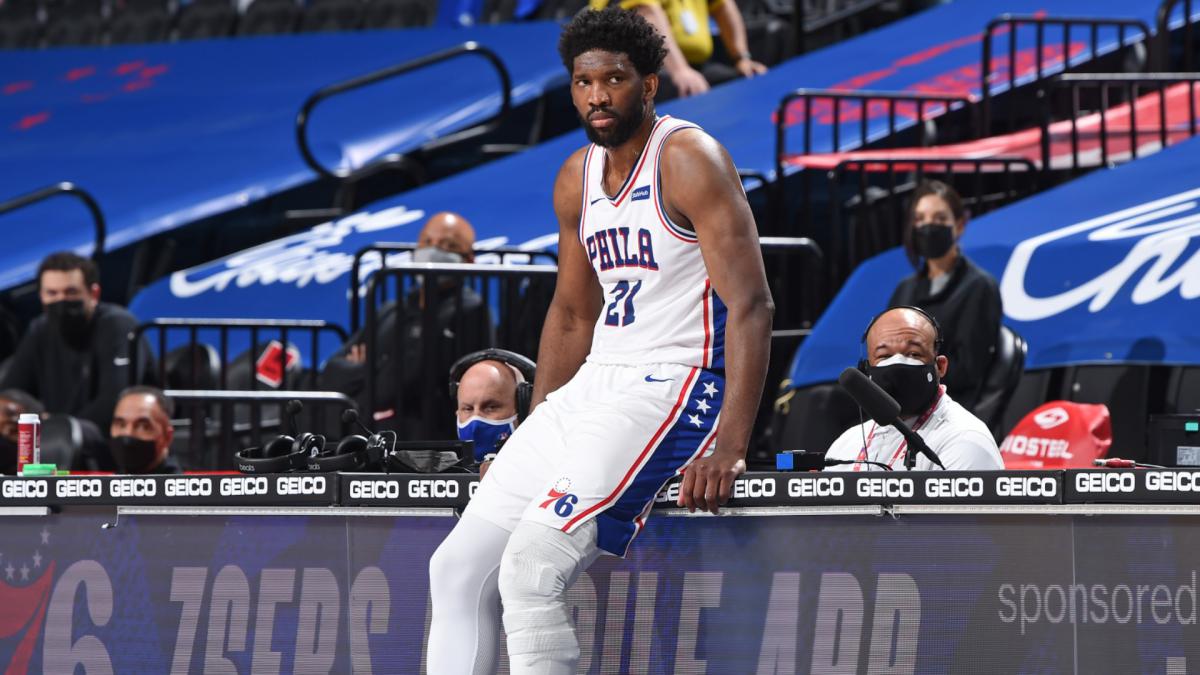 When has a player averaged at least 29 points and 10 rebounds per game in a season but failed to win the NBA MVP award? Here's a hint: the internet was in its infancy, Hootie and the Blowfish were selling albums by the millions and the Orlando Magic, of all teams, were the league's biggest thing.
Not since Shaquille O'Neal in 1994-95 has a player reached those numbers without taking away the NBA's most cherished piece of individual hardware. Shaq actually did it twice without winning an MVP, losing out to Hakeem Olajuwon in 1993-94 and David Robinson the following year. O'Neal did average 29 and 10 while winning an MVP with the Lakers in 1999-2000, and the two players who have hit those marks since (Russell Westbrook in 2016-17 and Giannis Antetokounmpo in 2019-20) each came home with the Maurice Podoloff Trophy.
Joel Embiid appears destined to buck that recent trend.
Jovic favourite for MVP award
If money talks, it's given an emphatic answer as to who will seize the honour in 2020-21. Nikola Jokic has emerged as an overwhelming favourite in betting markets across the globe to claim his first MVP, with Embiid holding the second-shortest odds and a rising Stephen Curry emerging as a clear third in the public's mind.
Jokic's credentials are unquestionably worthy. The Denver Nuggets big man is closing out an unprecedented season for a player who spends his time predominately in the post, having posted averages of 26.5 points, 10.8 rebounds and 8.4 assists heading into Denver's final three regular-season outings.
Only two players in league history have averaged 25-10-8 in a season, and neither was a frontcourt player. The great Oscar Robertson did it three consecutive times across 1960-63, and Westbrook had two straight across 2016-18.
Jokic's immense value to a Nuggets team who have successfully withstood the season-ending injury to Jamal Murray to secure a top-four seed in the Western Conference is perhaps best illustrated by his share of the team's combined points, rebound and assists. No player this season has accumulated a higher percentage than his 24.5, with the Mavericks' Luka Doncic and the Knicks' Julius Randle tied in second at 22.8 per cent.
Embiid is well down on the list, ranking 16th overall due to the 20 games the somewhat fragile seven-footer has missed this season. His dominance and importance to the Eastern Conference front-running Philadelphia 76ers would show, however, if the chart were adjusted to exclude games in which a particular player was absent.
Using that criteria, Embiid has accounted for 23.2 percent of the 76ers' points, rebounds and assists in games that he's taken the floor. That number is right in line with that of the defending two-time MVP Antetokounmpo and would put him in the top five. For the record, Doncic would move ahead of Jokic for the top spot at 24.8 percent.
Embiid's lack of game time could work against him

Embiid's scattered availability is no doubt detrimental to his case, more so when factoring in that Jokic hasn't sat out a game all season. Just once has a player missed 13 or more games in a season and been named MVP, when Bill Walton earned the award in 1977-78 despite playing in only 58 of the Trail Blazers' 82 games.
On the flip side, it's hard to find anyone who's been more instrumental to his team's success than Philly's All-Star center. The Sixers are 9-11 when Embiid has missed a game and 38-11 when he plays, a .776 winning percentage that would tower over the rest of the NBA this season.
Embiid's importance becomes even more apparent when viewing the 76ers' performance when he's been on the court as opposed to off.
Their points per 100 possessions drop to 105.1 from 117.2, while opponents' points climb slightly from 103.9 to 105.8. That means a point differential of +13.3 falls dramatically to -0.7. Their shooting from the field (50.5 per cent to 45.4 per cent) and from three-point range (40.4 per cent to 34.7 per cent) also decreases.
Though the Sixers have remained an elite defensive team without Embiid, all of those off-court offensive splits would rank near the bottom of the NBA. It's not hyperbole to summarise that without their franchise player, Philadelphia would be scrapping for a spot in the play-in round instead of being on the verge of claiming a conference regular-season title.
Curry key to Warriors charge
Embiid is far from the only star whose team perform at a significantly lower level when he's not around, though. The Warriors have won just one of the eight games Curry has missed, while defending champions the Lakers are a mediocre 12-15 when LeBron James has been injured or rested and have been 11.6 points per 100 possessions better when 'The King' has taken the court compared to off it.
Like Embiid, the slew of missed games is going to be hard for James to justify in the minds of voters, and he's not playing for a team set for the top playoff seed in his conference. And the Lakers' descent into the West's middle tier can't all be attributed to James' absences – they also were without Anthony Davis in two-thirds of the games LeBron hasn't played.
Curry also represents an interesting case, and if there were an MVP for only the season's final month-plus, he'd be a hands-down winner. The veteran sharpshooter has averaged an insane 36.7 points per game since April 10, a stretch in which the Warriors have gone 13-5 to elevate themselves from a postseason question mark to a lock for the play-in round.
The two-time MVP also has the on/off split factor working in his favour, as the Warriors are +4.0 points per 100 possessions better than their opponent when he's on the court and a lottery-level -4.9 differential when he's not. Another potential feather in Curry's cap would be if he can hold off Washington's Bradley Beal for the league's scoring title, as four of the past seven MVPs led the NBA in points per game.
Curry has rightfully received the most credit for Golden State's late-season surge, but a closer look shows it hasn't been a one-man show. Andrew Wiggins is finally at least bearing some resemblance to the player the Minnesota Timberwolves thought they were getting back in 2014, one teams build franchises around, and the Warriors have posted a league-low 105.1 defensive rating since their hot streak began.
For all his heroics on the offensive end, Curry hasn't been a primary contributor to the Warriors' recent stretch of lockdown defense. Since April 10, opponents score fewer points (98.6 per 100 possessions, down from 107.6) when Curry is off the court and are less accurate from the field (41.9 per cent, down from 44.9), beyond the arc (27.9 per cent, down from 35.4) and in their effective field goal percentage (47.6, down from 51.9).
Jokic also won't be adding any All-Defensive Team mentions to his expanding resume, and it is a bit harder to quantify exactly where the Nuggets would be without him simply because he hasn't missed a game.
One thing's for certain, however – no player this season has had a larger impact on his team's offensive performance than the Serbian star. Their points climb to 118.2 per 100 possessions when he is involved, meaning a +6.0 point differential versus -0.7 when he is absent – despite the team allowing more points with Jokic on the court. The field goal percentage improves to 50.4, while their assists per 100 (28.4, from 22.1) are up and their turnovers (12.7, from 15.7) are down.
The Nuggets are arguably the league's most efficient offensive team with Jokic on the floor. Combine that with a unicorn quality of being the best passing big man of the digital age and a consistency edge on his main rivals, and you've got a recipe for a likely MVP winner. Curry and Doncic's otherwise strong candidacies take a hit by their teams currently standing eighth and sixth, respectively, in the West. Antetokounmpo likely gets hurt by recency bias (no one wants to vote for the same player three straight years) and his own team's success (the Bucks have still played at a relatively high level when he's missed games or not been on the court).
In reality, though, the race shouldn't be as lopsided as the betting odds suggest, provided voters can overlook Embiid's spotty attendance record. History shows, however, that will be a factor that ultimately works in Jokic's favour.