Man City: Guardiola enjoys title taste again as he hails club's "massive" success
Pep Guardiola celebrated with Manchester City colleagues after the team won the Premier League title, and expressed his debt to the club.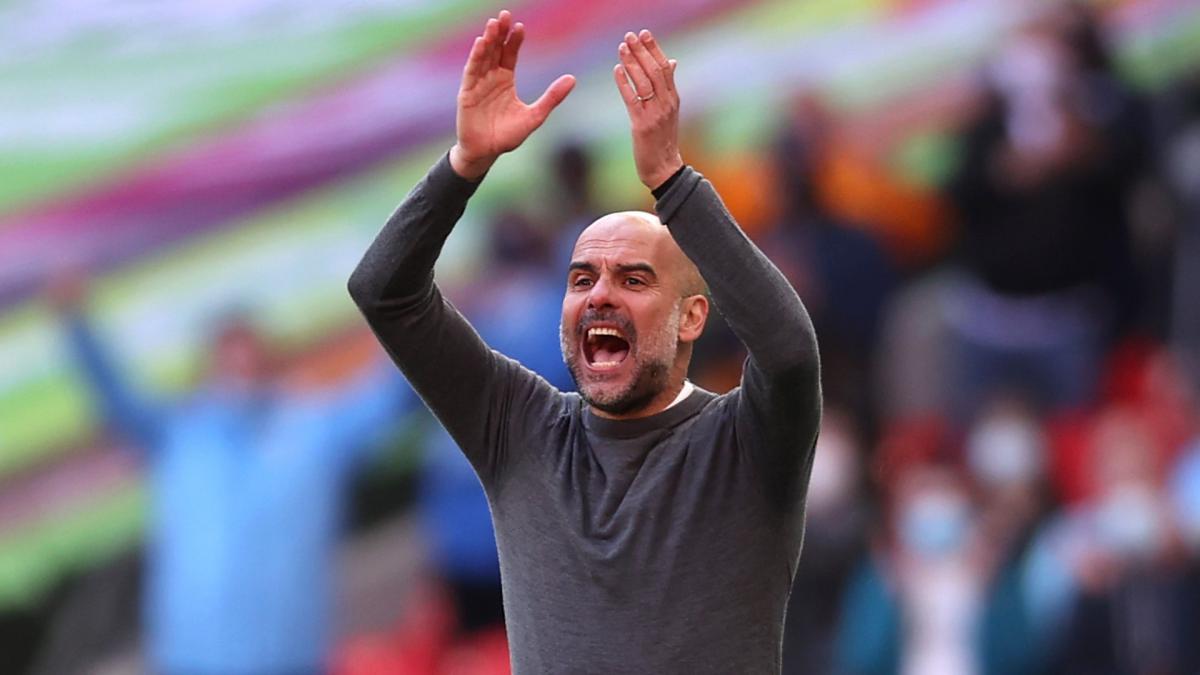 Pep Guardiola savoured his latest slice of success with Manchester City as the Premier League champions tucked into late-night pizza.
Now Guardiola is targeting the Champions League for dessert, having clinched the trophy he regarded as the most important for the club.
City celebrate Premier League title win as Leicester beat United
City were able to celebrate on Tuesday evening after Leicester City won at Manchester United, a result across the city that was the cue for a party at the Etihad Stadium.
"It was so nice," Guardiola said. "Normally the unexpected parties are the nicest ones. After Leicester won at Old Trafford, all together we came here in our bubble, everybody safe.
"We drank a little bit, we danced, we hugged a lot, and we remembered how good it was, and especially at around 11.30-12 arrived 10-15 pizzas and that was the best moment of the night.
"I was not in my perfect conditions to decide which one I ate. Here in England the party's just alcohol, it's not food - I don't understand why."
Guardiola said City's league title, his third in five years since arriving at the club, was further confirmation of the strides the club have taken over the past decade.
"In the last 10 years we've won five, the last eight we've won four, the last five we've won three," Guardiola said. "That's incredible. That is more important than winning this title.
"It's massive and it means a lot of managers, top players, sports directors, many people working to achieve what we've achieved.
"We sustained the success and work ethic ... to win three in the last five years I never expected it when I arrived."
Guardiola predicted a Liverpool revival next season and said Arsenal would "make a step forward", describing City's march to the 2020-21 championship as "a massive achievement".
PEP  The target next season is the same and every season compared with the first year I arrived opponents are stronger. Every year they are stronger, Liverpool will be back again, Chelsea, Leicester, always are there. Arsenal, they trust Mikel, they will take a step forward.

— Manchester City (@ManCity) May 13, 2021
Guardiola praises City chairman Khaldoon Al Mubarak
He thanked chairman Khaldoon Al Mubarak for showing faith in him, even when City were showing rocky form early this season. Guardiola signed a new contract in November, since when the team have been almost unstoppable.
They tackle Chelsea in the Champions League final in Porto on 29 May, with that the one major trophy that City still long to win.
"The culture of the manager is so volatile: if you don't win, you'll get the sack," said Guardiola.
"Of course the players trust you, especially if you win. Given what we have done so far in the recent past, if you start to lose they start to believe or they start to doubt to believe. The best way to convince them is to try to win games.
"Personally there is a special gratitude of course to my sporting director Txixi [Begiristain], he's a friend of mine, and especially Khaldoon.
"I travelled to see him in November and we had long discussions together and he convinced me we still have a lot of work to do.
"I trust him a lot. Part of my happiness here and the success we've had has been because of his determination to convince me.
"That is the big difference what I found when I had the feelings sometimes in other clubs. I've always been supported at Bayern Munich and Barcelona, [but] I've had the feeling that the manager would only be supported when he has success."
Speaking ahead of Friday night's Premier League clash with Newcastle United, Guardiola added: "I cannot forget in my first season here when I didn't win anything, the behaviour of my chairman, and I cannot forget the big disappointment personally against Lyon the support I had from my chairman. That's why he is part of our success.
"Now we have two weeks ahead of us and a dream come true to play in the final of the Champions League.
"And the show must go on next season. So we're going to try to be strong next season."