What has the White House said about a fourth stimulus check?
The IRS continues to send out the third round of direct payments but President Biden is reportedly considering introducing economic triggers for further checks.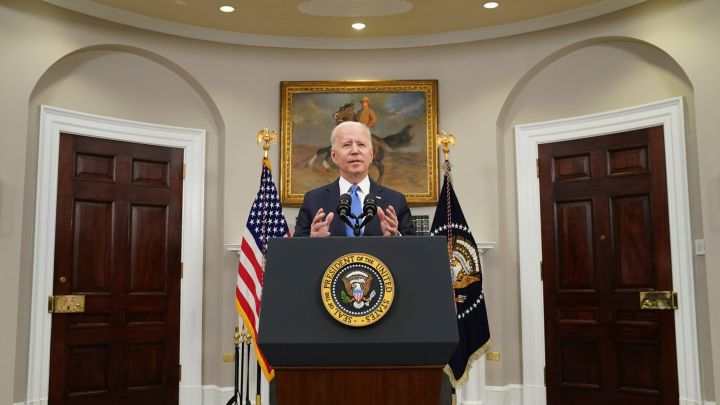 This week the IRS issued another one million stimulus checks as part of the third round of direct payments. That batch took the total amount distributed to an estimated 165 million stimulus checks and the process is set to continue for the rest of the year.
Although they are still waiting for tax returns to be filed before they send some of the remaining payments, the vast majority of eligible Americans have now received theirs. As such, attention is already turning to the prospect of a fourth stimulus check, something that has garnered support both in Congress and across the country.
Here's what the White House have said about that prospect…
Psaki refuses to be drawn on fourth stimulus checks
Since taking office President Joe Biden has pursued an ambitious agenda and followed up the $1.9 trillion American Rescue Plan with proposals for two more multi-trillion dollar financial packages. However neither the American Jobs Plan or the American Families Plan includes a fourth round of stimulus checks, despite a letter from 21 Democratic senators calling for recurring payments to be included in future legislation.
So far the major economic legislation of the Biden administration has come from the White House, using the Democrats' narrow advantage in Congress to push through the President's wishes. However on the matter of additional stimulus payments, it seems like the impetus will have to come from Congress.
STIMULUS CHECK: When asked about a possible additional direct stimulus check, Jen Psaki says the payments "are not free" and that Congress should take the lead if they want another round to go out pic.twitter.com/80xAdH1wTq

— Forbes (@Forbes) May 5, 2021
When asked about the subject earlier this month, White House Press Secretary Jen Psaki told reporters that they would have to "see what members of Congress propose," adding that stimulus checks "are not free."
Biden was similarly reluctant to make any promises about a fourth stimulus check, announcing in his first address to a joint session of Congress: "We've already sent more than 160 million checks out the door… It's making a difference. For many people, it's making all the difference in the world."
White House reportedly considering automatic stimulus checks
Despite the lack of movement on the fourth stimulus check, reports suggest that the White House is actually considering a measure that would see direct payments automatically sent out when certain economic measures are triggered. Last week the Economic Security Project, an initiative which aims at tackling wealth inequality, briefed 50 members of White House staff on potential applications of these "automatic stabilizers."
NEWS: The White House and Senate Finance Committee are weighing the use of stimulus checks with 'automatic stabilizers' in place.

Automatic stabilizers act like a financial first aid, delivering monthly stimulus checks until economic conditions improve.https://t.co/PAQvE2Gm3G

— Humanity Forward (@HumanityForward) May 7, 2021
These triggers could be tied to unemployment rates, household income drops or other signifiers of a struggling economy. The United States' economic recovery from the pandemic is not expected to be consistent and such measures could provide a quick fix at vital moments.
In a conversation with Newsweek, Adam Ruben, director of the Economic Security Project, said that the Biden administration "understand[s] that this is smart policy and good politics."
He added: "Putting in place these kinds of triggers would smooth out the recovery and no one is left at the mercy of Washington gridlock in future recessions."