Who is Elise Stefanik, Liz Cheney's replacement in Republican Party leadership?
A secret ballot vote has seen the New York congresswoman installed as the GOP's third-ranking member in the House of Representatives, but who is she?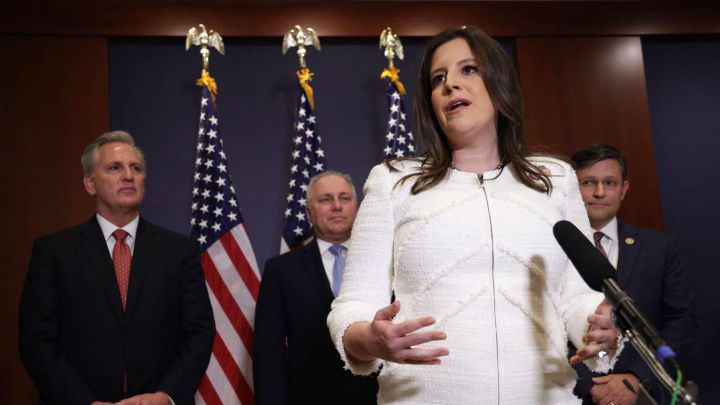 Republicans in the House of Representatives have voted to appoint Congresswoman Elise Stefanik as the Party's Conference Chair, replacing the recently ousted Liz Cheney from the role.
The decision was made in a secret ballot on Friday morning, in which Stefanik beat challenger Chip Roy by 134 votes to 46. The decision came as no surprise after heightening pressure on Cheney in recent weeks, and Stefanik's affiliation with former President Donald Trump has won her favour within the Party's caucus.
Thank you to my House GOP colleagues, President Trump, and my constituents in #NY21 for the opportunity to serve as House Republican Conference Chair. I am truly humbled and honored. pic.twitter.com/Seq6lrnh0R

— Elise Stefanik (@EliseStefanik) May 14, 2021
Who is Elise Stefanik?
The 36-year-old is a fourth-term Congresswoman for a New York swing state who has grown in stature within the GOP over recent years. When first elected in 2014 she became the youngest woman to be elected to Congress, initially billing herself as a more independent voice amongst more traditional conservative candidates.
Before running for office she worked for former Republican Speaker of the House Paul Ryan and held a role in the George W Bush administration. Her victory in 2014 saw her flip a Democrat-controlled seat to win by a 20-point margin and gave her a reputation as one to watch within the Republican Party.
In '16, Rep. Elise Stefanik would only refer to Trump as "my party's nominee."

Now, her change of heart when it comes to the former Pres + expected elevation.. a signal of Trump's continued power in the party.

A look at her rise up the GOP ladder —> pic.twitter.com/S9DNepVc7s

— Maura Barrett (@MauraBarrettNBC) May 11, 2021
During Trump's run for president in 2016 she was initially critical of her fellow New Yorker, opposing policies like the border wall and tax cuts for big businesses. She also spoke out against Trump's rhetoric during his successful campaign, telling then-Fox News anchor Megyn Kelly: "I think he has been insulting to women."
But she would go on to become one of Trump's most loyal defenders during his first impeachment trial, clashing with Democrats in Congress and spawning numerous viral video clips. In 2019 Trump said of Stefanik: "A new Republican Star is born."
What are Stefanik's priorities as Republican Party Conference Chair?
In terms of the voting records, Liz Cheney appeared to have far stronger conservative credentials than Stefanik, but she fell foul of the GOP's Trump-supporting majority. Cheney was essentially dismissed for threatening to split the Republican caucus, and Stefanik has made clear that party unity will be a key focus for her.
Earlier this week she told reporters: "My message was I'm focused on unifying the conference and beating Democrats and we have an opportunity to do that, that is historic in beating the most radical socialist agenda in this country."
After her victory was announced on Friday she pledged to "fight on behalf of the American people to save our country from the radical Socialist Democrat agenda of President Biden and Nancy Pelosi."
Speaker Pelosi slams Trump-loyalist Rep. Stefanik's appointment to third-top House GOP post, titling her press release:

"House Republicans Elevate Another Conspiracy Theorist to Leadership." pic.twitter.com/hwJXjK2pO2

— Adam Klasfeld (@KlasfeldReports) May 14, 2021
Her appointment has been met with approving voices from those within her own Party but has been used by the Democrats as further proof of Trump's continuing hold over the GOP. Adonna Biel, spokeswoman for the Democratic National Committee, said of the news: "The Republican party's dumpster fire has fully engulfed them."