NBA
NBA: who plays today, 14 May? Games, times and how to watch
All the information you need for tonight's NBA matches. Games, times and how to watch. Keep updated on all the news as it happens and don't miss a thing.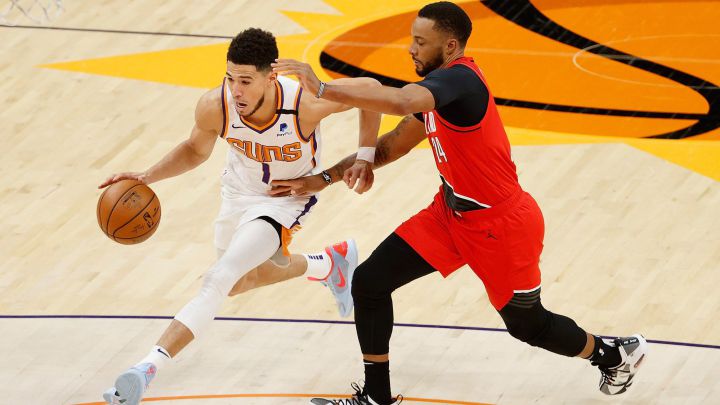 Another day and another round of games as we edge closer to the NBA Play-in and then the 2021 Playoffs.
Here are your games for Friday 14 May:
Cleveland Cavaliers at Washington Wizards
7:00 PM ET-NBA LEAGUE PASS
Denver Nuggets at Detroit Pistons.
8:00 PM ET-NBA LEAGUE PASS
Orlando Magic at Philadelphia 76ers.
8:00 PM ET-NBA LEAGUE PASS
Utah Jazz at Oklahoma City Thunder
8:00 PM ET
Sacramento Kings at Memphis Grizzlies
9:00 PM ET-NBA LEAGUE PASS
Toronto Raptors at Dallas Mavericks
9:00 PM ET-NBA LEAGUE PASS
LA Clippers at Houston Rockets
9:00 PM ET-NBA LEAGUE PASS
New Orleans Pelicans at Golden State Warriors
9:30 PM ET-NBA LEAGUE PASS
Remember: the NBA Play-In will begin 18 May and the playoffs will start 22 May.
On this day in the NBA: 14 May
1980
Magic Johnson committed an NBA Finals-record 10 turnovers in Game 5 against Philadelphia, but the Lakers won anyway, 108-103 at Los Angeles.
1981
Larry Bird scored 27 points and Cedric Maxwell added 19 to lead Boston to a 102-91 victory over Houston in Game 6 of the Finals, giving the Celtics their 14th NBA Championship.
1996
The legendary Earvin "Magic" Johnson of the LA Lakers, who returned to the NBA after a four-year retirement to play 32 regular season and four playoff games, announced his retirement from the NBA.
2003
Hall of Fame NBA player, NBA coach, and ABA Commissioner Dave DeBusschere passes away in New York, aged 62.
(Source: nba.com)