"Lautaro will join Atlético, it's all been arranged"
Former Inter Milan player Nicola Ventola told Christian Vieri in an interview that Argentina striker Lautaro Martínez will sign for Atlético Madrid.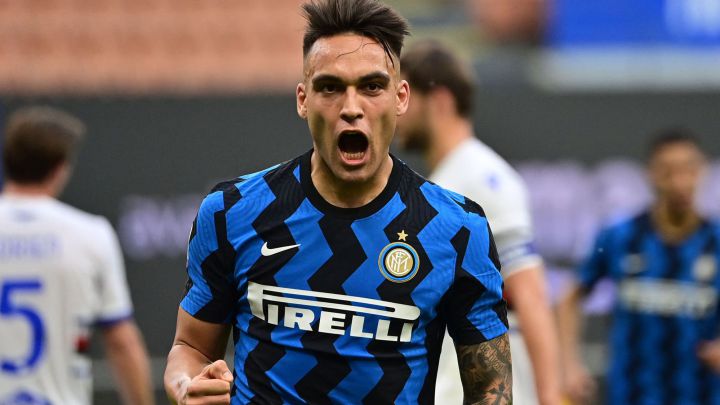 Lautaro Martínez's Inter Milan future has been a source of speculation for some time and a concern for fans of the Serie A champions, who fear that the club's financial issues could lead to an exodus of Antonio Conte's best players this summer. Martínez and Conte were involved in a bust-up during Inter's 3-1 victory over Roma on Wednesday when the Italian tactician substituted the striker in the second half, having only brought him on in the first as a replacement for the injured Alexis Sánchez.
Inter smoothed over the row by putting the two protagonists in the ring during a training session after Martínez's furious reaction to being taken off and there were smiles all round but the club's situation means that neither is guaranteed to be at Inter next season. Conte has suggested his future remains unclear while he waits to see what the club's plans are while the Inter board have asked the squad to waive two months' wages to aid the club's financial plight.
Martínez and Inter in contract talks
Martínez meanwhile is in talks to renew his contract with Inter and his new agent Alejandro Camaño, but there have been plenty of rumours of an imminent departure for the Argentinean.
Former Inter striker Nicola Ventola on Friday said during an internet chat woth another ex-Nerazzurri star, Christian Vieri, that he knew where Martínez would be playing next season: "I'm going to drop the bomb: a little bird has told me that Lautaro will play for Atlético Madrid. They told me that everything is arranged and they are going to pay him a lot of money."
Atlético were heavily linked with a move for Martínez when he was still at Racing in Argentina, with some reports suggesting a deal was close for a fee in the region of €12m. It will cost a lot more than that to tempt Inter to part with the striker, with reports in Italy stating the Serie A champions will demand €80m before they consider a sale.