LA GALAXY
'Chicharito' Hernández scores his seventh goal of the season in MLS
The Mexican international missed a penalty, but scored the second goal for the Galaxy to secure the win and the points at home against Austin FC.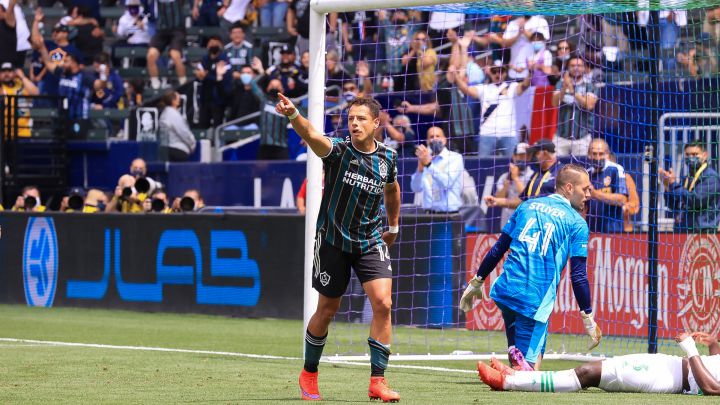 Javier 'Chicharito' Hernández was left out of the Mexico national team for the CONCACAF Nation Leagues finals and he wanted to remind the coach Gerardo Martino why he is the all-time leading scorer for 'El Tri.' The 32-year-old has scored seven goals and given one assist in the first five games of the 2021 Major League Soccer regular season.
Regarding not being called to the Mexico national team
"I have always been vocal with the Mexico national team. It will always be a great honor to defend my country when I am given the opportunity, but when I am not being called I will keep doing my job with my team. My goal is to win games, eventually the MLS Cup and right now I am just in a good place and my focus is the Galaxy," said Hernández.
Missed a penalty in the first half
14

The Los Angeles Galaxy hosted Austin F.C. at the Dignity Health Sports Park for week 5 of the Major League Soccer regular season. The team with the most league titles in MLS (5) wanted to keep their winning streak going after beating city rivals, LAFC, last weekend at home.
'Chicharito' was tackled in the box during the first half and he would be the one in charge to take the penalty kick. Unfortunately, the Mexican striker's shot was blocked by goalkeeper Brad Stuver, but he would get his revenge later in the game.
"I am not going to lie, if I would've scored that penalty my confidence would've gone up, but the important thing is to stay mentally strong. That is something I learned when I was a kid, if you have a bad touch or miss a goal you have to move on and think about the next play. All I thought is to keep going and the main goal is for the team to win," said the Los Angeles Galaxy striker.
Minutes after Hernández missed, Sebastian Lleget would score to give the Galaxy the partial victory. Then in the second half, Julian Aruajo gave a wonderful low cross to 'Chicharito' inside the box and this time the striker found the back of the net to make it 2-0 after 90 minutes. With this victory the Galaxy climbed up to second place in the Wester Conference with 12 points, one less than leaders Seattle Sounders.