Allegri, Alaba, Mbappé or Haaland: the Real Madrid of tomorrow
The Italian coach remains the favourite to take over from Zidane should the Frenchman depart with the likes of Mbappé, Haaland, Camavinga, Alaba, Pogba potential summer arrivals.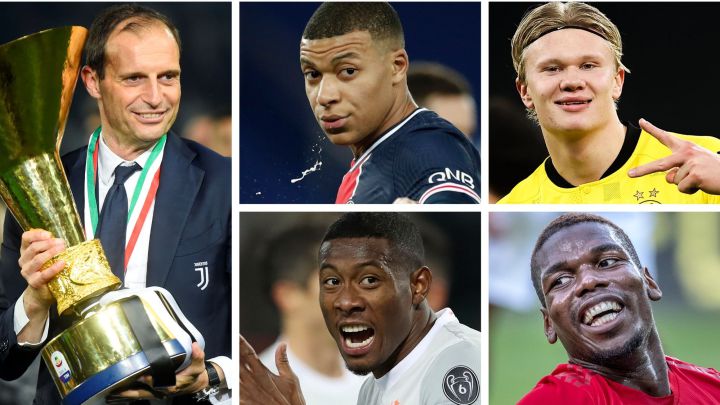 Should Zinedine Zidane step down as Real Madrid head coach at the end of the season, Italian Massimiliano Allegri is the preferred candidate to replace the Frenchman on the Santiago Bernabéu bench. The arrival of a new coach would coincide with a transitional period at Madrid with the likes of Ramos, Modric or Benzema expected to depart in forthcoming years with the club looking to secure the services of Mbappé, Haaland, Camavinga and Alaba.
The French striker is the number one priority for Florentino Perez and currently the forward and parent club PSG have failed to progress on contract extension talks. Real Madrid would hope to secure the player this summer with a year remaining on his PSG deal and then set their sights on bringing in Norwegian striking sensation Haaland in the summer of 2022. A failure to secure Mbappé this summer would see the focus switch on convincing Dortmund to release Haaland.
In-bound Alaba?
Austrian defender David Alaba is another current Bayern defender expected to pull on the famous white shirt next season with the versatile player set to become a free agent when the season concludes. A verbal agreement has been secured with his agent Pini Zahavi which would see the 28-year-old move to Madrid on a five year term and earn a salary of 12 million euro per season. His arrival could herald the departure of long-standing captain Sergio Ramos with limited progress having been made in his renegotiation talks.
18-year-old Eduardo Camavinga is another player who has been strongly linked with Real Madrid in recent months and is now being represented by Gareth Bale's agent Jonathan Barnett. The Rennes midfielder claimed that he wanted to play with the Brittany based outfit in the 20-21 Champions League and would decide his future in the summer of 2021. Paul Pogba is another central French player who has been courted by the Spanish giants and should he decide to depart Old Trafford, his potential destination next season could be a return to Turin based Juventus or a move to the Spanish capital. A potential departure of Zidane from the Bernabéu could however be a factor in the current United player's decision making process.