Official: Benzema recalled by French national team
As expected, France manager Didier Deschamps named the Real Madrid striker in his 26-man squad for next month's Euro 2020 tournament.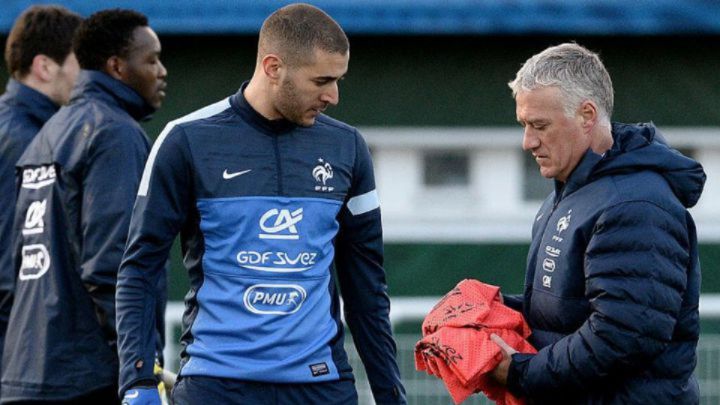 With Belgium, Croatia and Poland recently confirming their squad lists for next month's rescheduled Euro 2020 tournament, France coach Didier Deschamps has announced the 26 players who will form part of his squad as 'Les Bleus' challenge for the title. The major anticipated surprise in the squad selection is a return for Karim Benzema. French outlets Le Parisien and L'Équipe had both claimed on Tuesday that the Madrid striker would be included.
Si Karim Benzema revenait en équipe de France, cela changerait tout

Le retour surprise de Karim Benzema modifierait en profondeur le paysage de l'attaque française. Plus de cinq ans après sa dernière sélection, il a changé, est devenu plus buteur https://t.co/iz3wQJz5Gr pic.twitter.com/xu4FPyT8pd

— L'ÉQUIPE (@lequipe) May 18, 2021
Kylian Mbappé, Antoine Griezmann, Paul Pogba, Kingsley Coman, Olivier Giroud, Ousmane Dembélé were all included in the list which Deschamps announced on Tuesday evening at 20:00 CEST. There was no place however for Manchester United's Anthony Martial.
Karim Benzema has not played with the French national team since 2015 for his alleged role in an attempted sex-tape blackmail case involving former France international Mathieu Valbuena and with a court case set to commence next October it was felt by many that Benzema had pulled on the famous blue shirt for the last time.
"The national team comes before me" - Deschamps
In his press briefing, Deschamps explained, "I needed to have that chat [with Benzema],he needed it too. I didn't want this to be a specific case. As national team coach, I have always looked beyond my own personal views. I have a great deal of responsibility, but this is far bigger than me".
Euro 2020 group of death
France are in Group D at Euro 2020 and will face Hungary, Portugal and Germany in what is being dubbed my many as the 'group of death'. Les Bleus open their campaign on 15 June, when they face Germany in Munich.
France squad for Euro 2020
Goalkeepers: Lloris, Mandanda, Maignan.
Defenders: Pavard, Dubois, Zouma, Varane, Kimpembe, Lenglet, Lucas Hernández, Digne, Koundé.
Midfielders: Kanté, Pogba, Rabiot, Tolisso, Sissoko, Lemar.
Forwards: Coman, Benzema, Mbappé, Dembélé, Griezmann, Giroud, Ben Yedder, Thuram.