Ødegaard says Real Madrid must decide about his future
The Norwegian midfielder spoke to Sky Germany: "I'm happy at Arsenal, but I belong to Real Madrid so we need to talk to them".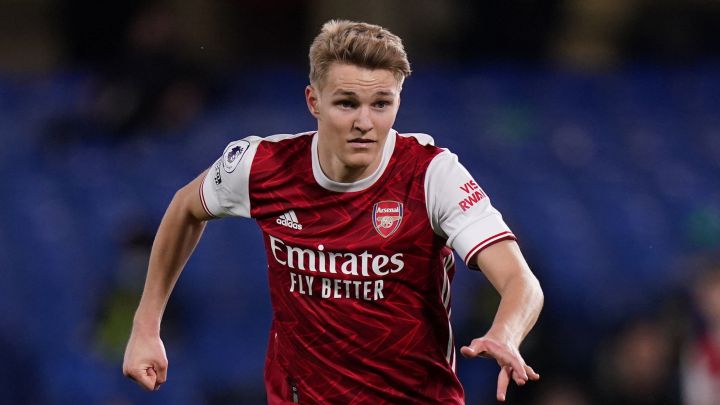 Martin Ødegaard has spoken about his future. The Norwegian, who will complete his loan spell at Arsenal once the season ends, wanted to make it clear that much will depend on what Real Madrid have to say. "I don't know what will happen. I'm a Real Madrid player, so we will have to talk to them. It's important to know what they want," he told Sky Sports Germany.
The midfielder has not completely ruled out the possibility of staying on at Arsenal after his loan deal is terminated. "I'm happy at Arsenal, but we will see what happens at the end of the season," he explained. Since he joined the Gunners in January, Ødegaard has become one of Mikel Arteta's key players; the Spanish coach is delighted with him. He has played 18 games with the English club and scored two goals. Arteta is pressing for the 22-year-old to stay.
Madrid left short in midfield
But the problem for Arsenal is that Madrid are counting on Ødegaard for next season. Club directors are convinced that he will triumph at the club and are not considering selling him. Besides, as was shown in the second half of the season, the squad lacks depth and the midfield in particular needs reinforcing - ideally, at zero cost. Next year, Modric will turn 36 and Isco is expected to be moving on over the summer, so this time, Ødegaard will have more prominence within the side.
Due to a lack of playing time this season, Ødegaard requested to go out on loan ahead of the January transfer window. Zidane asked him to stay, but could not guarantee him more minutes which prompted the Norwegian to look to the Premier League. It was a choice which the club perfectly understood, they know that every player's priority is to be playing regularly. But Madrid are now planning ahead for next season and Ødegaard will be part of the team. His future lies at Real Madrid...