PREMIER LEAGUE
Raúl Jiménez returns to full-contact training with Wolves
The Mexican international passed an MRI, a scan and psychological test and on Wednesday he received the green light to return to full-contact practice.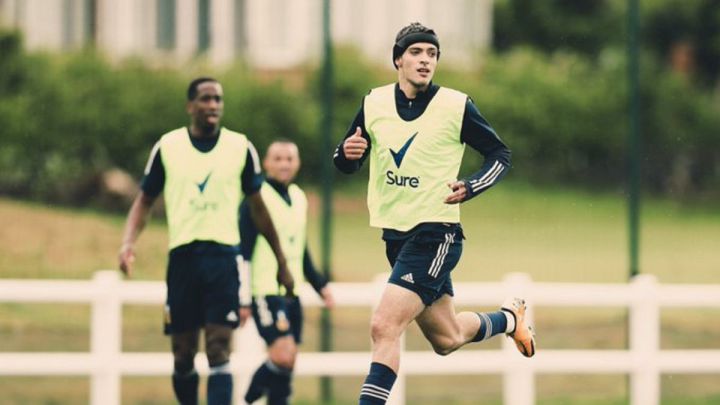 Raúl Jiménez has had an unbelievable recovery from his fractured skull injury suffered back in November 2019. Almost six months later after his surgery, he was given the green light to return to full-contact practice with Wolverhampton on Wednesday.
Jiménez will return next season
Even though the Wolves manager Nuno Espírito Santo was optimistic that Jiménez could return before the season ends, it was confirmed on Wednesday that he will return for the 2021/22 Premier League campaign. The 29-year-old will have to wear a headguard for the rest of his playing career.
On Tuesday the Mexican international passed an MRI, a scan and a psychological test in order to return to full-contact practice. Matt Perry, Wolverhampton's lead doctor, released a statement regarding the good news of Jiménez returning practice with the rest of the team.
El doctor del club, Matt Perry, ha emitido una actualización sobre @Raul_Jimenez9, después de su reunión con los especialistas ayer.

🗞👍

— Wolves Español (@WolvesEspanol) May 19, 2021
"Further match-based rehabilitation will start in July and will be tightly controlled initially. This respects the fact that although his recovery appears to be total there is a big step from training to competition. We hope and expect that Raul will be able to play a full part in Wolves' 2021-22 season."
"His skull fracture has now healed well; he will wear a protective headgear to cover the area of bony injury for the remainder of his career, but it is judged strong enough for him to return to play with this protection.
"A brain injury such as concussion can take weeks and months to recover fully and TBI will sometimes leave lasting deficits. It is wonderful to be able to say that Raul has made a remarkable and excellent recovery to date. He has no measurable signs of deficit and is now at the stage when he can contemplate a return to the career he loves; but a degree of caution is still required."
Will not join the Mexico national team this summer
It is not all good news for Jiménez, because he will miss the tournaments ahead for the Mexico national team this summer. The striker will not be able to play in the Olympics, the CONCACAF Nations League finals or the Gold Cup, but he could return for the World Cup qualifiers that are scheduled to start in September.