Fourth stimulus checks: what do Republicans think of a new relief bill?
President Biden is searching for a bipartisan solution to stimulus talks, but he may have to resort to reconciliation again if he is to pass a large-scale relief bill.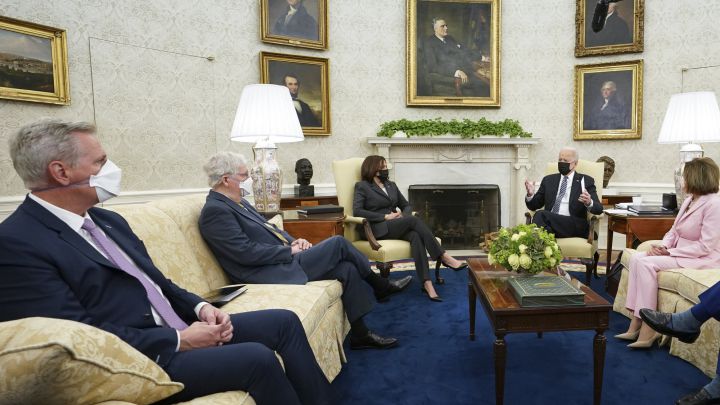 In March President Joe Biden signed into law the American Rescue Plan, the first large-scale economic relief package of his presidency. The approval came after weeks of negotiations in the Capitol as Biden was forced to pass the legislation through the process of reconciliation.
The $1.9 trillion bill included a third round of stimulus checks, worth up to $1,400 per person, but faced universal opposition from the Republicans. Over the course of three votes in Congress, not a single GOP lawmaker voted in favour of the package.
With this in mind, how much support is Biden likely to get for the next stages of his Build Back Better agenda?
Biden "optimistic" about bipartisan White House meetings
After announcing more details about both the American Jobs Plan and the American Families Plan, Biden has hosted a number of White House meetings looking to build a consensus behind his proposal. He has met with bipartisan groups and appears confident that a compromise can be found.
Biden on GOP meeting: "I am very optimistic that we can reach a reasonable agreement."

Says no compromises, but he laid out what he thought they should be doing and how it's paid for. Republican senators said they would do the same and send it back to the White House

— Phil Mattingly (@Phil_Mattingly) May 13, 2021
However according to Bloomberg, the two parties remain a long way apart in their estimations of the size of package needed. The American Jobs Plan is slated to cost around $2.25 trillion; the Republicans' counter-proposal will cost just $568 billion.
There have been very few calls from within the GOP for additional stimulus spending, although some lawmakers have proposed legislation that could become a part of the next relief bill. Back in December, Republican Sen. Josh Hawley was a vocal proponent of stimulus checks during the Trump presidency and he has tabled a new programme called the Parent Tax Credit (PTC) in recent weeks.
Much like the Child Tax Credit (CTC), a statement from Hawley says that the PTC would provide "a fully refundable tax credit provided directly through automatic, monthly advances."
The CTC was initially just a 12-month programme but there is provision in the American Families Plan to extend it through 2025. Hawley's legislation could form the basis of a bipartisan solution to extend federal support for parents.
McConnell opposes stimulus spending
For the moment, Senate Minority Leader Mitch McConnell is the highest-ranking member of the Republican Party and his thoughts will hold huge sway over the GOP's direction. He has been one of the most stringent critics of stimulus spending throughout the pandemic and appears intent on limiting the size of any new legislation.
Speaking to reporters in April, McConnell said: "I can't imagine the economy is going to need a fourth round [of stimulus checks]."
The policies that we passed in March 2020 are not the policies we need in May 2021.

We are a reopening country flooded with vaccines. Record job openings. Democrats should not be taxing the Americans who are back at work to continue paying extra benefits to those staying home.

— Leader McConnell (@LeaderMcConnell) May 17, 2021
"But they are putting together this so-called 'infrastructure package,' which will include more borrowed money and big tax increases in the most productive parts of our economy," he added. "This economy is ready to grow. People have been locked up for a year; it's going to take off like a rocket and it doesn't need any help from borrowed money or higher taxes."
With this in mind it seems unlikely that Biden would get sufficient support (at least ten Republican senators would have to cross the aisle to veto the filibuster) to pass a large-scale relief bill with a bipartisan vote. The President will have to decide whether to prioritise governing through consensus or implementing a more ambitious agenda.