MLS
"Never going to be OK" - LA Galaxy coach on Derrick Williams' red card
The Los Angeles Galaxy defender received a single direct red card for a hard tackle on Andy Polo and left his team with 10-men in the 44th minute.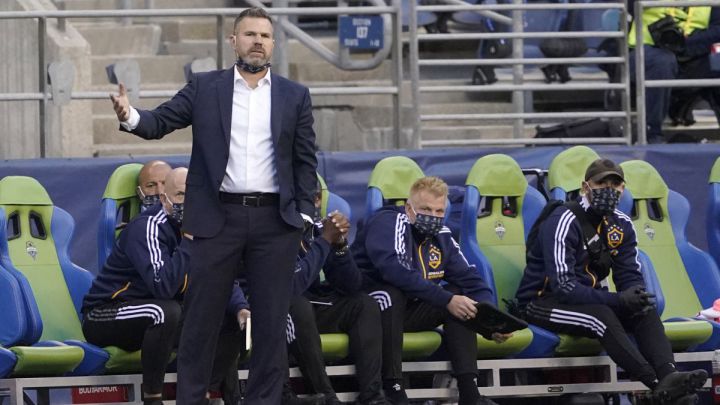 The Los Angeles Galaxy lost 3-0 to the Portland Timbers at the Providence Park for week 6 of the 2021 Major League Soccer regular season. This was the team's second loss of the season and as yet remain in second place of the Wester Conference, but could drop to third if Colorado Rapids defeats Los Angeles FC.
Derrick Williams first red card in MLS
The game was tied nil-nil and in the 44th minute when Derrick Williams made a very dangerous challenge and tackled Andy Polo. The Portland Timbers striker had to be taken out of the game as a result because he couldn't continue. Williams earned himself a direct red card leaving his team with 10-men for the entire second half.
"It's a tackle that is going to be a red card every single time," Vanney said during the postgame press conference. "For me, it was almost [from] Derrick a delayed reaction and that he probably should have read the play a little bit earlier and been a little bit tighter and he could have dealt with it in a different way.
"Then he saw it happen and was just so committed to the challenge at that point that it just became, with the amount of force, it's just never going to be OK, whether it's this league or any other league. It just becomes a challenge that's going to be a red card every time," he added.
Felipe Mora replaced Polo and in starting the second half, the Chilean striker scored the opening goal for the Timbers. Mora would score again in the 60th minute to make it 2-nil for the home team. Six minutes later Diego Valeri scored on a penalty kick to make it 3-nil and give Portland the victory and the points.
During the game, the cameras from the TV broadcast showed Andy Polo with a leg brace and in crutches. It is not known the severity of his injury or how long he will be out, but Williams will definitely miss next week's California Clásico against San Jose Earthquakes for week seven of the regular season. The Irish defender could miss more games after the MLS Disciplinary Committee reviews the tackle.