The countdown starts for Zidane at Real Madrid
He announced his departure in 2018 just four days after the final day of the season. The players thanked him after yesterday's win over Villarreal.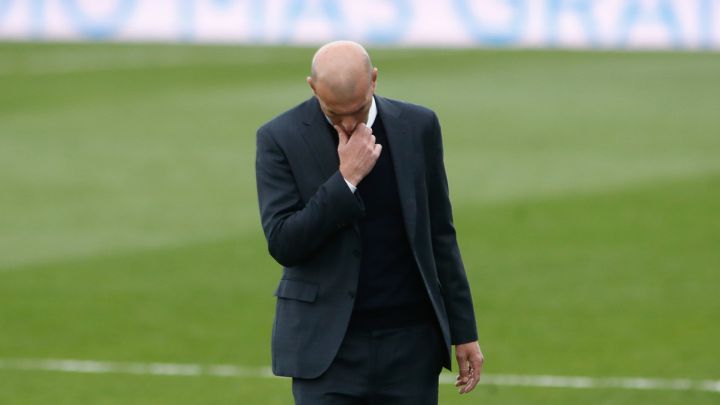 The next 72 hours will be key for Zinedine Zidane. The French coach swerved questions about his future in his most recent dealings with the press (in the last seven press conferences) - including after Saturday's 2-1 win over Villarreal. First, he wants to set the record straight with Real Madrid.
Just like after the 2018 Champions League final in Kiev, when he met with club bosses three days later and told them he would be stepping aside. That was on the Thursday, just four days after Real Madrid won the Champions League. Zidane is not one for letting things drag out. "In the next few days I'll talk to the club and we'll see," was all he offered when asked about his future last week.
Madrid are keen to know as soon as possible too because while they have an inkling that Zidane could announce that he is leaving, they don't know for sure and the coach has not said anything concrete about where he will be next season. The club has tried to transmit calm and not unsettle the team while the league title was in play, but that means little bearing in mind that in 2018 they were taken completely by surprise when Zidane confirmed he would be leaving. This time, he won't have any recently-won silverware to soften the blow.
Some Madrid officials think that Zidane's reluctance to give any clues about his future is a strategy to see how the club reacts. He could well have an idea that the club is ready to embark on a new path with a new coach, as appeared the case for a while between November and December last year. It was no coincidence that Zizou, in a flash interview for Movistar+, was keen to point out, "I have a year left on my contract".
Time to reflect

For the time being, the players are also waiting to see how the situation develops. Zidane denied that he summoned the squad to tell them that he will be leaving and nor did he make any announcements after yesterday's game. He simply thanked them for their efforts during the season. Only Zidane's family (his wife and four sons) and those in his close circle such as David Bettoni, have any idea what he will do. Zizou is very protective about what he says and to whom. So Madrid, and Florentino Pérez, will have to wait until he is ready. Similar to Sergio Ramos, contract negotiations, some club matters are dealt with, face to face with the president - especially a case like this. Zidane will not make any announcements until he has spoken to Florentino. General Director José Ángel Sánchez will also be present when the moment comes.
A meeting will take place at some point over the next few days. Once the coach has got some rest following the conclusion of the season. Both Zidane and the club feel that is a sensible idea. Madrid have Allegri and Raúl in mind if Zidane confirms he will depart. Talks have already taken place with Raúl and Allegri is waiting and weighing up other offers - including one from Tottenham.
Mbappé, Ramos, Varane...
Zidane will want to hear how Madrid plan to rebuild the squad and in particular, the situation with Mbappé. The problem now is that the squad is in more urgent need of attention than it was when he left in 2018. If he stays, Zizou would probably have to make do without Ramos and Varane, two of his captains and players he is close to. He has voiced his hopes that both stay so if they are allowed to leave, it will look like his opinions hold no weight. Another factor will be what to do with players like Ødegaard, who asked to go out on loan because Zidane wasn't giving him enough playing time. Issues that don't help...