Covid-19 vaccine in the US news summary: 26 May 2021
Headlines
- 50% of US adults now fully vaccinated, as Biden calls the milestone "a big deal"
- United Airlines launch vaccine contest (full story)
- Moderna claim vaccine 'strongly' protects children
- Nine US states pass 70% vaccine target
- CureVac vaccine approval expected in June
- Indian state unable to obtain covid-19 shots directly from Moderna
- Pfizer and BioNTech pledge to give one billion doses to low- and middle-income countries by end of year
- California won't create vaccine passport, but large events may require vaccine/test proof
- New travel rules for vaccinated US citizens
- US vaccine roll-out to children aged 12-15
- Study shows AstraZeneca vaccine works well as third booster
- Over 131 million US citizens now fully vaccinated (track CDC data here)
- US covid-19: 33.16 million cases / 590,941 deaths (live updates from JHU)
Scroll through some of our related articles:
Press-Secretary asked about the disproportionate number of positive cases in the Black community in Washington DC
Question: Can I ask you one about COVID and equity? I know there are, of course, COVID briefings, but the share of Black people who are making up the new coronavirus cases in cities like D.C. has risen sharply, and this is after the vaccine — the vaccines were widely available.

In D.C. now, 80 percent of the new COVID cases are Black people. How concerned is the President about that? And does he see that as a failure in his responsibility, specifically when it comes to the number of Black people that we're seeing now get COVID?
Response: MS. PSAKI: So, it's a great question, Yamiche. You know, earlier this week, Jen talked about the wartime kind of response that we've had to COVID-19 and the successes. We've actually seen some great successes on getting people vaccinated, but we still have a lot of work to do, right?

We have — the President made a pledge to have 70 percent of [adult] Americans, by July 4th, have at least one dose in arms; 160 million Americans fully vaccinated. And so that means that we have to bring everyone along.

And as you just iterated, you know, the President puts equity in everything that we do. Equity — we have a Equity Task Force. There's a reason why we have it, because we want to make sure we don't leave communities behind.

And so one of the things that we're doing and we're continuing to do is we got to meet people where they are. That's why now, in many pharmacies, you can walk in and get your — get that vaccine; it is free. It is something that, clearly, we're working really closely with states and local governments with on. We have mobile units in communities [that] do not have access to — close access to CVS or, you know, maybe don't even have a — you know, a doctor to go to. So we have made it so that we are meeting people where we are.

And one thing that we have learned: The more people who get vaccinated, the more that the confidence of the vaccine — you see that number going up.

So, we do have a lot of work to do, but we also have some successes that we can point to that we can continue to replicate and continue to get out there and make sure we bring all communities along.
Read full transcript from today's press conference here.
CBS reports on the use of vaccine passports which are becoming increasingly political in the US. More than twenty states are now opposed to their use. Georgia and Florida have banned their use fully.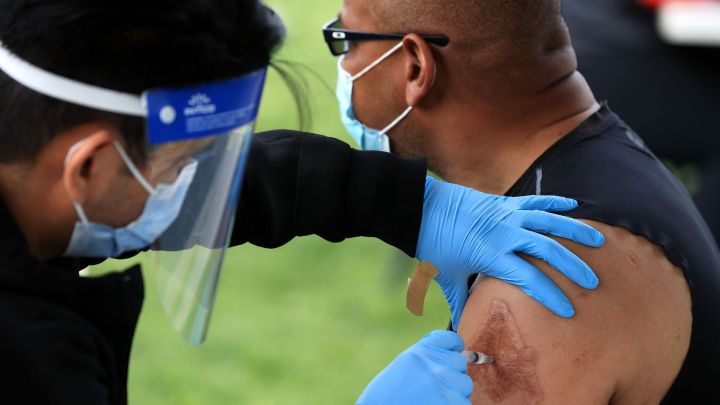 Breaking News: The Hill reports that Pennsylvania is the 10th state to reach vaccination targets outlined by the President earlier this year. The President hopes to have 70% of the population receive at least one dose of a covid-19 vaccine by the Fourth of July. Pennsylvania follows Vermont, Hawaii, New Hampshire, Massachusetts, Connecticut, Maine, New Jersey, Rhode Island and New Mexico in reaching this goal.
The showdown over whether or not to lift patents on vaccines continues with a Drug-lobby pushing counties to adopt positions against the motion. Wall Street Journal reports on the full story
Florida Rep. Donalds slams Taylor Greene's Holocaust comments
GOP Representative Byron Donalds of Florida says he disagrees with fellow Republican lawmaker Marjorie Taylor Greene's comments comparing vaccine requirements to the Holocaust.
"I think she's wrong for that, and that's something where she's going to have to explain herself in more detail," he told CBS News.
The outspoken Taylor Greene has come under fierce criticism from all sides for her comments, with the Auschwitz Museum calling the comparison a "sad symptom of moral and intellectual decline."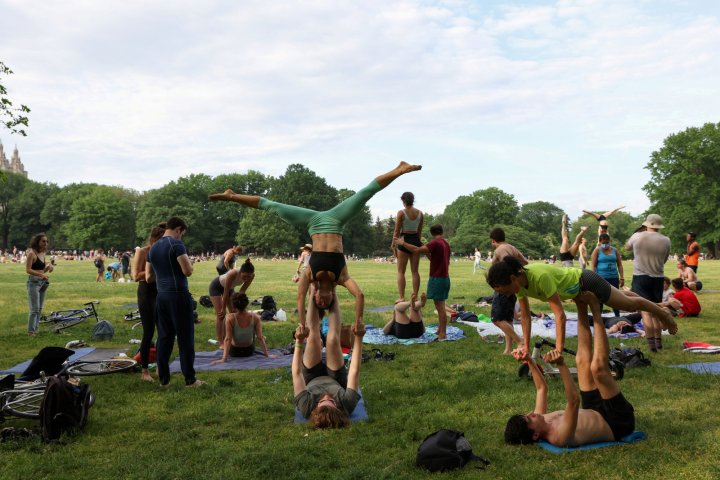 People enjoy going out in New York City as CDC eases social distancing guidance for those who have received the COVID-19 vaccine.
Pictured, people practice gymnastics in Central Park without masks in the Manhattan borough of New York City. (Photo: REUTERS/Caitlin Ochs)
Belgium halts J&J COVID jab for under 41s after one dies
The Belgian government said on Wednesday it was suspending vaccinations with Johnson & Johnson's COVID-19 vaccine for people under the age of 41 following the death of a woman from severe side-effects after receiving the jab.
"The Inter-ministerial conference has decided to temporarily administer Janssen's vaccine to the general population from the age of 41 years, pending a more detailed benefit-risk analysis by the EMA," the Belgian health ministers said in a statement.
The EMA is the European Union's European Medicine's Agency. The woman - who was under the age of 40 - died on May 21, after being admitted to hospital with severe thrombosis and platelet deficiency, the statement said. (Reuters)
Oregonians: have vaccine incentives worked for you?
After Gov. Brown announced the "Take Your Shot Oregon" campaign - where vaccinated Oregonians could win cash prizes up to $1 million - Fox are polling whether or not any incentive program has changed your mind about getting the jab.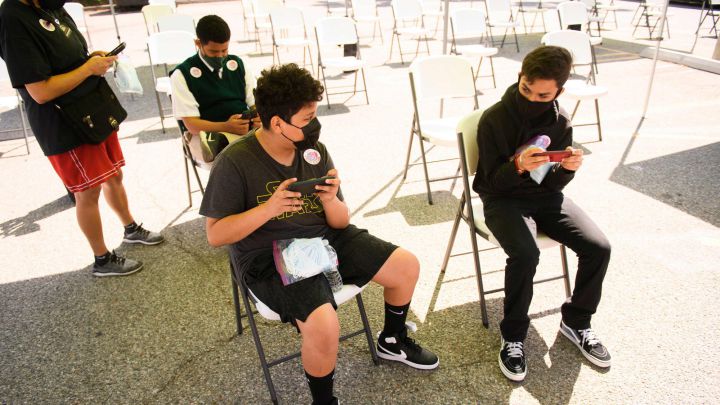 How many people have suffered myocarditis or heart problems after getting the Covid-19 vaccine?
On 17 May, the US Center for Disease Control and Prevention (CDC) announced that they were looking into a series of isolated incidents of myocarditis after a few people experienced the heart issue after being vaccinated. The rates of the incident are not abnormal and some health experts expect that no connection to the vaccine will be found. Myocarditis is a condition that causes inflammation in the heart and is usually caused by an infection, among other reasons.
The CDC Vaccine Safety Technical Working Group announced that the number of cases they are have captured in their monitoring system are not above the baseline they had set.
William Shakespeare, the first man in the world to get the vaccine, dies aged 81
Englishman, Bill Shakespeare, who made world headlines back in December when he became the first man in the world to receive the covid vaccine, has died of an unrelated illness.
Tribute have poured in for the for the Coventry native, with Coventry councillor Jayne Innes, a friend of Mr. Shakespeare, stating that the "best tribute to Bill is to have the jab".
States that have fully vaccinated more than 50% of their total population
As it stands, four states have fully vaccinated more than half of their total population:
- Vermont (52.7%)
- Maine (51.9%)
- Connecticut (51.6%)
- Massachusetts (50.5%)
Rhode Island is close at 49.9%.
The US average stands at 39.3%.
50% of US adults now fully vaccinated
According to the White House, 50% of US adults are now fully vaccinated against covid-19, with President Joe Biden hailing the milestone as "a big deal". As it stands, 62% of adults have had at least one dose of the vaccine.
President Biden set a goal on May 4 of having 70% of adults fully vaccinated by July 4. Providers are administering about 1.75 million doses per day on average, 48% down on the peak of 3.38 million reported on April 13.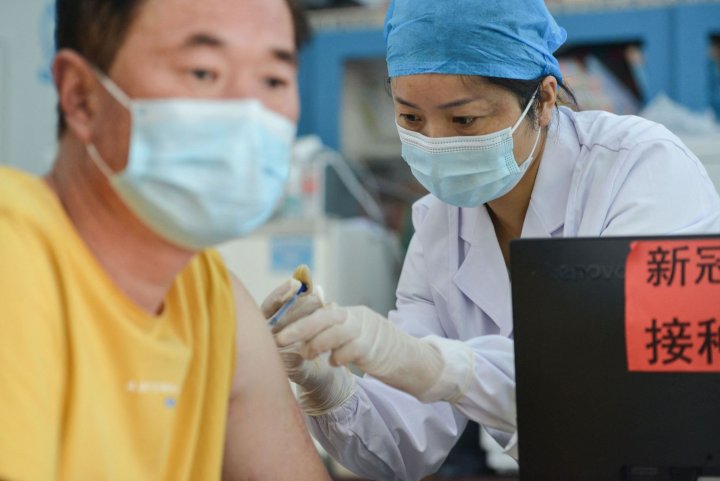 China administered total of 546.71m doses of COVID-19 vaccines as of May 25
China administered about 19.5 million COVID-19 vaccine doses on May 25, bringing the total number of doses administered to 546.71 million, according to data released by the National Health Commission on Wednesday.
One COVID-19 case found during Olympic test event period - Tokyo 2020 chief
The Tokyo 2020 president said on Wednesday that one positive case for coronavirus was found during Olympic test events late April, but there was no further outbreak. Tokyo 2020 President Seiko Hashimoto told a board meeting that one of the coaches flying into Japan to participate in an Olympic test event had tested positive for the coronavirus at an airport, and transferred into quarantine. But Hashimoto reiterated that the organisers would ensure safety measures to hold the sporting event in July. (Reuters)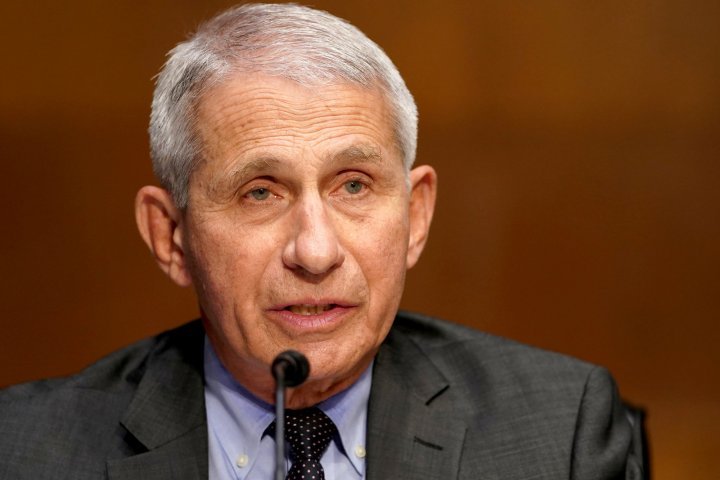 Study: 1 in 5 people between ages 18 and 34 who are infected with covid-19 reported lingering symptoms
CNN - For young Americans who feel hesitant or even unmotivated to get vaccinated, Dr. Anthony Fauci warned that even mild covid-19 illness can result in life-disrupting impacts.
"There's a syndrome that is referred to as long Covid, which means that you get a syndrome following the clearing of the virus where it could be for months," the director of the National Institute for Allergy and Infectious Diseases said Monday at a town hall, adding that possible persisting symptoms include profound fatigue, muscle aches, temperature dysregulation and an inability to focus.
About 1 in 5 people between ages 18 and 34 who are infected with covid-19 reported lingering symptoms beyond two or three weeks, according to a study last year by the CDC.
Moderna claim vaccine 'strongly' protects children
Moderna said Tuesday its covid-19 vaccine strongly protects kids as young as 12, a step that could put the shot on track to become the second option for that age group in the US.
With global vaccine supplies still tight, much of the world is struggling to vaccinate adults in the quest to end the pandemic. But earlier this month, the US and Canada authorized another vaccine — the shot made by Pfizer and BioNTech — to be used starting at age 12.
Moderna aims to be next in line, saying it will submit its teen data to the US Food and Drug Administration and other global regulators early next month.
Full story from Lauren Neergaard.
Georgia Governor Brian Kemp announces the state will outlaw the use of vaccine passports. Georgia becomes the second law to enact this sort of measure after Florida.
Colorado becomes fifth state to create the establishment of a vaccine lottery. How does one enter and sign-up to win $1 million?
On 25 May, Governor Jared Polis' office announced the Colorado Comeback Cash Vaccine Drawing which will take place over the next five weeks. Each week one winner will be selected to win one million dollars. The winners will be announced each Friday starting 4 June through 7 July.
Read our full coverage for more information on how to enter and to find about how other states are approaching the establishment of a vaccine lottery.
Covid-19 vaccine news: welcome
Hello and welcome to our dedicated live blog for Wednesday, 26 May 2021.
Here we aim to keep you fully up to date with all the latest news and updates regarding the covid-19 pandemic and all aspects of the vaccine development and rollout across the United States and around the world.