LaFleur on Packers' Rodgers stalemate: "Aaron definitely knows how we feel about him"
Superstar quarterback Aaron Rodgers has been absent from the Green Bay Packers' OTAs, as his dispute with the organisation rumbles on.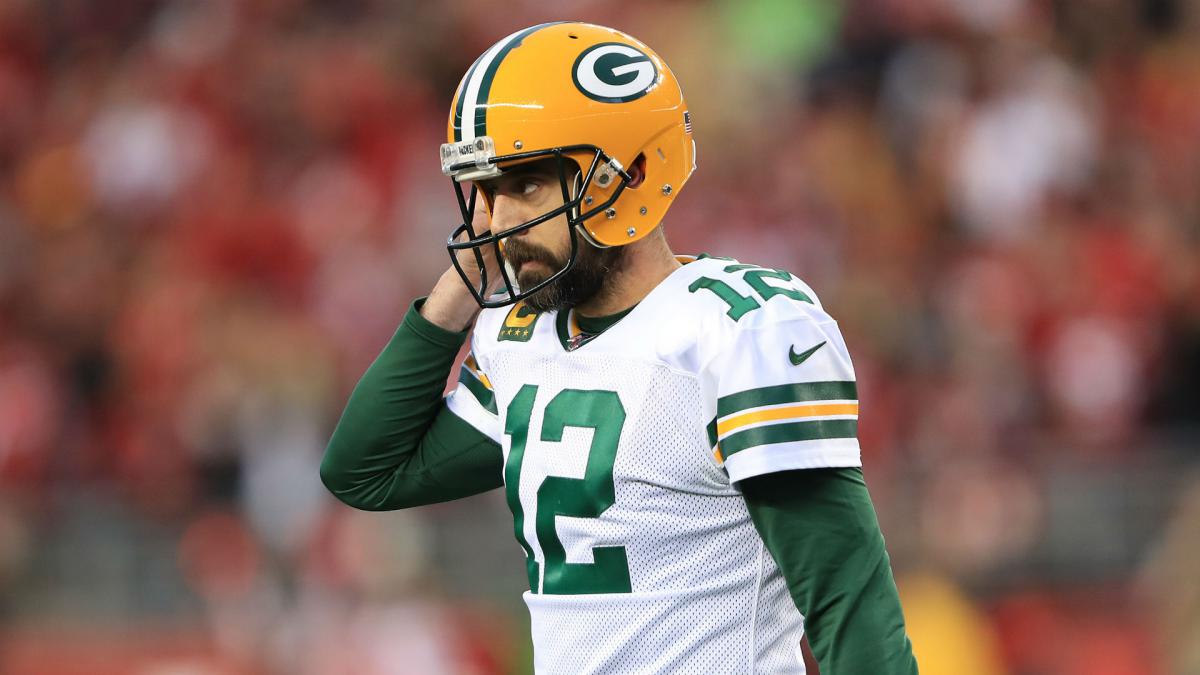 Matt LaFleur is clinging to hope of Aaron Rodgers returning to the fold with the Green Bay Packers, now the NFL MVP has said he has no gripe with playing or coaching staff.
Reigning NFL MVP Rodgers is eager to leave the team he has represented since 2005, in what would be a seismic trade.
Coach LaFleur finds himself having to deal with Rodgers being absent – the quarterback has missed the start of this week's voluntary organised team activities (OTAs) – but also tasked with keeping the rest of his players focused.
"Aaron definitely knows how we feel about him, how he's such an important part to our football team," LaFleur said on Tuesday.
"[He is] such an important part to our organisation. We're just going to continue to try to work through this and hopefully we can get him back in the building at some point."
Rodgers last season had his highest completion percentage since becoming a starter (70.7) and achieved a passer rating of 121.5 – keeping Jordan Love waiting for his chance.
Love is the young quarterback the Packers acquired with their first-round pick in the 2020 Draft. While Rodgers rose to the challenge, the 37-year-old has also become disenchanted with life at Green Bay.
LaFleur has told his players to avoid allowing the rift to become a distraction.
"We kind of talked about this with our football team," LaFleur said, quoted on nfl.com.
"Right now there's things that are in your control and there are certain things that are out of your control. I think that just our mindset right now is to focus on each individual. [Each individual] is focused on the things that they can control and we need everybody to be at their best for us to continue to progress as a football team. So that's kind of been the focus throughout."
Rodgers on "love" for Greenbay
Rodgers said his gripe centres on the Packers' philosophy, offering a rather oblique explanation of the reasons behind his absence in an interview on Monday with ESPN SportsCenter. Reports have pointed to a possible contract dispute.
Rodgers said: "I love the coaching staff, love my team-mates, love the fan base in Green Bay. [It has been] an incredible 16 years.
"It's just kind of about a philosophy and maybe forgeting that it is about the people that make the thing go. It's about character, it's about culture, it's about doing things the right way.
"A lot of this was put in motion last year, and the wrench was just kind of thrown into it when I won MVP and played the way I played last year.
"This is just kind of, I think, a spill-out of all that. But it is about the people, and that's the most important thing. Green Bay has always been about the people."
If Rodgers has issues with the Packers front office, he may find his people – those in the locker room – are willing to lend an ear. The longer the impasse persists, however, the more the business of the approaching new season may mean team-mates have to set aside his issues.
According to reports, there were 79 of the Packers' 89 rostered players present on Tuesday as the OTAs continued.
Safety Adrian Amos told packers.com: "Everybody has to focus on themselves as far as getting ready to play. Because regardless of what happens, we've got to go out there and the show goes on.
"Everybody has their personal situations, and you support everybody's personal situations, but I'm getting paid to go out there and perform. Regardless of what's going on around me, I'm getting judged by what I do."