NFL
Donald Trump reportedly tried to help New England Patriots in 'Spygate' scandal
According to a report from ESPN, the former president of the United States told a senator that "if the Patriots were laid off, there'd be a lot of money in Palm Beach."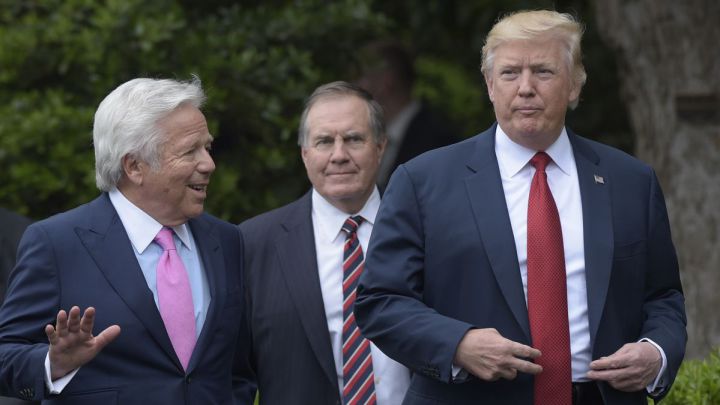 Donald Trump has been a 'friend' of the entire New England Patriots organization for some time and he was even photographed with former quarterback Tom Brady, coach Bill Belichik and owner Robert Kraft.
Trump allegedly involved in the 'Spygate' scandal
According to a report from ESPN, in 2008 Trump spoke on behalf of the Patriots organization and during a dinner at Mar-a-Lago in January of that year, he offered the son of the late U.S. Senator Arlen Specter some money for his campaign that year to stop his probe of the 'Spygate' scandal. As the news broke on Wednesday morning Kraft released a statement denying the report.
"Mr. Kraft is not aware of any involvement of Trump on this topic and he did not have any other engagement with Specter or his staff," a Patriots spokesman wrote to ESPN via email. A Patriots spokesman declined to offer further comment to the Boston Herald today.
"This is completely false. We have no idea what you're talking about," Trump senior adviser Jason Miller said to ESPN.
In 2007 the New England Patriots were caught recording opposing coaching staff's defensive signals during a game without authorization, so Trump, being a friend of the Kraft family, allegedly offered money to the senator to make the scandal go away.
In February of that same year, Sen. Specter sent a letter to NFL Commissioner Roger Goodell about his concern about the 'Spygate' scandal. In that letter the senator said he was "very concerned about the underlying facts on the taping, the reasons for the judgment on the limited penalties and, most of all, on the inexplicable destruction of the tapes."
ESPN has cited Specter's oldest son and ghostwriter of the senator's two memoirs. Eventually the NFL commissioner fined the Patriots organization $500,000 and Belichick $250,000. The NFL franchise from New England was also stripped of its first-round pick during the 2008 draft.