Al Ahly eyeing breaking their own record in the CAF Super Cup
The African champions with the most CAF Super Cup titles are hoping to claim their seventh trophy over debutants RS Berkane on Friday.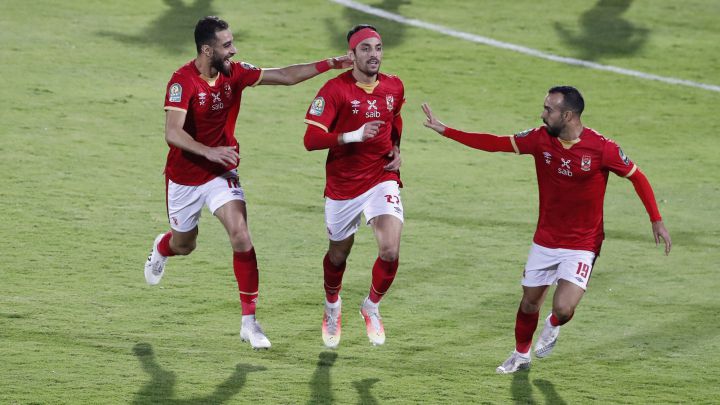 Egyptian giants, Al Ahly are set to take on Moroccan RS Berkane on Friday in the CAF Super Cup final at Hamad Bin Jassim Stadium in Doha, with the record nine-time CAF champions league champions eyeing their seventh Super Cup coronation at the cost of their Moroccan rivals who are making their debut in the competition after winning last year's Confederation Cup.
With six titles previously claimed, Al Ahly are the side with the most CAF Super Cup trophies, having reached that final 7 times in which they scored 12 goals and conceded 7. Throughout their previous appearances, Al Ahly only endured one defeat on penalties at the hands of Algerian ES Sétifienne back in 2015.
Al Ahly's victims in the Super Cup
The Red Devils won their first Super Cup title in 2002 when they beat South Africa's champions Kaizer Chiefs 4-1 at Cairo international stadium. Their second coronation came 4 years later when they defeated ASFAR of Morocco on penalties after a game that ended goalless.
In 2007 Al Ahly's third title and the second in a row was also decided by penalty shootout, but this time the rivals were Tunisian Étoile Sportive du Sahel.
Two years later the Egyptian giants added another piece of silverware to their cabinet when they defeated CS Sfaxien of Tunisia 2-0 in the Super Cup final.
In 2013 Al Ahly's rivals were AC Léopards whom they beat to the title with a 2-0 victory at Burj Al-Arab stadium. The African giants last Super Cup title was claimed in 2014 when they achieved a breath-taking 3-2 victory over CS Sfaxien to snatch their sixth title.
Following a 7-year absence, Egypt's no. 1 side are involved in the final again clashing with the inexperienced yet ambitious RS Berkane who are looking forward to winning a historic first Super Cup title on Friday.