NBA playoffs 2021
Simmons is not trying to prove doubters wrong at 76ers
Ben Simmons discussed his performance for the Philadelphia 76ers in Game 2 against the Washington Wizards midweek.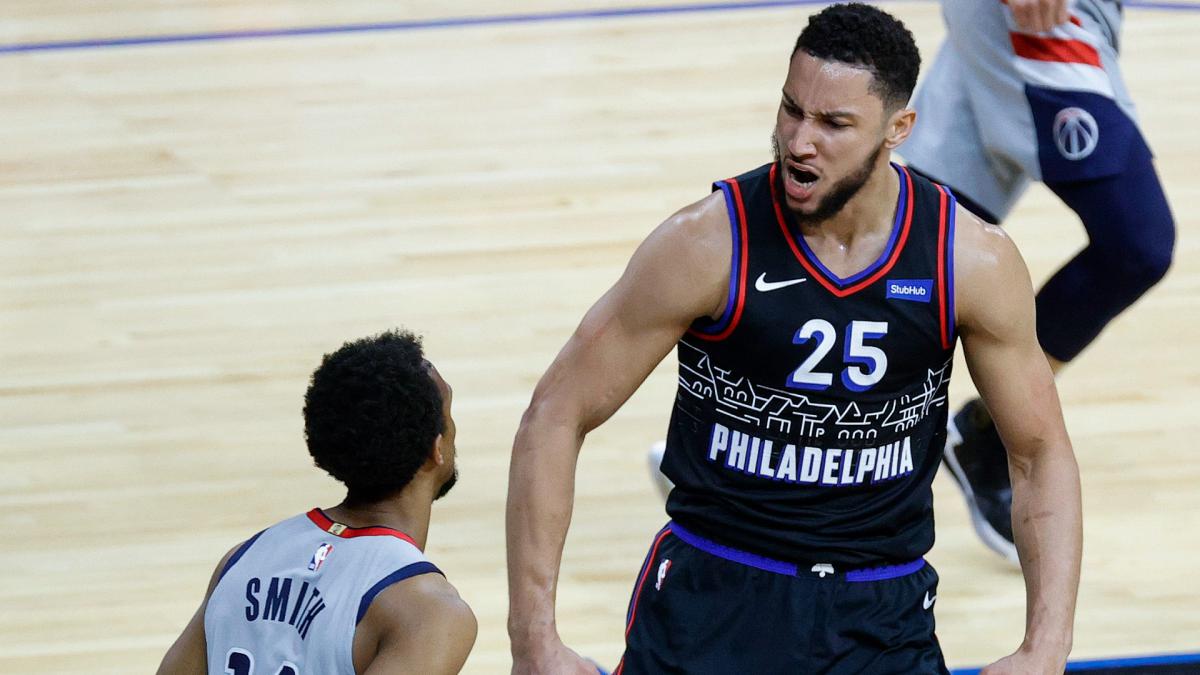 Philadelphia 76ers star Ben Simmons insisted he is "here to win" not to prove doubters wrong following his aggressive display as the Eastern Conference top seeds seized control against the Washington Wizards.
Simmons' shooting and scoring have been scrutinised since entering the league, but the NBA All-Star was influential in the 76ers' 120-95 rout of the Wizards in Game 2 on Wednesday.
In 29 minutes, Simmons posted 22 points – including 12 in the opening quarter – on 11-for-15 shooting, to go with nine rebounds, eight assists, two steals and one block in Philadelphia midweek.
It was Simmons' fourth career 20-plus point playoff game and his first since 2019 as the Australian dismissed his critics.
"I'm not trying to stick to anybody in Philly," Simmons said, with the 76ers on track to progress from the first-round series. "I thought it was pretty hard to get 15 assists and 15 rebounds in the NBA in the playoffs.
"I thought that was pretty impressive. And we won. What y'all want? You want to win? For me, I'm here to win and I'm doing what I need to do to help my team win whatever it is.
"I'm not trying to prove anybody wrong or anything like that. I'm trying to do my job to win. I want to win a championship."
Philadelphia head coach Doc Rivers described Simmons as "special" following his Game 1 performance.
"It didn't motivate me because what I did in the first game, my guys are feeling it," Simmons added. "Tobias [Harris] was scoring, Joel's [Embiid] scoring. That's the point of basketball right? People who have it going, you got to give them the ball.
"I'm not surprised Doc said that because Doc knows the game. A lot of these people who are saying that have never even touched a basketball or never played the game at a high level."
MVP hopeful and 76ers team-mate Joel Embiid also had 22 points at home to the Wizards, who will host Game 3 on Saturday.
It was Embiid's seventh consecutive 20-plus point playoff performance, dating back to 2019. The streak is tied with Allen Iverson for the 10th longest in Philadelphia postseason history.
Embiid hailed Simmons, saying: "I told him 'you've got all the space and all the time in the world. Just attack. He's physical and he's athletic and he can make plays."
Rivers also heaped praise on Simmons as the 76ers eye their first championship since 1983.
"We scored 125 points the first game," said Rivers. "It's all about us scoring points and whichever way we do it, I'm good with that.
"If we had scored 130 and he had the same numbers as the first game, that would have meant he was great in doing something else. That's what I mean. His value to us is almost, you can't measure it."