CHAMPIONS LEAGUE
Where are the Chelsea players that won the 2012 Champions League now?
The stories of all thirteen Chelsea football club protagonists from the 2012 UEFA Champions League final and where their careers headed afterward.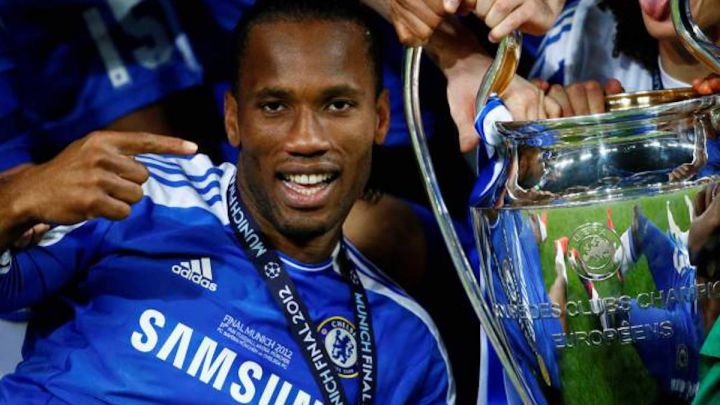 Chelsea go into the 2020/21 UEFA Champions League final against Manchester City looking for more success. And this got us wondering what had happened to the players involved in their previous final, back in 2012.
Chelsea team from 2012 Champions League final

Petr Čech - after spending the last four seasons of his professional career playing for Arsenal, he returned to FC Chelsea and currently has a combined role of a technical/performance advisor and an emergency goalkeeper at the club. He also played semi-professional ice hockey as a goaltender for Guildford Phoenix.
José Bosingwa - the retired Portuguese defensive player, born in Zaire after winning the Champions League trophy saw his transfer from Chelsea to Queen's Park Rangers, where he played for one season. His last three years of professional playing were at the Turkish side of Trabzonspor. He was one of the two players at Chelsea who had the experience of winning a Champions League trophy with Porto in 2004.
David Luiz - the 33-year old Brazilian defender, most controversial for his frequent club transfers, had two spells of playing at Chelsea (2011/2014, 2016/2019). In the meantime, he played for the French side of Paris Saint Germain. After the last spell at Chelsea, Luiz moved to another London club, Arsenal, making many waves with this move-in public and among the fans. This season (2020/2021), the Arsenal management announced that they would not renew David Luiz's contract to be a free agent from the end of June.
Gary Cahill - The England international (61 caps), played at Chelsea until 2019 when he signed for Premier League club Crystal Palace on a two-year contract. He made his debut in an away 2–1 victory over Manchester United and waited almost two years for his first goal for Crystal Palace after scoring against Newcastle United in February 2021.
Ashley Cole - After finishing his lustrous career playing in AS Roma, LA Galaxy, and Derby County, Ashley Cole became a coach at Derby and has since followed Frank Lampard to Chelsea, where he still is an academy coach.
John Obi Mikel - the Nigerian football globetrotter, spent these last four years in four different clubs. After playing for Chelsea, he went to China and played for Tianjin Jinmen Tiger F.C. He came back after one season to the English Premiership side of Middlesborough. After playing just 18 games for the Midlands club, Obi Mikel went to Turkey, where he joined Trabzonspor. His last signing came with EFL Championship side Stoke City, where he played 39 games in the current 2020/2021 season.
Frank Lampard - Regarded by many as one of the greatest midfielders of his generation, Franck Lampard was undoubtedly one of the crucial players responsible for winning the Champions League title in 2012. Although his transfer to MLS club New York City was announced by the end of 2014, he played one more year in the Premier League for Manchester City. His final career season was in the New York club, where Lampard stayed for the 2015/2016 season. After retiring, he waited two years for his first manager post at Derby County. Just after the season at Derby, Lampard was already on Chelsea's radar. They did not miss the chance and sign their former captain in 2019. After a promising first season and qualifying his team for the Champions League, it didn't work out that well for Lampard in the next. He was sacked in January 2021, and in his place was brought German coach Thomas Tuchel, who led Chelsea's team to the Champions League final.
Salomon Kalou - The prolific Ivory Coast forward, after he played and won the Champions League final, moved to French side Lille for two seasons. He played then for Berlin's Hertha BSC. Interestingly, this last season he joined the legendary club from Rio de Janeiro, Botafogo, on an 18-month contract.
Juan Mata - In his debut season at Chelsea, Juan Mata won the UEFA Champions League and the F.A. Cup. Chelsea won the UEFA Europa League the following year, making Mata and teammate Fernando Torres the first players to hold the Champions League, Europa League, World Cup, and the European Championships simultaneously. After failing to get the attention of José Mourinho, he let Mata to Manchester United in 2014. Since then, Mata has played a pivotal role in Manchester and witnessed two contract extensions received from the club, the latest one in 2020, with manager Ole Gunnar Solskjær having only words of praise for the Spaniard's game.
Ryan Bertrand - Bertrand made his European debut in the 2012 UEFA Champions League Final, becoming the first player in the Champions League era to make his debut in the final. He never showed a consistent performance at Chelsea. Inevitably he was sent on a loan to Aston Villa first, then to Southampton, where he made his permanent move in 2015.
Didier Drogba - The great Didier Drogba after Chelsea played in five more clubs worldwide, with a short stint in the London club for the season 2014/2015. He played in the Chinese Shanghai Shenhua, Turkish Galatasaray, the MLS clubs Montreal Impact, and Phoenix Rising, where he finished his phenomenal career. After retiring, Drogba was appointed as a Goodwill Ambassador for playing a vital role in the peace process in his home country. In December 2018, he became Vice President of the international organization for Peace and Sport.
Florent Malouda - one of the two substitutes at the 2012 Champion League final game, played one more season for Chelsea. He continued his career playing for Trabzonspor, Metz, Indian Delhi Dynamos, Egypt's Wadi Degla, and ended his career at FC Differdange 03, from Luxembourg.
Fernando Torres - second and last substitute in the game, played until 2015 for the London side. He went on a loan to AC Milan, who later offered him a contract. After one season at San Siro, he returned to his first club, Atletico Madrid, where he played for three more years. He ended his football career in Japan's J League club Sagan Tosu.