MLB roundup: Tatis homers as Padres use seven-run 11th to top Astros, Giants rob Dodgers
San Diego Padres star Fernando Tatis Jr. flexed his muscles in an eventful game on Friday.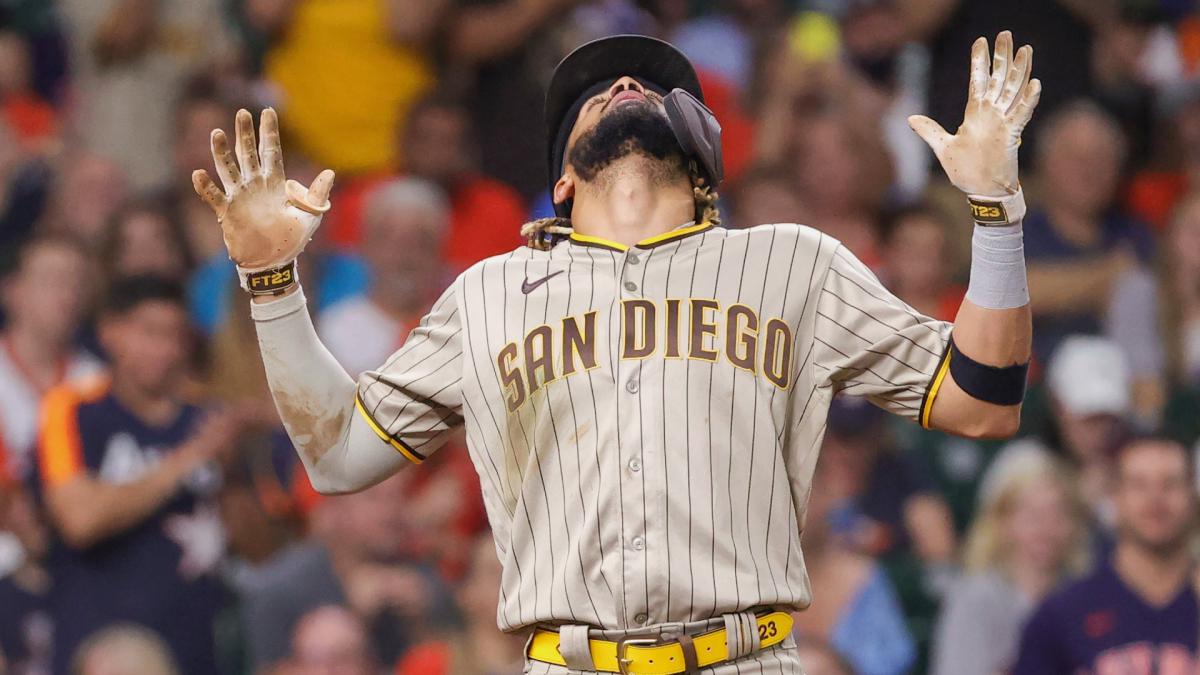 Fernando Tatis Jr. hit a home run as the San Diego Padres used a monster 11th inning to power past the Houston Astros 10-3.
A seven-run 11th helped the high-flying Padres outlast the Astros in MLB action in Houston on Friday.
Tatis's solo homer in the eighth inning tied the game at 2-2 after Padres team-mate Tommy Pham hit a home run in the third.
The pair then both contributed RBIs in the seventh as the National League (NL) West-leading Padres improved to an MLB-best 7-0 in interleague play this season.
Giants deny rallying Dodgers thanks to Tauchman
The San Francisco Giants came within a whisker of losing to World Series champions the Los Angeles Dodgers, instead prevailing 8-5 after 10 innings. At 5-5, San Francisco's Mike Tauchman robbed Albert Pujols of a walk-off homer in the bottom of the ninth. The Giants replied by scoring three unanswered runs in the 10th of the all-NL West showdown.
The Boston Red Sox defeated the Miami Marlins 5-2 behind Alex Verdugo's three-run homer in a clash that was called after less than six innings due to rain.
The Los Angeles Angels lost 3-1 to the Oakland Athletics. While Shohei Ohtani lost his way late, the two-way star matched his own feat set in 2018 as the only player with 15-plus home runs and 50 or more strikeouts in the same season. Ohtani allowed three hits, three runs and four walks while striking out five batters.
Blue Jays pound Morgan and Reds in wild weather
The Toronto Blue Jays weathered wet and windy conditions at Progressive Field, where they won 11-2 against the Cincinnati Reds after the game was called in the bottom of the seventh inning. On a difficult night for all players, Eli Morgan was put to the sword by the Blue Jays. The Reds pitcher was tagged for six runs and eight hits in 2.2 innings. He also allowed a home run.
The Arizona Diamondbacks are in the midst of a 12-game losing streak following their 8-6 defeat at home to the St Louis Cardinals. Arizona have lost 21 of their past 24 games. Diamondbacks ace Madison Bumgarner gave up seven runs – including six earned – on five this and four walks.
Tigers tame Yankees in walkoff
Robbie Grossman stepped up to the plate and delivered for the Detroit Tigers, who claimed a stunning 3-2 walk-off victory over the New York Yankees after 10 innings. Trailing 2-1 and with two outs, Grossman hit a two-run homer.
Friday's results
Chicago Cubs 1-0 Cincinnati Reds
Boston Red Sox 5-2 Miami Marlins
Detroit Tigers 3-2 New York Yankees
Toronto Blue Jays 11-2 Cleveland Indians
Kansas City Royals 8-3 Minnesota Twins
San Diego Padres 10-3 Houston Astros
Oakland Athletics 3-1 Los Angeles Angels
St Louis Cardinals 8-6 Arizona Diamondbacks
Seattle Mariners 3-2 Texas Rangers
San Francisco Giants 8-5 Los Angeles Dodgers
Colorado Rockies-Pittsburgh Pirates (postponed)
Milwaukee Brewers-Washington Nationals (postponed)
Atlanta Braves-New York Mets (postponed)
Baltimore Orioles-Chicago White Sox (postponed)
Reds at Cubs
Can the Cubs extend their winning streak to six games when they host the Reds on Saturday? Zach Davies gets the start for the Cubs, while the Reds counter with Luis Castillo at Wrigley Field.