CHAMPIONS LEAGUE 2021
Who are the Champions League 2021 top scorers?
Uncover the remarkable season that revealed new youngster goal-scoring stars and possibly marked the Messi - Ronaldo goal count saga ending.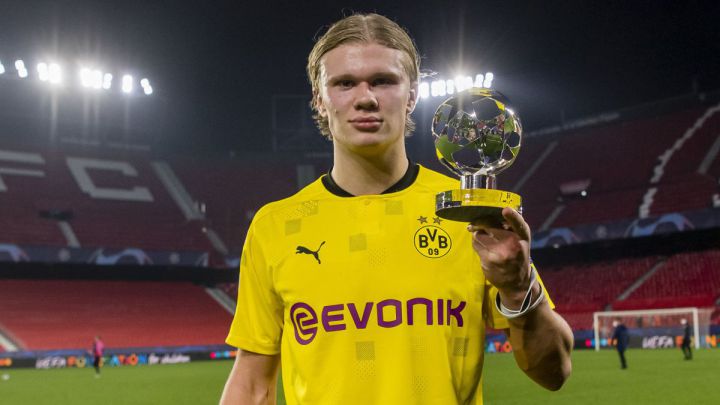 For the first time in many years, this season would not have either Lionel Messi or Christiano Ronaldo as the principal candidates for the golden boot trophy of this year's Champions League. Last year it was Robert Lewandowski who first broke the spell and this season new kids in the block turned up and showed us the future.
**Champions League final 2021: Man City 0-1 Chelsea - as it happened**
Haaland ends as Champions League top scorer
The Norwegian wonder kid Erling Haaland is, with ten goals, the 2020/21 UEFA Champions League's top scorer. In his second season at the premier-tier European football competition, Borussia Dortmund's 20-year old striker set off, smashing UEFA Champions League records in a thriving manner. He scored six times in Dortmund's opening four matches of the 2020–21 group stage, making him the fastest player to record sixteen UEFA Champions League goals. Haaland left this benchmark with only twelve total appearances in the competition.
Haaland stands two goals clear of Kylian Mbappé, the 22-year-old PSG forward, who has eight Champions League goals in 2020-21. No French player has ever scored more in a single Champions League season. Up until now, Mbape has 21 Champions League goals for PSG in total and is now their second-highest goal scorer in the competition, nine behind Edinson Cavani. He is also the third player to score a Champions League hat-trick against Barcelona after Colombia's Faustino Asprilla and Ukraine's Andriy Shevchenko.
The highest-placed goalscorer from either of the finalists was Olivier Giroud, who shared his spot with six more players with six goals. He didn't feature in the final itself...but will be celebrating nonetheless.
Champions League 2021: top scorers
10 Erling Haaland (Dortmund)
8 Kylian Mbappé (Paris)
6 Álvaro Morata (Juventus)
6 Marcus Rashford (Manchester United)
6 Neymar (Paris)
6 Olivier Giroud (Chelsea)
6 Youssef En-Nesyri (Sevilla)
6 Mohamed Salah (Liverpool)
6 Karim Benzema (Real Madrid)