USMNT
Christian Pulisic is the 10th CONCACAF player to win the Champions League
The United States men's national team playmaker broke several records after winning the UEFA Champions League with Chelsea at Estádio do Dragão.
On Saturday, Christian Pulisic made history by coming on as a sub in the 66th minute of the match replacing Timo Werner. The USMNT playmaker had a clear shot on goal minutes after, but the ball bounced wide of the far post.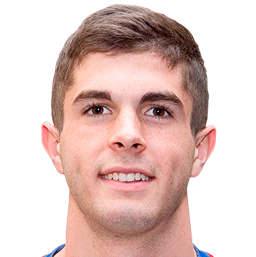 Chelsea defeated Manchester City 1-0 at the Estádio do Dragão thanks to a loan goal from Kai Havertz in the 42nd minute. Pulisic became the first American to play in the final and lift the UEFA Champions League (UCL) trophy.
Pulisic broke several records
Lifting the Champions League title was a special moment for Pulisic, who has been battling with injuries throughout the season. Chelsea's No 10 became the 10th CONCACAF player to win football's most prestigious club competition.
Previously the USMNT player had become the first American to score in the semi-final of the UCL when he found the back of the net in the first-leg against Real Madrid in Spain. He also became the second American to win the Champions League, since Jovan Kirovski received a winner's medal after Borussia Dortmund won the tournament in 1995, although did not play a part in the final.
"I can't explain it. I am still in shock. it's just incredible. I have no words I am so proud," he said in a broadcast interview after the game. "I'm so proud to be here. It has been a difficult road for me. I couldn't imagine winning the Champions League ever, in my life and now I'm here.
"I hope there's some kids watching back home in America thinking that they can do the same. It's massive, this is the biggest thing you can win in club football," he added.
CONCACAF players who have won the UCL
- Edgar Davids (Surinam) won it with Ajax in the 1994-95 edition.
- Jovan Kirovsky (USA) won it with Borussia Dortmund in the 1996-87 edition.
- Dwight Yorke (Trinidad and Tobago) won it with Manchester United in the 1998-99 edition.
- Owen Hargreaves (Canada) won it with Bayern Munich in the 2000-2001 edition.
- Rafael Márquez (Mexico) won it with F.C. Barcelona in 2005-06 and 2008-09.
- David Suazo (Honduras) won it with Inter Milan in the 2009-10 edition.
- Jonathan Dos Santos (Mexico) won it with F.C. Barcelona in the 2010-11 edition.
- Keylor Navas (Costa Rica) won it three times with Real Madrid (2015-16, 2016-17 and 2017-18).
- Alphonso Davies (Canada) won it with Bayern Munich in the 2019-20 edition.
- Christian Pulisic (USA) won it with Chelsea in the 2020-21 edition.